Huge architectural gems built deep into the Earth like inverted fortresses are scattered around India – and restoring them may be a solution to help the country's parched communities.
A
An exquisitely carved maze of 3,500 steps, arranged in perfect symmetry, descends with geometrical precision to reach a well. Criss-crossed steps encircle the water on three sides, while the fourth side is adorned by a pavilion with embellished galleries and balconies. Built by Rajput ruler Raja Chanda during the 8th-9th Century, Chand Bawri in Abhaneri, Rajasthan, is India's largest and deepest stepwell. Extending down 13 floors, or 100ft (30m), into the ground, it is a captivating example of inverted architecture.
Plunging into the earth, stepwells like Chand Bawri were built in drought-prone regions of India to provide water all year round, ensuring communities had access to vital water storage and irrigation systems.
Centuries of natural decay and neglect, however, have pushed these structures into oblivion. Dating back more than 1,000 years, the stepwells (baoli, bawri, or vav) are crumbling into obscurity. Their value has gone largely unnoticed by town planners as modern running water systems eclipsed their importance. Many stepwells are in shambles or have caved in. Some have disappeared completely.
But in recent years, many of these ancient edifices are being restored to help tackle India's acute water problem. The country is currently undergoing the worst water crisis in its history, according to a recent government report. There are hopes that the ancient technology of the stepwells might offer a solution.
According to the United Nations Educational, Scientific and Cultural Organization (UNESCO), India is the world's largest extractor of groundwater. The groundwater level in India is estimated to have declined by 61% between 2007 and 2017. The depletion of this vital resource not only threatens people's access to drinking water but also food security by resulting in a reduction in food crops by up to 68% in severely-hit regions.
There are thousands of stepwells across India but as modern water systems have been installed many have been neglected (Credit: Victoria Lautman)
India receives about 400 million hectare metres of rain annually, but nearly 70% of surface water is unfit for human consumption due to pollution.  India is ranked 120th out of 122 countries in the water quality index. An estimated 200,000 people die every year due to inadequate water.
The government emphasises the need to use India's historic water management systems for solutions to these problems. States can leverage new technologies to modify traditional water systems for local requirements. In a nation where 600 million people – around half the population – face severe water shortages daily, traditional water-harvesting solutions are a harbinger of hope. "With India's water table rapidly declining, stepwells can help refill ground aquifers and harvest runoffs. In three months during the rainy season, millions of litres of water can be collected," says Ratish Nanda, a conservation architect and projects' director at the Aga Khan Trust for Culture, an organisation leading restoration efforts.
In 2018, the government of Rajasthan, one of the most water-scarce regions in the world, drew up a comprehensive framework, with technical assistance from the World Bank, for restoration of the stepwells, including Chand Bawri.
"The Rajasthan government, through its flagship program Mukhyamantri Jal Swavalamban Abhiyan, has taken initiatives to make villages self-sufficient in water by reviving the non-functional rainwater harvesting structures," says Mohit Dhingra, who teaches at Jindal School of Art and Architecture in Sonepat, India, and is associated with conservation projects in India.
"India has a comprehensive water eco-system, but most of the traditional water bodies have become defunct. Reviving the stepwells will enable people to reclaim their traditional resources and spaces of community life. With the holding capacity that stepwells like Chand Bawri have, a great burden of water scarcity can be mitigated," he says.
Initially constructed as crude trenches, they slowly evolved into engineering marvels between 11th-15th Century
Bansi Devi, who rears cattle for a living in Rajasthan, has already noticed a change. "We had to walk for hours searching for water," she says. "Now I can use water from the revived baoli in my village for our domestic use and also for feeding and washing the cattle."
In Jodhpur city, the Toorji stepwell was restored after a team spent several months pumping out stagnant water. Decades of toxic water had turned the red sandstone white, with half an inch of thick crust covering much of the surface. Sand-blasting was carried out to clean the thick white crust of deposits on the wall, at a cost of about 1.5 million Indian rupees (£14,784). About 28 million litres (6.2 million gallons) of water per day is supplied to the city by other recently cleaned stepwells for irrigation and domestic purposes.
Gram Bharati Samiti (Society for Rural Development), a non-profit in the Jaipur district of Rajasthan, has carried out restoration work of seven stepwells in the villages of Rajasthan, providing around 25,000 people with a more reliable water source.
"We have restored seven stepwells where ground water has been recharged and storage capacity has increased," says Kusum Jain, secretary of Gram Bharati Samiti. "Most stepwells can provide ample water for the daily needs of the villagers. It saw a unique coming-in of volunteers from different communities, exemplifying India's religious harmony."
Rajkumar Sharma, a head teacher of the Government Primary School, in Shivpura, Rajasthan, is elated to see the revival. "Baolis are an integral part of our cultural life," he says. "The stepwell in our village was the only source of water. With time, it had dried up and had converted into a heap of rubbish. We now have access to clean water for drinking, domestic use and for religious ceremonies. The baoli has become the grandeur of our village."
Evidence of stepwells dates back to the Indus Valley Civilisation between 2500-1700 BC. Initially constructed as crude trenches, they slowly evolved into engineering marvels between 11th-15th Century. In 2016, Stepwell Atlas, mapped the coordinates of around 3,000 existing stepwells in India. Delhi, the capital, alone has 32 stepwells.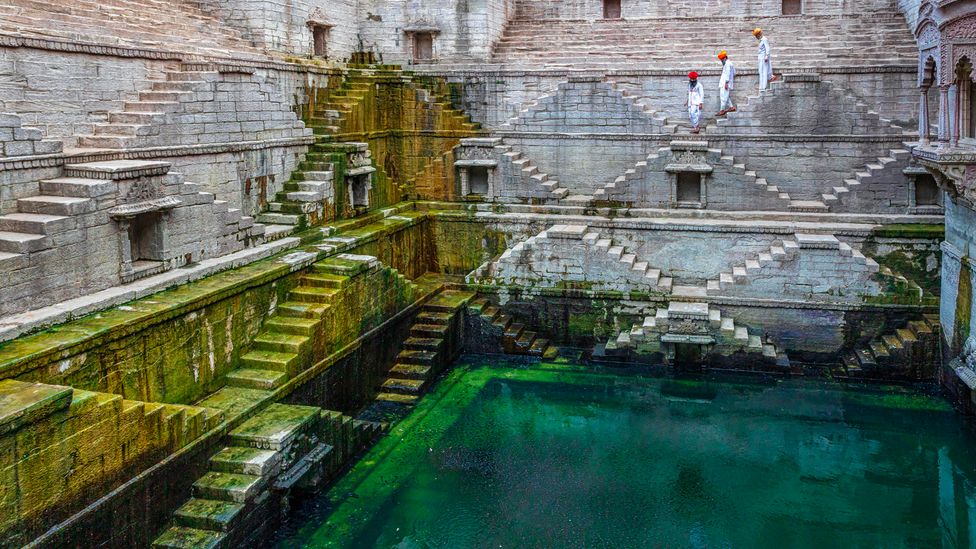 Stepwells usually have cascading galleries and steps to a central pool of water (Credit: Kim Petersen/Alamy)
Stepwells are multi-storied subterranean structures with significant ornamental and architectural features. They usually have two parts: a vertical shaft of water and the cascading galleries, chambers and a flight of orchestrated steps. "Stepwells are a repository of India's historical tales, used for social gatherings and religious ceremonies," says historian Rana Safvi. "They served as cool retreats for travellers as the temperature at the bottom was often five-six degrees lesser. Stepwells helped create bonhomie in common spaces as well as providing water for communities. They are an ingenious system for rainwater harvesting and served as water reservoirs. Revival of stepwells could be a significant step in our fight to overcome water shortage." 
Chicago-based author Victoria Lautman describes them as "gates to the underworld" in her book, The vanishing stepwells of India. "Stepwells are unique since we generally look up at architecture, not down into it," she says. "As one looks around the parade of steps, tall columns loom over, creating shifting views through a powerful play of light and shadow that is beautiful as well as mysterious.
"Awareness of India's stepwells has grown exponentially recently. It's ironic that they've been ignored, considering how wonderfully efficient stepwells were at providing water for nearly 1,500 years. Now, thanks to the restoration efforts, stepwells will come full circle."
You might also like:
Stepwells were built along natural slopes to collect run offs and acted as rainwater catchment areas, often connected to ponds so they could channel rainwater. Excavating and building these underground fortresses with pre-industrial tools and techniques must have been an enormous task, says Lautman.
"Built using masonry, rubble or brick, stepwells involved careful placement of a long staircase and side ledges around a trench that allowed access to water," she adds. "During rainy seasons, the trench would transform into a huge water cistern, filling to capacity. Their close-packed design helped reduce evaporation."
Stepwells used for farming had drainage systems that channelled water into the fields. The Moosi Rani Sagar revival project in Rajasthan is one such multi-level plan involving wells, dams and canals from the top of the Aravalli hill to the stepwell at the foothills. Restoration work started in 2020 and required extensive cleaning and desilting, removing debris and invasive weeds and firming up  civic structures. From a cesspool, the channel has transformed into a fresh waterway, with thriving fish and turtles.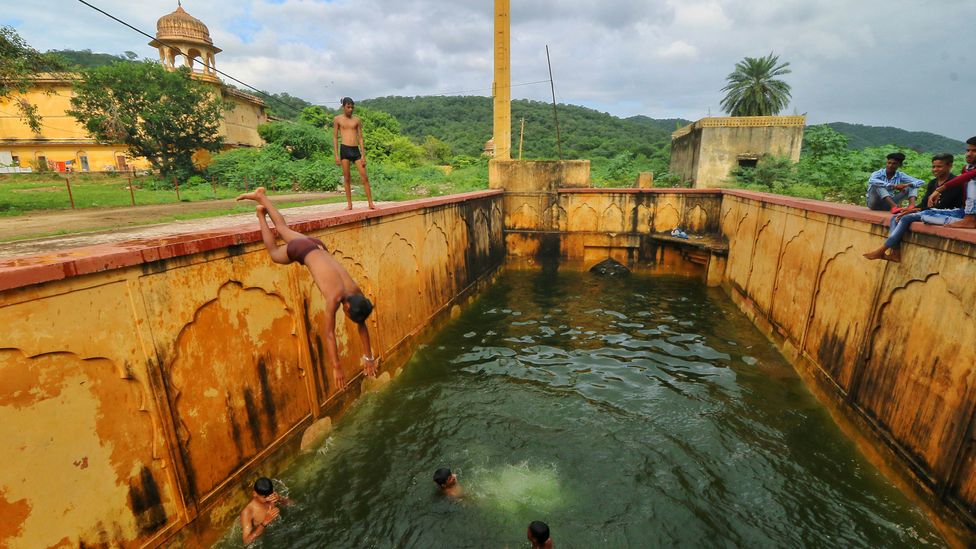 Stepwells are not just useful for water storage but form an important focal point of communities and their heritage (Credit: Vishal Bhatnagar/Getty Images)
Researchers have explored the application of fractal geometry in stepwells, which had both an aesthetic and functional purpose. This provided stability, buttressing walls against water pressure, owing to which many stepwells have survived and have the potential to be restored.
In 2017, the government identified 15 stepwells in Delhi for restoration. In 2019, the Aga Khan Trust for Culture partnered with the German Embassy in India to restore a stepwell in the Humayun Tomb complex in Delhi. "It mandated re-grading the earth and rebuilding the walls," says Nanda. "The efforts helped recharge aquifers through an investment of 4.15 million Indian rupees (£40,500/$54,990). This catchment area will help conserve 150,000 litres (32,995 gallons) of rainwater."
The 14th-century Hazrat Nizamuddin Dargah in Delhi was restored earlier. Portions of the baoli had collapsed, threatening the families living nearby, who were relocated to safer places. "It required rebuilding the collapsed portion with traditional materials, removing 700 years of accumulated debris, extensive cleaning and de-silting 80ft below the ground, and removal of the epoxy layer involving 8,000 man-days of work with the help of volunteers. The efforts helped in recharging underground aquifers," says Nanda.
"The Dargah baoli is special as people consider it sacred and believe that the water has medicinal property. They carry water for drinking and healing purposes. The locals are enthused to see fresh water in the baoli," says Kaleemul Hafeez, a resident of Delhi.
Unfortunately, there is no universal way of restoring a baoli. Restoration needs to be done using traditional materials with skilled craftsmen, architects and structural engineers, according to Nanda.
Restoring stepwells may not solve the country's water problem completely, but can certainly provide solutions at the local level to battle water scarcity - Ratish Nanda
"Undertaking restoration is not easy. It's a complex project involving a multi-disciplinary team," says Nanda. "It requires surveying surrounding structures to prevent any damage. A baoli needs a proper catchment area through which water can reach underground aquifers."

Most restoration work has been carried out through partnerships between government and non-governmental organisations, local volunteers and donors. "The restoration projects are a lesson in how local communities can be brought closer to their heritage by offering them a sense of ownership and responsibility," says Safvi.

But stepwells are not just a water source, they are also part of India's architectural history. They are heritage sites, surrounded by native trees and foliage, which need to be preserved. They can serve as vibrant social centres and can attract tourists. One approach to fund their upkeep has been to use heritage funds that can be built through municipal revenue generation and donations for restoration and maintenance.

"Restoring stepwells may not solve the country's water problem completely, but can certainly provide solutions at the local level to battle water scarcity," says Nanda.

--

Join one million Future fans by liking us on Facebook, or follow us on Twitter or Instagram.

If you liked this story, sign up for the weekly bbc.com features newsletter, called "The Essential List" – a handpicked selection of stories from BBC Future, Culture, Worklife, Travel and Reel delivered to your inbox every Friday.

;