Combustion-engine cars occupy a special place in American culture, but to reach net zero by 2050 the US needs to rethink its relationship with the automobile.
A
Arlington, Texas has the strange honour of being the largest city in the United States with no public transport service – not a single bus line or rail track. Its 400,000 residents have only their own cars and a city-sponsored rideshare service to get around in. It's an extreme example, but not a huge contrast with hundreds of other American cities where travelling without a private vehicle is time-consuming and difficult.
It's easy to see why having a car in the US is synonymous with mobility and freedom to travel – without one, you're beholden to poor transit services that might include one-hour waits for buses that may or may not arrive, minimal or non-existent bike lanes and limited rail service, among other challenges. The car-centric infrastructure and culture of the US is also the crux of its greenhouse gas emissions. Since 2017, transport has been the single largest source of greenhouses gases in the US – higher than electricity or industry emissions – and these emissions are dominated by cars.
If the US is going to meet its climate commitments to reduce emissions to half of 2005 levels by 2030 and reach net zero emissions by 2050, it's going to have to do something about this.
It's certainly creating a lot of environmental challenges, but also social and political challenges, given the isolation that people are experiencing in suburbs – Ethan Elkind
The country's skyrocketing car use isn't necessarily the fault of individual drivers. Historic development patterns and policies which continue to prop up car-dependent infrastructure mean there are often few other options. Incentives for people to buy electric cars can help reduce emissions, but many experts believe moving to clean transport also requires rethinking how we move about in the first place. Massive investment is needed to move American cities in the direction of bike and public transit-friendly metropolises in Europe and Asia.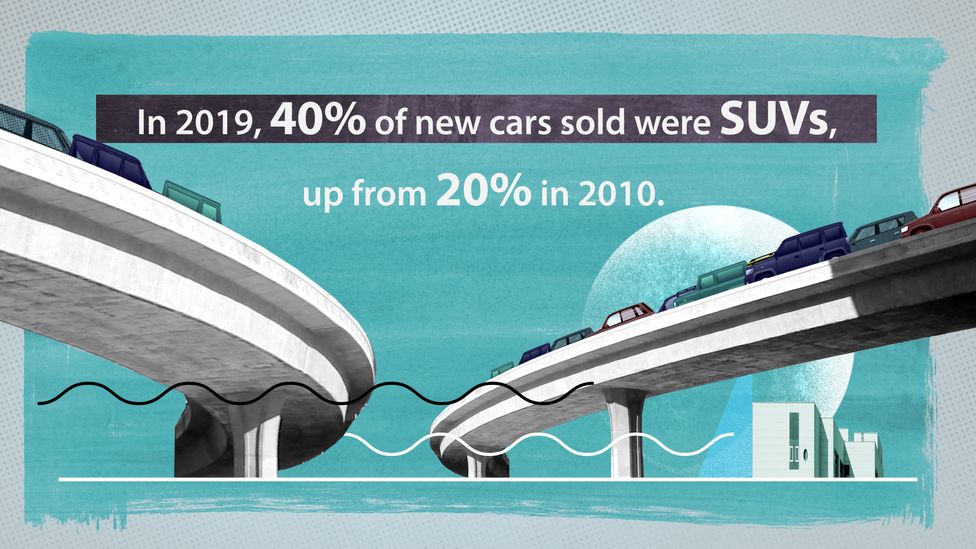 SUVs are a growing source of carbon emissions, with sales growing apace in the US (Credit: Adam Proctor/BBC)
Since the mid-20th Century, federal funding for transport has largely gone to car infrastructure such as highways, says Ethan Elkind, who leads the climate program at the University of California, Berkeley's Center for Law, Energy and the Environment. Many cities in the US are built on a 1950s blueprint of sprawling subdivisions reliant on cars. Pedestrian, biking and public transit have taken the backseat. "Now we're just locked into it," says Elkind. "It's certainly creating a lot of environmental challenges, but also social and political challenges, given the isolation that people are experiencing in suburbs."
In 2019, more than three-quarters of American workers drove alone to work. The vast majority of their cars burn petrol, each emitting an average of 4.6 tonnes of CO2 per year – equivalent to the total yearly emissions of someone living in France. The US also lags behind China and Northern European countries in electric car sales – electric vehicles made up only 2% of all new cars sold in 2020 (75% of cars sold in Norway the same year were electric).
And when they need to travel longer distances, Americans tend to fly. The US was responsible for about a quarter of global passenger aviation emissions in 2019. Travelling by plane is estimated to result in seven times the carbon emissions of high-speed rail. While more than 20 countries now have high-speed trains zooming people to their destinations at more than 200 miles per hour, the US has yet to complete a single true high-speed rail line.
Major infrastructure projects like passenger rail are slow in the US for a number of reasons. Local and regional governments have relatively more power in land-use decisions than elsewhere, says Elkind, making big projects subject to the politics of city councils and county boards.
Projects that push ahead despite bureaucratic and legal hurdles are often later derailed thanks to cost overruns and minimal support from federal funding. Often, they run over budget simply due to a lack of institutional knowledge, says Jonathan English, transport director of the chamber of commerce and advocacy group Toronto Region Board of Trade, who has researched public transport development in the US, Canada and in Europe. In places where public transit development is common, there are experts who can work efficiently and avoid going over-budget. But in the US, planners may have to negotiate many unforeseen challenges.
Take the California High Speed Rail system, for example. After more than a decade of delays, the project is low on funds, and construction is currently limited to a 119-mile (190km) segment in the Central Valley. The goal of the project is eventually to connect San Francisco to Los Angeles. "The [funding] offer from the federal government for highways is much more generous than for rail," says Elkind, adding that California has mostly had to finance the project on its own with bond money and funds from its carbon trading program.
Transport officials at Oregon Metro – a regional planning agency covering Portland and portions of surrounding counties – express similar frustrations. While the agency has managed to forge ahead with various light rail, bus and bike path improvements since the 1990s, securing funds has been challenging. "We receive a very small amount of flexible [federal] funds that can be used for active transportation and transit projects," says Margi Bradway, deputy director of planning at Oregon Metro. "They really pale in comparison to the overall funding available."
How SUVs came to rule the world
US states with commitments to cut their emissions are coming to terms with that reality. In September, state officials in Colorado said that while the state is on track to meet climate goals in its utility sector, transport is the "most complicated" part of emissions cuts. The state estimates that one-third of emissions reductions in transport need to come from developing denser urban areas and more public transit, but policies to get there have yet to be put in place. Meanwhile, fuel-intensive SUVs and light trucks now make up the majority of new car registrations in Colorado and outsell sedans nationwide too, reversing climate gains from the development of more fuel-efficient cars.
There's ample free parking, which incentivises people to drive, which incentivises people to purchase cars – Adie Tomer
One overlooked feature that might have a surprisingly powerful role to play in reducing car use is parking. It's been estimated that the US has as many as two billion parking spaces – that's around eight spots for every car. In many places, local planning laws require developers to build abundant parking into their projects. "You have an enormous feedback loop," says Adie Tomer, expert in metropolitan infrastructure at the Brookings Institution, a non-profit based in Washington. "There's ample free parking, which incentivises people to drive, which incentivises people to purchase cars, and then more people build both residential and commercial development to accommodate those cars."
Conversely, if parking became more costly or scarce, that could tip people toward other modes of transit. Knowing you have to circle the block and compete with other drivers for a spot, you might opt to hop on a bike or bus to get downtown instead. This understanding is leading some city officials such as those in Santa Monica, California to repeal mandatory minimum parking densities, encouraging more closely built development and greater uptake of walking, biking and public transit.
Policymakers are exploring other ways to account for the pollution from cars and tackle congested highways. Oregon, Utah and California all have pilot projects in the works to test a tax on vehicle miles travelled. The thought is, just like any other utility, we should pay based on our use of roads – and pay extra when highways are backed up. All new cars already come equipped with technology that could transmit their location and mileage, but it remains to be seen if drivers will be open to having their travel monitored (a report from California's pilot study found privacy not to be a "significant concern" for participants). "It's really about political will at this point," says Tomer.
Of course, without other changes, adding new taxes on driving and parking could cause some people real difficulties. Many people have to commute by car because they can't afford to live close to a city centre. "When we don't have any affordable homes near jobs and services, some people are forced to live farther out," says Elkind. "Then they are forced to drive longer distances and spend a lot of money on gasoline and the maintenance associated with those vehicles."
To account for this, Elkind and Tomer say we can divert revenue from parking and driving pricing programs into tax rebates or investing in alternative transport options. For example, congestion pricing – in which toll fees go up at busier times – since 2013 has helped expand public transport in Gothenburg, Sweden, leading to decrease a decrease of traffic during peak hours and a rise in public transport use.
Incentivising people to choose lower-carbon ways to move also means making the alternatives efficient and enjoyable. When highways are widened, congestion inevitably returns because drivers flock to the expanded road (transport planners call this "induced demand"). In the same way, growing public transit operations also increases demand.
Service frequency is "enormously impactful", says English. "If you run a bus once an hour, it's never going to be busy, because nobody's going to ride that bus unless they have absolutely no choice. You get that big boost in ridership between 10 and 15 minutes because people don't have to check a schedule and plan their lives around it." In Canada, this is true even in places like suburban Toronto, English says, where many middle-income people who own cars still choose to take public transit.
This realisation is driving some agencies to change. The regional transit agency in Cleveland, Ohio recently reconfigured bus routes to provide a regular 15 to 30-minute service along the most-used routes, while cutting lines that didn't get as much use, says Michael Schipper, the deputy general manager for engineering and project management with Greater Cleveland Regional Transit Authority. The rebalancing effort was cost-neutral and the agency hopes it will bring more passengers, and thus revenue (though it's too early to see results). Other US cities like Seattle, which has invested in more frequent rail and bus services, has witnessed an increase in ridership in recent years – at least before the pandemic, which understandably made people hesitant to share a crowded bus or train car.
Similarly, cities have found that if you build safe and reliable infrastructure for walking and biking, the cyclists and pedestrians will come. The majority of trips Americans take are less than three miles (4.8km) – distances that many can make by foot and bike. These modes are truly the greenest travel – daily cyclists on average have 84% less emissions associated with their travel than non-cyclists.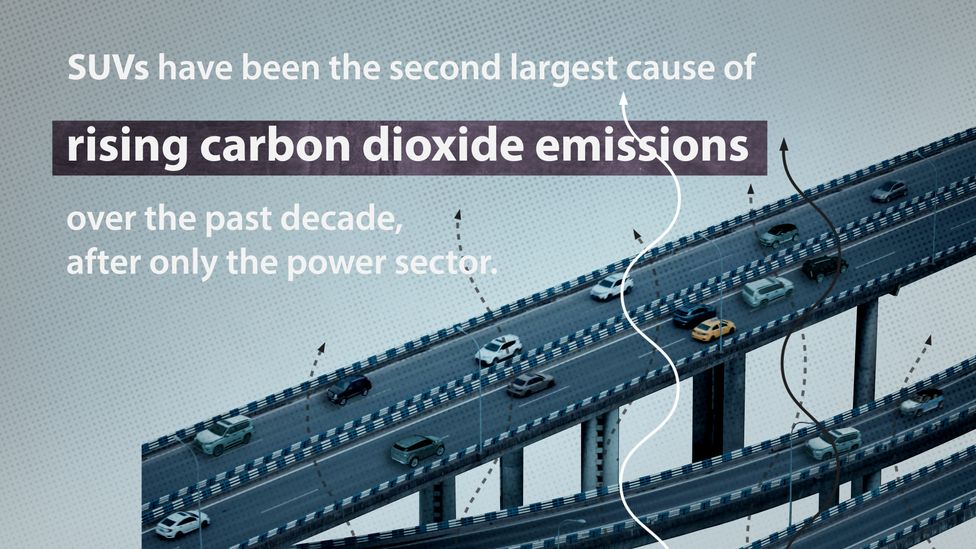 SUVs use an average of a quarter more fuel than smaller cars, and are harder to electrify (Credit: Adam Proctor/BBC)
But even without major new funds, there is still opportunity for change at the local level. In the Portland area, a network of streets designated as greenways was relatively cheap and encouraged a boost in bike travel, says Bradway. In greenways, vehicle speed limits are below 20 mph (32kph) and speed bumps and traffic diverters discourage drivers from zooming through. Giving buses a designated traffic lane also takes minimal investment and construction, but makes buses more competitive by being able to beat driving in congested areas, says Elkind.
These local changes build momentum and support, says English, which can help the changes stay even as politicians come and go. "The more riders you have, the more money you have, the more political support you have," says English. "Once you build a strong constituency of riders, you have a strong political voice that makes it impossible to then obliterate transit service down the line."
--
Data research and visualisation by Kajsa Rosenblad
Animation by Adam Proctor
--
Towards Net Zero
Since signing the Paris Agreement, how are countries performing on their climate pledges? Towards Net Zero analyses nine countries on their progress, major climate challenges and their lessons for the rest of the world in cutting emissions.
--
The emissions from travel it took to report this story were 0kg CO2. The digital emissions from this story are an estimated 1.2g to 3.6g CO2 per page view. Find out more about how we calculated this figure here.
--
Join one million Future fans by liking us on Facebook, or follow us on Twitter or Instagram.
If you liked this story, sign up for the weekly bbc.com features newsletter, called "The Essential List" – a handpicked selection of stories from BBCFuture, Culture, Worklife, Travel and Reel delivered to your inbox every Friday.