The Amazon Rainforest faces a point of no return, and if deforestation is not stopped it could be lost for good. But Brazil knows exactly how to stop illegal deforestation – will it do it in time?
I
In Careiro da Várzea, Brazil, just across the river from the Amazon capital of Manaus, dense rainforest gives way to vast stretches of cattle pasture. Plumes of smoke dot the horizon, as flames engulf trees and shrubs deeper in the forest. Clandestine roads crisscross the landscape, carved into the jungle by land speculators rushing to lay claim to virgin forest.
Here, like in much of the Brazilian Amazon, there are few signs of the country's ambitious promise to end illegal deforestation in less than a decade. Brazil took its pledge a step further this week, joining more than 100 other countries in signing a historic deal to halt and reverse deforestation at the United Nations' global climate talks (COP26) in Glasgow. Earlier this year, Brazil also vowed to become carbon neutral by 2050, moving its timeline forward by a decade.
Deforestation is by far Brazil's biggest emissions problem. The destruction of the Amazon, one of the world's most important carbon sinks, accounts for nearly half of Brazil's annual share of emissions. Without bringing deforestation under control, the country will struggle to reach carbon neutrality.
I saw charred forest and razed plots everywhere I looked, an inescapable reminder that we're inching closer to a point of no return
Yet Brazil's forests also give it an advantage in the global scramble towards net zero. Compared to other countries grappling with soaring energy emissions, the task at hand in Brazil is far simpler and less costly, says Mauricio Voivodic, executive director of WWF Brazil. But it requires focused action in the Amazon, two-thirds of which lies in Brazil.
"For many countries, making the transition to other sources of fuel or electricity requires technology and investment. In the case of Brazil, we don't need any big technology to stop clearing forests," he says. "But Brazil is walking with wide strides in the opposite direction."
Deforestation has skyrocketed in the country, hitting its highest level in a decade. As Covid-19 brought economies to a halt last year, most of the world temporarily reduced emissions – but Brazil's carbon footprint grew by 9.6% as deforestation and fires surged.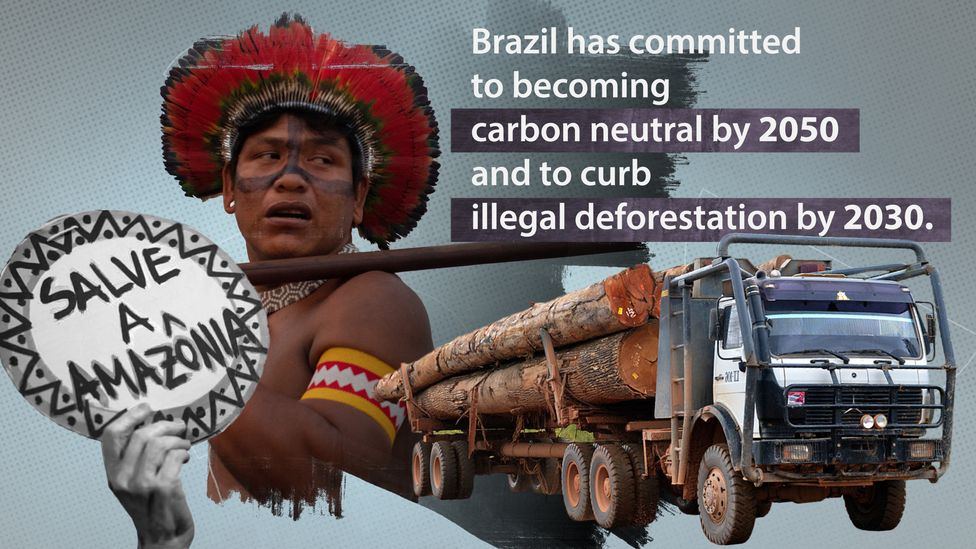 Deforestation is a major driver of emissions in Brazil, and the country has promised to halt illegal deforestation by 2030 (Credit: Adam Proctor/BBC)
Parts of the Amazon now emit more carbon than they capture due to the extensive deforestation and warming temperatures in the region. The world's biggest rainforest is nearing a tipping point, at which it will turn into a savannah. On a recent trip to the region, I saw charred forest and razed plots everywhere I looked, an inescapable reminder that we're inching closer to a point of no return.
But the destruction of the Amazon has stirred little concern in President Jair Bolsonaro. Until recently, the far-right populist leader has framed global calls to end deforestation as an attack on Brazilian sovereignty, arguing wealthy countries should pay up if they want Brazil to stop destroying the rainforest. He has fired top officials at Brazil's environmental agencies and slashed their enforcement budgets. He has tried to weaken environmental protections, with his critics accusing him of emboldening illegal loggers and cattle ranchers to encroach deeper into the forest.
Against this backdrop, experts such as Fabiana Alves, coordinator of climate and justice at Greenpeace Brazil, see the deforestation and climate pledges now being made by Bolsonaro's government as little more than lip service. "These promises are meaningless while Brazil's environmental policies are being dismantled," says Alves. "It is not enough to eliminate illegal deforestation by simply legalising it."
Still, halting deforestation is not an impossible task – especially because Brazil has come close before. Through a carrot-and-stick approach, the country was able to reduce deforestation by 80% in less than a decade. Between 2004 and 2012, forest destruction plunged dramatically as authorities toughened environmental policing, while offering communities incentives for finding ways to earn an income without deforesting.
"We know it's possible and we know what the path is," says Marcio Astrini, executive secretary of Brazil's Climate Observatory, a coalition of environmental groups. "Brazil is fully capable of eliminating deforestation. But whether we achieve this goal will depend on political will."
Neither Brazil's Ministry of Environment nor the president's office responded to a request for comment on this story.
Brazil has one of the most robust sets of environmental legislation in the world. What we're lacking is enforcement – Andreia Bonzo Araujo Azevedo
To shift course and truly tackle deforestation, Brazil must start channeling resources into its federal enforcement agencies again, putting more agents on the ground and punishing illegal incursions into the forest, says Andreia Bonzo Araujo Azevedo, co-leader of public policy at the Brazilian Coalition on Climate, Forests and Agriculture. The aim should be to send a clear message that illegal deforestation won't be tolerated.
"Brazil has one of the most robust sets of environmental legislation in the world," Azevedo says. "What we're lacking is enforcement. Our biggest challenge today is ensuring compliance with the law.
Are "net zero" pledges useful?
An easy place to start is by reforming the country's system of land titling, Azevedo adds. Currently, invaders can declare a slice of forest as theirs, receiving a land title automatically. In theory, these provisional claims should be checked by officials, but this step is often skipped. Land-grabbers claimed some 18.6 million hectares of forest in the Amazon this way, often using such land titles to secure financing for the heavy machinery needed to clear the land. 
"What happens is that people occupy a public forest illegally and even declare it as theirs, and nothing happens to them," Azevedo says. "These claims need to be validated to stop invasions."
Legislators have sent the wrong signal in the past, by granting land titles to invaders holding these illegitimate land claims, Voivodic notes. "Congress needs to send a clear message...that this won't happen anymore," he says. "If they know their land claim won't be legalised in the future, there is no point in investing to deforest it."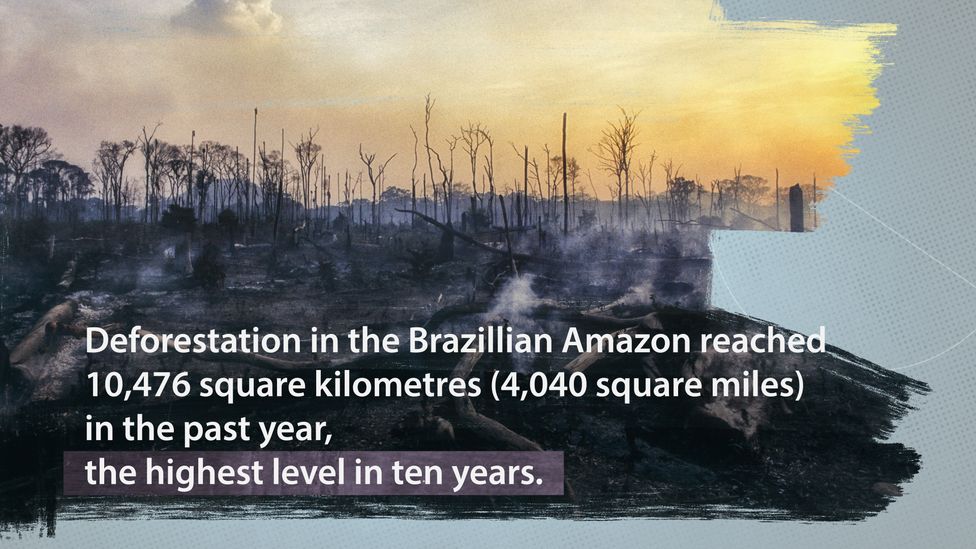 In the past Brazil has cut deforestation dramatically, but in recent years it has once again surged (Credit: Adam Proctor/BBC)
On the path to carbon neutrality, another key piece of the puzzle lies in reducing the forest destruction caused by the country's massive cattle industry. Brazil is one of the world's largest exporters of beef, with a herd of more than 200 million head of cattle. On average, only about one cow grazes on every hectare of pasture, which translates to about a third of the productivity seen in highly-efficient European producers like the Netherlands. Researchers say that, with better practices, Brazilian cattle ranchers could achieve similar results.
"Clearly deforestation is no longer necessary for the growth and success of Brazilian agriculture," says Voivodic. "Brazilian agriculture has enormous potential to increase its productivity, to reduce emissions and to trap carbon in the soil."
Often, degraded pastures are also abandoned after a few years, with new stretches of forest cleared. But cattle ranchers could improve returns – and eliminate forest destruction – by making use of this land. Researchers estimate the rehabilitation of 12 million hectares of degraded pastures across the Amazon could yield 17.7 million cattle per year, while also reducing the need for new agricultural land.
You can have the technology but, without political will to apply it, it doesn't get off the ground – Marcio Astrini
"The deforested areas that we already have are enough for us to more than double the production of food in Brazil without the need for further deforestation," says Astrini.
Researchers at the state-owned Brazilian Agricultural Research Corporation (Embrapa) have also developed a certified brand of "Carbon Neutral Beef", which they hope will tackle emissions from cattle ranching. The certification scheme relies on changing the animal feed and altering the way the soil is treated, with the aim of reducing methane and carbon emissions.
Brazil recently unveiled a revamped version of its low-carbon agriculture programme, a credit scheme that hands out low-interest loans to small farmers who want to implement sustainable practices. First launched in 2010, the ABC Plan promotes practices like no-till agriculture, restoration of degraded pasture and the planting of commercial forests.
But implementation of these schemes has lagged, limiting their impact. Astrini estimates the ABC Plan has only been rolled out across 1% of agricultural production so far. Similarly, innovations – like productivity gains or "Carbon Neutral Beef" – that could help the cattle industry reduce its carbon footprint have failed to gain traction without a push from the government, he notes.
"What we need is to ensure that these tools are being used throughout the agricultural sector," Astrini says. "You can have the technology but, without political will to apply it, it doesn't get off the ground."
In many corners of the Amazon, the idea of preserving the rainforest is a hard sell – and it's easy to see why. For rural communities, deforestation is often a path to opportunity. Many survive from illegal logging or cattle ranching, with hopes that razing more land will help pave the way to prosperity. With no alternative income, few are willing to stop destroying the forest.
But in pockets of the Amazon, there are signs of more sustainable economies emerging. Along the Uatumã River, communities that used to log illegally are now collecting and refining essential oils extracted from the forest. The Foundation for Amazon Sustainability (FAS) and Idesam, a pair of Brazilian nonprofits, also helped residents open an eco-lodge that is helping them earn an income from tourism without clearing the forest.
In the state of Pará, small-scale farmers are also helping restore the forest by planting cocoa trees. The Nature Conservancy, the nonprofit leading the initiative, estimates about 557,500 hectares (2,150 square miles) of degraded forest can be reforested through cocoa, while providing an alternative income source for small-scale agricultural producers, who are responsible for just over one-third of deforestation in the state.
In Mato Grosso state, small-scale agricultural producers are also harvesting Brazil nuts on land that was once razed to make way for cattle with the help of The Life Center Institute
(ICV), a Brazilian nonprofit. Some communities are certifying their products as organic and forming logistics networks, helping farmers reach a bigger market and increase their earnings.
"Right now, the path of least resistance is deforestation and lawlessness," says Astrini. "Once you open up new economic possibilities, new industries and new income streams, people start to think, 'This is much more promising than deforesting more land.'"
So far, such pilot projects have garnered promising results, signalling it is feasible to halt deforestation and create sustainable economies in the Amazon. But most are expensive and only possible with the help of NGOs. As a result, they often have limited reach, raising doubts about whether they can put a meaningful dent in Brazil's deforestation rates.
Voivodic says this is where the state must step in. "Civil society doesn't have a responsibility to single-handedly solve the country's problems," he says. "The aim is to test innovations and demonstrate the viability of these models. But these lessons need to be transformed into public policies to gain scale."
Failure to take action could come at a hefty cost for Brazil. Bolsonaro's stance has alienated the international community, stalling trade negotiations with importers of Brazilian soy and beef. As deforestation has soared, countries such as Norway and Germany have also frozen environmental aid to Brazil.
Some multinationals have soured on Brazil too, as they too face mounting pressure from consumers. European firms, including UK retailers such as Tesco and M&S, have threatened to boycott Brazilian agricultural products over deforestation.
"The world is starting to move towards an economy where you want to know where the product you buy comes from," says Alves. "And Brazil is not prepared to provide a response."
Brazil could also be shut out of the new, greener global economy that is emerging, as international investors eager to pour cash into sustainable, carbon-neutral ventures eye the country with caution, says Azevedo. "There is great interest from companies wanting to invest in Brazil. But they don't have adequate legal security because of the land-grabbing, the invasions and the lack of enforcement."
As international pressure grows, Bolsonaro has softened his tone and is reinstating climate goals he abandoned a few years ago, setting even more ambitious targets. "He is trying to show the world that he is doing something for the climate, because he has been put on the spot," says Alves. "But it's not backed up by action."
Meanwhile, Brazil is beginning to feel the climate impacts of deforestation, which may be ushering in fresh emissions challenges. This year, Brazil grappled with its worst drought in more than 90 years. The water reservoirs that fuel the country's hydropower plants dried up, squeezing energy supplies and boosting the appeal of dirtier sources of energy.
In a worrying move, Bolsonaro responded with plans to invest $4bn (£2.9bn) in so-called sustainable coal mining over the next decade, by modernising coal plants and making them more efficient. Along with plans to ramp up oil and gas production, this has cast further doubts over Brazil's commitment to protecting the environment and slashing its carbon emissions.
"All eyes are on deforestation right now," says Voivodic. "But, soon, we will need to face this challenge too."
--
Data research and visualisation by Kajsa Rosenblad
Animation by Adam Proctor
--
Towards Net Zero
Since signing the Paris Agreement, how are countries performing on their climate pledges? Towards Net Zero analyses nine countries on their progress, major climate challenges and their lessons for the rest of the world in cutting emissions.
--
The emissions from travel it took to report this story were 0kg CO2. The digital emissions from this story are an estimated 1.2g to 3.6g CO2 per page view. Find out more about how we calculated this figure here.
--
Join one million Future fans by liking us on Facebook, or follow us on Twitter or Instagram.
If you liked this story, sign up for the weekly bbc.com features newsletter, called "The Essential List". A handpicked selection of stories from BBC Future, Culture, Worklife, Travel and Reel delivered to your inbox every Friday.