The fashion industry contributes between 2-10% of global carbon emissions – so how might it have to change to enable a net zero world by the middle of the century?
H
Hasna Kourda grew up on an island in Tunisia where her grandmother instilled in her strong values of looking after things. "Every garment was reused and repurposed continuously," Kourda says. A large rug made from old clothes worn by her grandmother and her family is still used by Kourda's parents today. 
As an adult Kourda has poured these principles into a project that she hopes could change the relationship people currently have with their clothes – and benefit the environment in the process.
The fashion industry – from material sourcing, through supply chains to washing and waste – is estimated to be responsible for 8-10% of global carbon emissions, according to the UN, while other estimates put the figure somewhere between 2% and 8.1%. Clothing also requires considerable amounts of fresh water and is a major source of water pollution. (Although it is hard to pin down clear figures for the industry's environmental impact.)
The disposable consumption patterns encouraged by "fast fashion" have only compounded the problems. The global production of clothing doubled between 2000 and 2015, according to non-profit waste reduction organisation Wrap, while the average number of times clothing is worn fell by 36%. Big brands launch hundreds of collections each year and the emergence of low-priced digital brands has seen a flood of £10 ($13) dresses and £1 ($1.35) bikinis – giving the impression that clothes are disposable.
But the cheap prices mask a high environmental cost. Inexpensive, low-quality garments have meant it is often cheaper for consumers to buy a new outfit than get their clothes repaired and it has led to mountains of discarded clothing being either burned or ending up in landfill.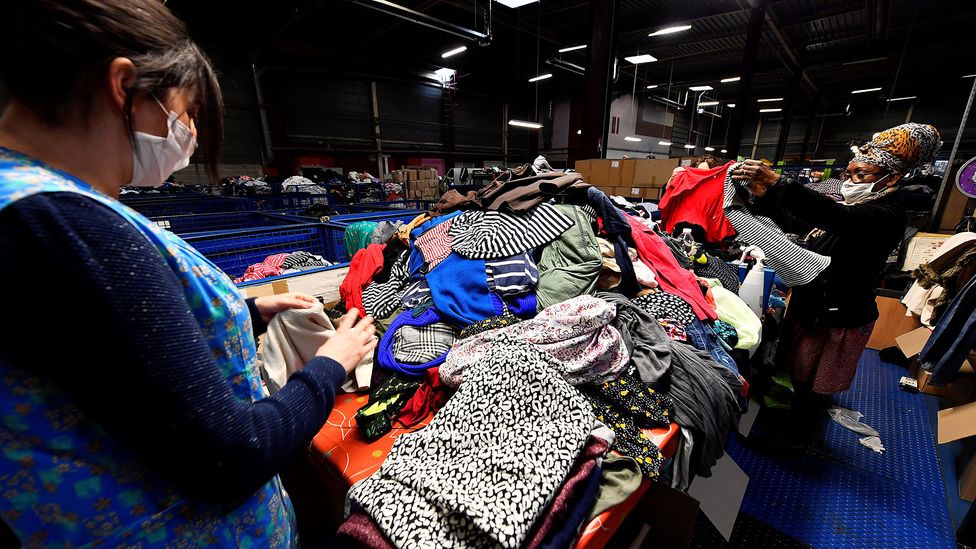 Due to the complex mixture of materials in modern fabrics, recycling clothing is currently a labour intensive task (Credit: Georges Gobet/Getty Images)
As the world races to meet its commitments to limit carbon emissions to net zero by the middle of the century, the fashion industry has a huge job ahead of it to play its part.
Kourda is among those who hopes to help do that. Her approach is to encourage people to go looking for new ways of using the clothing they already have rather than buying something new. Her startup, Save Your Wardrobe, uses technology to help people go shopping in their own wardrobes.
2045: Memories of the Future
This article is part of 2045: Memories of the Future, a multimedia series by BBC Future and BBC World News that examines how much the world will have to change by the year 2045 if it is to reach net zero by the middle of the Century and so keep climate change to within the 1.5C target set by the Paris Agreement on Climate Change.
The company uses computer vision and image recognition software to build a digital image of a user's wardrobe – people can either take pictures of clothes or allow Save Your Wardrobe to scan their online receipts. It then advises how to create new outfits as well as connecting users to repair and alteration services, and environmentally friendly dry cleaning.
In October the company began a partnership with German e-commerce giant Zalando, which will use Save Your Wardrobe technology to offer customers aftercare for their clothes. 
The mission, says Kourda, "is to use technology to guide users to reconnect with the content of their wardrobe and make the most out of it, ultimately encouraging them to buy less and better".
Save Your Wardrobe is just one of a huge number of companies using new technology and radically different business models to try to overhaul the industry. From encouraging new ways of consuming fashion, to making the production of clothing more sustainable and enabling garments to be recycled at the end of their life, the fashion world could look very different by the time we reach 2045.
One of the biggest problems facing fashion at the moment is waste. Overproduction has led to brands incinerating millions of pounds worth of unsold stock. The pandemic heightened the problem as shop closures left many companies with mountains of unsold clothing.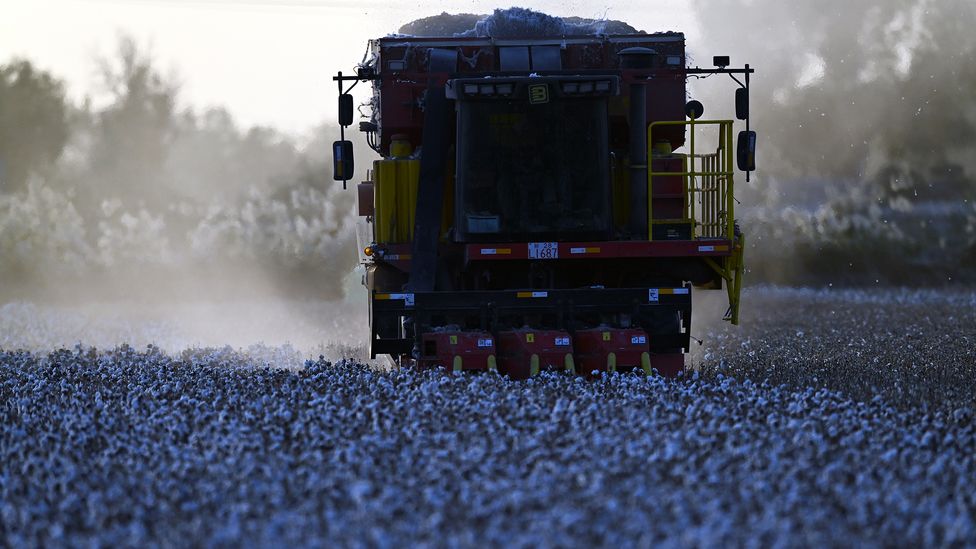 Natural fibres like cotton take a heavy toll on the environment due to the water needed and emissions produced when growing them (Credit: Que Hure/Getty Images)
Fashion technology company Unmade has a solution: instead of guessing what people want, it links demand directly with production. Its software allows people to customise clothing, then the company turns designs into data files that can be sent to factories. Clothing is made on-demand and in smaller batches. Already the company has teamed up with big brands including trainer company New Balance, to produce customised knitted footwear.
It's just one of a cluster of companies removing the guesswork from production. Away To Mars allows users to design clothes in a collaborative process where people share feedback and vote whether to create a particular piece of clothing. Everyone who contributed to the design takes a slice of the sales. "You're redistributing wealth, you're co-creating the collection, and you know it's a way to have a greater chance of selling things," says Dilys Williams, director of the Centre for Sustainable Fashion, at London College of Fashion, University of the Arts London, who has been part of a team of experts advising the company.
But even when clothes are sold, another problem comes when people no longer want them. Less than 1% of clothing is currently recycled into new wearable items. "It's not a profitable business model to be involved in," says Patsy Perry, a reader in fashion marketing at Manchester Metropolitan University.
Clothes are hard to recycle into quality material, especially if they're made from blends of different fibres. A lack of recycling means the industry continues to rely heavily on virgin materials. Synthetic fibres such as polyester – produced using fossil fuels – make up more than 60% of the material used in clothing.
Chemical recycling may offer one solution by breaking down plastic to its original molecules to create high quality recycled plastic. The technology is complex and expensive but a number of companies hope to scale it up.
Inexpensive, low-quality garments have meant it is often cheaper for consumers to buy a new outfit than get their clothes repaired
London-based Worn Again Technologies, which counts clothing chain H&M among its investors, has developed technology to separate and decontaminate polyester and cellulose in unwanted clothes. They can then be turned into new materials, which the company claims can be continuously recycled and used in textiles.
Seattle-based Evrnu also melts down discarded clothes to rebuild them into new materials. The company has worked with Adidas by Stella McCartney to produce a hoodie made using its "NuCycl" fibres which can be reprocessed into new clothes once the hoodie reaches the end of its life. The company says it should be possible to recycle the fibres up to five times without losing quality. It just raised $15m (£11m) and plans to open a demonstration facility.
"Recycled content is part of the picture of a circular economy in textile products," says David Moon, head of business collaboration at Wrap. "But at the other end what you need to do is make sure that the consumption is more sustainable." That means radically different business models.
One option is to rent your clothes rather than buy them.
Clothes rental is already starting to boom, with companies such as My Wardrobe and Rent the Runway loaning well-known brands for days or weeks at a time. While there are concerns about emissions caused by transporting and cleaning the clothes, it's about finding the models which work best, says Williams. In denser cities, for example, clothes can be delivered by bike courier.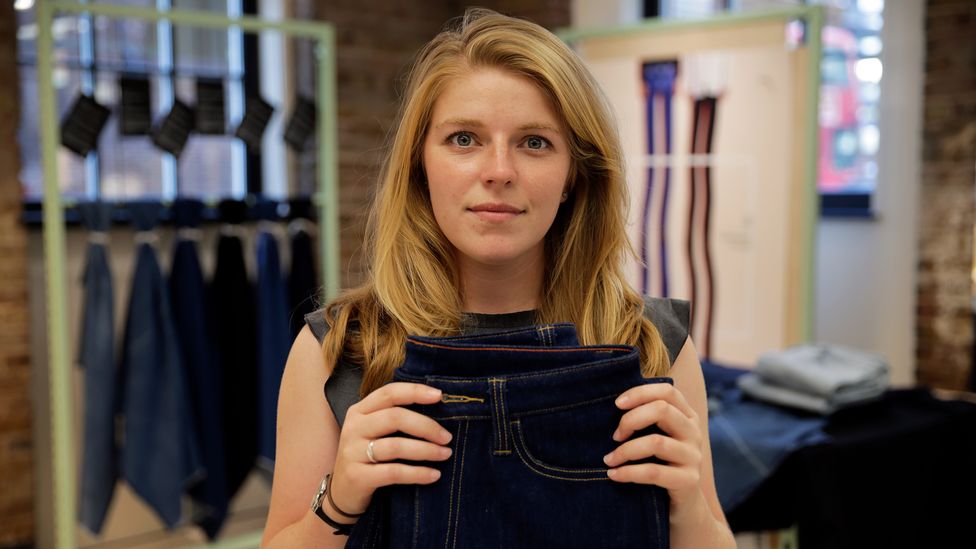 The Ellen MacArthur Foundation has been working with major manufacturers to make the production of jeans more environmentally friendly (Credit: BBC)

Resale could have even more potential, says Moon. A report commissioned by US online resale brand ThredUp predicted that the resale market will grow 11 times faster than traditional retail over the next five years. Paris-based Vestiaire Collective, which allows users to buy and sell pre-owned, often designer, clothing, is one of the most popular and currently valued at more than $1 billion (£742m).

But there's no quick fix for fashion, says Williams. Meeting climate targets will mean a reevaluation of all aspects of the industry. While fashion giants remain reliant on business models built on increasing consumption, smaller brands are "not tweaking at the edges because they start from a different place", she says.

Womenswear brand House of Baukjen, for example, has just been awarded the UN Global Climate Action Award for its circular business model. It "designs for longevity" using "low impact materials", says chief executive Geoff van Sonsbeeck. It has short supply chains and will only work with suppliers that meet its sustainability standards. Baukjen also offers rental options, a take back programme for used clothes and, in the words of van Sonsbeeck, "we are quite vocal" about explaining to customers how best to look after the clothing.

There is also movement among bigger companies, which are showing a willingness to collaborate. In 2019, the Ellen MacArthur Foundation gathered more than 70 brands, retailers and other organisations – including Asos, Levi's and Chloé –  to launch The Jeans Redesign, a programme looking at every life stage of a pair of jeans from design and manufacturing to use, reuse and recycling. The organisation used the findings to create circular standards for participants and it says 500,000 pairs of jeans have since come to market which are "durable, traceable, recyclable and made using safe materials and processes."

For fashion to stay on a pathway that is compatible with limiting warming to 1.5C, it will take a mix of legislation – including carbon pricing and support for renewable energy – along with a huge culture change, where people consume less, says Williams.

The timeframe for action is narrow and the impacts of the climate crisis are worsening, but Williams is buoyed by the scale of innovation. "It's a really exciting time for fashion, even though it's a time that's pretty hair-raising as well."

--

Join one million Future fans by liking us on Facebook, or follow us on Twitter or Instagram.

If you liked this story, sign up for the weekly bbc.com features newsletter, called "The Essential List" – a handpicked selection of stories from BBC Future, Culture, Worklife, Travel and Reel delivered to your inbox every Friday.

;