Airships could offer a much cleaner and quieter alternative for some aspects of the aviation market. In a former airship factory, a new generation are taking shape.
S
Sergey Brin turned internet search into one of the world's most valuable businesses more than two decades ago. Now he intends to improve a technology which had its heyday long before he was born.
Brin and his team of engineers' plan is to do this by reinventing a much older, if improved technology. A new generation of airships – the lighter-than-air craft that don't need conventional airports – will be built in a corner of Ohio which played a unique part in the history of aviation. What's more, if built they will be housed in one of America's most iconic structures, the Goodyear Airdock in Akron.
Airships could help speed up the delivery of aid in disaster zones, carry air cargo much more cheaply than air freighters, and cut aviation emissions. However, similar projects in the past have struggled to overcome the complex engineering challenges involved, and have either run out of money, or left potential customers disillusioned.
"Flying an airship is unlike flying any other aircraft because it's lighter than air and floats, instead of sinks, when you put the power at idle," says Andrea Deyling, a pilot and director of airship operations of Brin's airship company, LTA Research. "There's also a sense of wonder people have when they see a lighter-than-air vehicle flying overhead. LTA Research is building a unique airship and I can't wait to get into the actual aircraft and fly it."
In the first half of the 20th Century, Akron in Ohio, was known as the "rubber capital of the world" because it was home to great American tyre manufacturers such as one time arch-rivals Goodyear and Firestone, and it soon became a centre of airship development thanks to the connections between the two industries.
You might also like:
Even though these industries have since declined, their legacy remains. Around 14 miles (22km) south of the city, Goodyear built an airship base at Wingfoot Lake in 1917 that, over 100 years later, still constructs and maintains the company's blimp fleet. This makes it the oldest airship facility in the world, and one of the oldest active aircraft bases.
Similarly, Akron University grew on the back of the tyre and airship manufacturing industry, and its College of Engineering and Polymer Science is one of the top faculties of its kind in the United States. The cluster of businesses that have grown up around it has even led to the area's being labelled "Polymer Valley".
The Goodyear-Zeppelin Airdock, to use its original name, was designed in a wind tunnel, looked like it belonged in Flash Gordon, and when was built in 1929, it was the largest building in the world without interior supports. Incredibly the $2.2m structure, equivalent to around $30m (£25m) today took only seven months to build.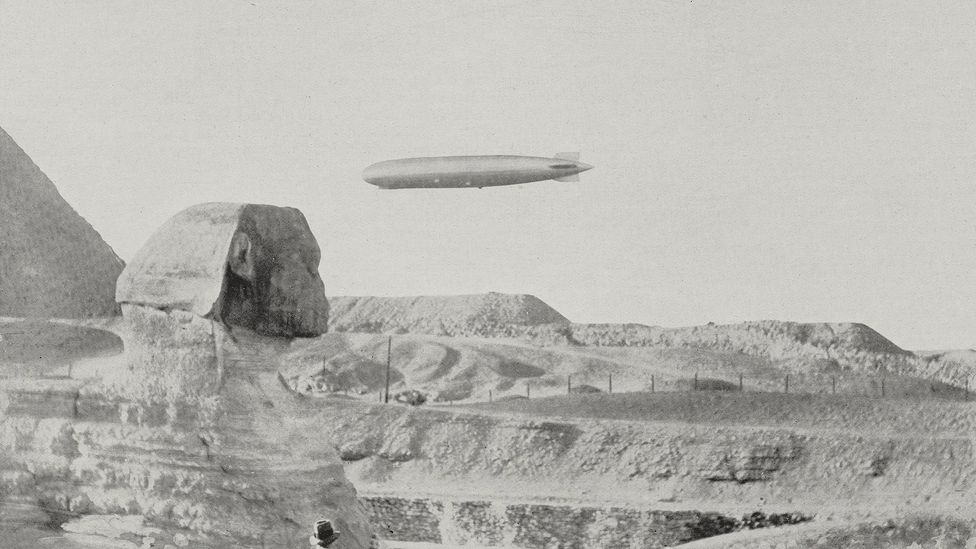 Germany was a pioneer in using airships as long-range passenger aircraft (Credit: De Agostini Picture Library/Getty Images)
It is not possible to see the Airdock from the centre of Akron. Instead, you need to drive out of the city, past the university and on to the freeway. Then this giant black building appears in front of you, like a buried half-cylinder with two scallop shells at either end. Its true size is hard to comprehend, even once you get inside.
This giant airship factory with a floor space equivalent to eight American football fields (364,000 sq ft or 34 000 sq m) was the vision of two men, Paul W Litchfield, and Dr Karl Arnstein. The former was the first CEO of the Goodyear Tire and Rubber Company, who spearheaded its tie-up with the German Zeppelin Company to build airships. The latter became one of the most important airship designers in the 20th Century thanks to his work for Goodyear.  
Litchfield had the vision. He built the Airdock because he wanted to construct a new generation of huge, state-of-the-art helium-filled rigid American airships for long-distance commercial passenger flights, and to position Goodyear as the world's leading manufacturer of passenger-carrying airships. Rigid airships are given their shape by the complex metal framework needed to support a huge envelope filled with enough hydrogen or helium to lift a sizeable number of passengers, or cargo, for days at a time. The contracts he signed with the US Navy to build the USS Akron and USS Macon, the world's first flying aircraft carriers and two of the largest aircraft ever flown, would subsidise the research and development needed for these passenger craft.
Civil servants in London drew up plans to unite the British Empire through a fleet of giant airships
This wasn't as mad it seemed. In the 1920s the future of long-distance aviation seemed to be the airship. In 1919 the British R-34 had flown across the Atlantic and back. In 1928 the Graf Zeppelin made its first transatlantic demonstration flight from Germany to Lakehurst, New Jersey; a regular commercial service to Brazil soon followed.
Civil servants in London drew up plans to unite the British Empire through a fleet of giant airships. Goodyear joined the race too, setting up its own companies to identify routes across the Atlantic and Pacific.
"Litchfield was worried that the British were going to beat him to this global airship service, and he watched what they did very closely," says John J Geoghegan, journalist and author of the book When Giants Ruled the Sky. "He knew that once they opened up a route to Canada, that North America wasn't going to be far behind."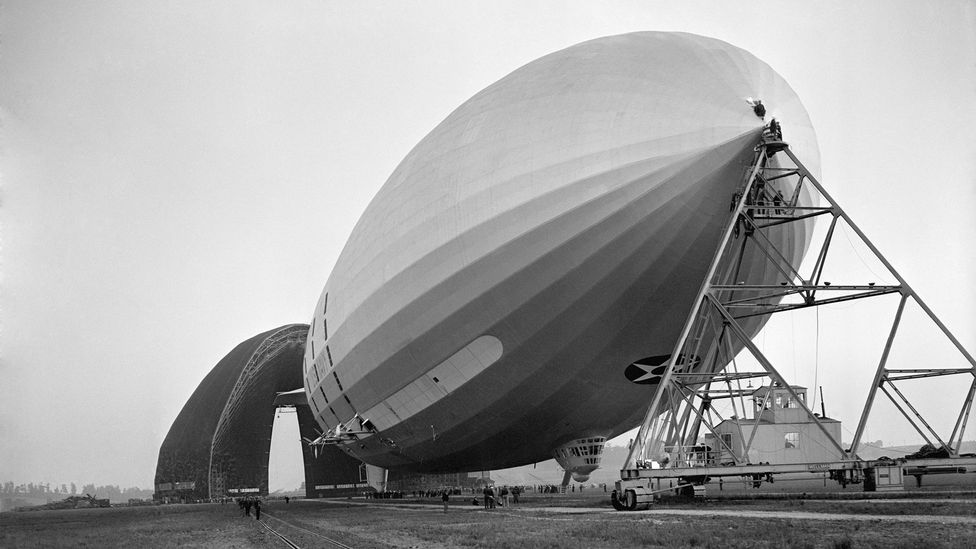 The USS Akron was one of the largest US airships built in Akron in the 1930s (Credit: Bettmann/Getty Images)
Arnstein was supposed to be the conservative one. Yet the Zeppelin designer tore up the book by choosing a radical curved design based on a hangar built in Dresden in 1913. This half-cylinder form with its shell-shaped doors helped eliminate the vortices that more traditional, rectangular structures can create – whirling masses of air that made moving giant airships in and out of hangars such a risky business. He later used a similar design for Hangar One in California.
The USS Akron was the first airship built in the Airdock. It was three times as long as a modern Airbus 380 but only half as wide. The christening of the ship in the hangar on 8 August 1931 was a national event. The First Lady, Lou Henry Hoover, was the ship's sponsor and aviation pioneer Amelia Earhart flew in for the occasion. The New York Times said between 80,000 and 100,000 people attended the event which was broadcast on national radio.
Two years later, it was the turn of its sister ship, the USS Macon, to be christened. "The Macon and the Akron were tremendous achievements," says Geoghegan. "These aircraft could fly for days at a time without stopping, carrying an 80-man crew, providing them with every amenity they needed to stay aloft. It made perfect strategic sense in the days before radar to have an airship scout the Pacific."
The problem was the technology did not match their vision - John J Geoghegan
Unfortunately, neither ship would survive long enough to prevent the Japanese attack on Pearl Harbour. While the German zeppelins flew for 19 years without a single loss of life, the US Navy flew their ships more aggressively. On 4 April 1933, the Akron flew into a terrible storm off the coast of New England and broke up, with 73 dead. On 12 February 1935 the Macon ran into a storm off Point Sur, California, and crashed into the sea, with the loss of two men.
"The problem was the technology did not match their vision," says Geoghegan, "and their engineers did not have materials that were robust enough to withstand the conditions they would encounter in flying; nor did they have a sufficient understanding of the forces acting on an airship."
Thankfully, nearly 100 years later, we do.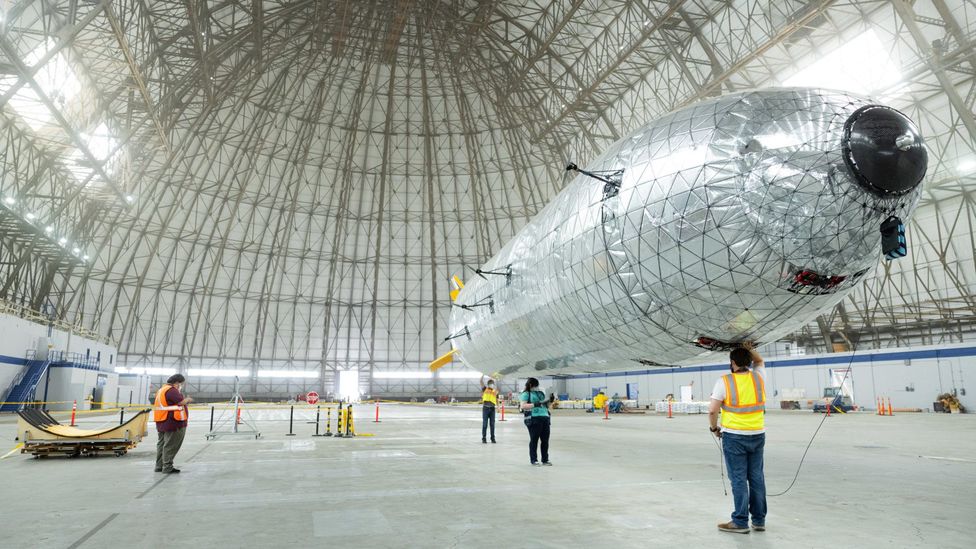 The new generation of airships will be built with more modern materials than their 1930s counterparts (Credit: LTA)
It is hard to avoid the parallels between Goodyear's first CEO and Google's co-founder, who has reportedly been fascinated by lighter-than-air flight for years. Google's corporate jets flew out of the Nasa's Moffett Field in California, part of Nasa's Ames Research Center, and home to Hangar One, built to house the Macon. In 2012, Brin appeared to take a lot of interest in a modern semi-rigid Zeppelin NT (New Technology) airship flying tourist flights from the airfield. One year later, his interest had grown enough for him to decide to build his own airship, and that year LTA Research Ltd was founded, with Alan Weston, previously director of programs at Nasa's Ames Research Center, appointed CEO.
The project quickly picked up momentum. In 2017, LTA leased space in the Macon's old hangar from Alphabet (formerly Google), and around the same time research work began at the Akron Airdock. A 12-engine 50ft-long (15m) electric "baby airship" began flight testing at Akron.
While helium will provide the lift, for the first-time hydrogen fuel cells will power an airship to help it achieve net zero emissions
Meanwhile, work started at Moffett Field on LTA's first and smallest airship, Pathfinder 1, which is a rigid design close to twice the length of a jumbo jet. In 2021 LTA leased the Airdock. This enabled tests to start in the Airdock on section of a larger model, Pathfinder 3. LTA now wants to purchase the hangar.  
While other airship manufacturers and promoters have distanced themselves from the history of the airship, it is clear from the blueprints of the Akron used on the LTA website homepage that the airship start-up embraces its past. One of Weston's first stops as CEO was the last place airships were manufactured in the USA, and he spent a week in the archive of the University of Akron.
"Because of our predecessors' early work, LTA is working to manufacture airships that are safer, faster, more environmentally friendly, and more capable than ever before," he says.
Driven in part by the same desire to access deep knowledge about the airship industry, LTA has been working with University of Akron's College of Engineering and Polymer Science since 2017. The researchers are working on the different components needed for the airships, using 3D printers to manufacture and test them. They built the baby airships as testbeds for the technology.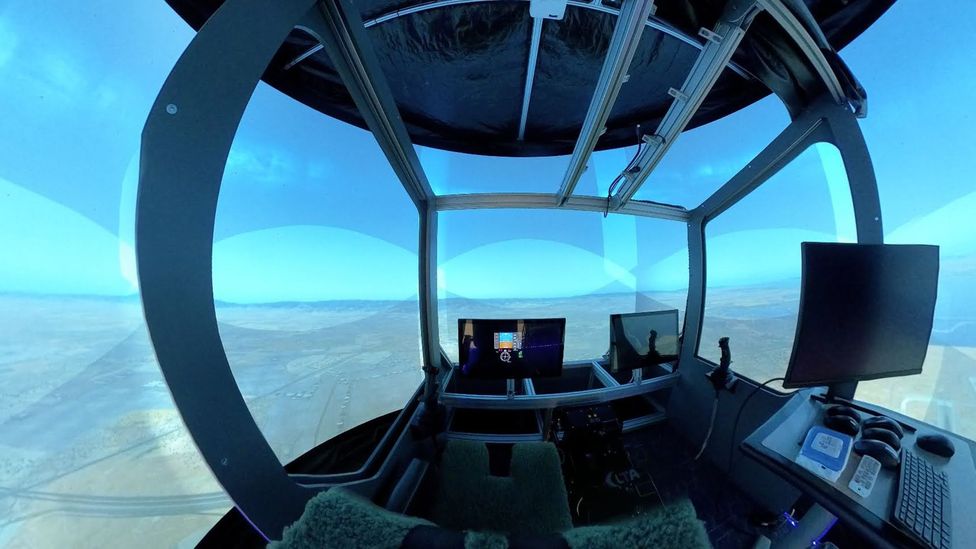 Nowadays, would-be airship pilots can train in a flight simulator which mimics the aircraft's handling qualities (Credit: LTA)
While helium will provide the lift, for the first-time hydrogen fuel cells will power an airship to help it achieve net zero emissions.
In 1930 the men building the Akron had to work at the top of swaying 85ft-high (26m) ladders. In 2022, a massive cradle-like structure dubbed the Roller Coaster allows workers to stay on the ground while the giant ships are slowly rotated, allowing airships to be built more safely and quickly than before.
LTA is also starting to construct Pathfinder 3 while it is finishing Pathfinder 1.
"We have been encouraged to fail fast and fail often to learn as much as possible," says Jillian Hilenski, a mechanical engineer working on the project.
As Zeppelin engineers did 100 years ago, they have come to Moffett Field and Akron to work with the Americans, and supply equipment such as fins, rudders, and material for a passenger gondola to LTA.
Plenty of challenges remain. No one has built airships like these for decades. Then there is the safe integration of new technology into designs with an eye to mass production, supply chain disruption since the Covid-19 pandemic began, and the need for skilled workers to grow. The long list of vacancies on their website is proof of that.
It was a dark building with no lights on and now the lights are on again – Daniel Horrigan
Then there is the bigger challenge: are there enough people in the 21st Century who want to buy an airship to rebuild an industry?
For now, airship hangars like the Airdock are all that remains of the brief golden age of the airship, drawing people with their massive size and their poignant sense of history – or a faint echo of the 30 years at the turn of the 20th Century when airships dominated books, magazines, movies, art, and design. It might be they represent a what-if moment in the development of our civilisation when technology might have taken a very different route.
"I think it is due to their vastness," says @CardingtonSheds, a blogger trying to protect the sheds from property developers. "You can see Cardington [airship hangars or sheds] from miles away, dominating the flat countryside like industrial cathedrals."
In the end for the people of Akron the arrival of Brin's LTA in the Airdock means that a piece of their history is starting to be used again. "It was a dark building with no lights on and now the lights are on again," says Akron mayor Daniel Horrigan, who as a child played football next to the stadium. "And there is now an amazing amount of activity."
Pathfinder 1 is expected to fly later this year. Pathfinder 3, next year.
Ultimately, there is something incredibly profound about the rise, fall, and – maybe – rise again of the airship.  "What if after the Apollo 1 fire and disaster we said, 'Well, this is just too dangerous, we're not going to do it?'" says Geoghegan. "Not all these types of efforts are going to succeed, but we're better off for this striving."
* Mark Piesing is the author of the book N-4 Down: The Hunt for the Arctic Airship Italia, published by HarperCollins.
--
Join one million Future fans by liking us on Facebook, or follow us on Twitter or Instagram.
If you liked this story, sign up for the weekly bbc.com features newsletter, called "The Essential List" – a handpicked selection of stories from BBC Future, Culture, Worklife, Travel and Reel delivered to your inbox every Friday.