Feeding stations can be dangerous places for garden birds, but there are other ways to help them.
L
Lockdown forced a lot of us to stop. And look at our gardens. Tricia Howlett, a freelance educator who lives in Derby, England, was one such onlooker. Previously, she had been aware of birds coming and going in her garden. But until the pandemic, she'd not paid them too much notice. Now, she observed the goldfinches, sparrows, robins and blue tits flitting from branch to branch.
That's when Howlett launched her "wildlife push" – an effort to make her garden as welcoming to local species as possible. She let some areas become overgrown, installed a pond and added new native plants. It all went to plan.
Then she thought about putting up some bird feeders – containers full of seeds or nuts, for example, with perches or platforms for avian diners. In Britain, it is estimated that a majority of households (64%) put out food for birds – and feeders are an enormously popular way to do this.
But Howlett decided against them. "It seems to me that it encourages the same kind of species coming in all the time and you're not getting the variety," she explains. Besides, the birds in her garden already seemed to be feeding quite happily on plants and insects. So she resolved to boost those resources instead.
Howlett is not alone in turning her back on bird feeders. Research in recent years has hinted that the devices may sometimes do more harm than good, for example by spreading disease or benefitting birds that are dominant at the expense of other, declining species. Bird-lovers are increasingly faced with the prospect of taking feeders down at certain times of year, or altogether.
"It seems, intuitively, a good thing to do," says Alex Lees at Manchester Metropolitan University, referring to the well-intentioned act of putting feeders out for birds. But he and co-author Jack Shutt published a paper last year in which they discussed the potential downsides of this.
"What we do know for sure is that many [bird] species, dominant species, have increased massively and that's likely because of bird feeding," Lees explains. He gives the example of the willow tit, which has sadly become scarce in Britain while great tits and blue tits – well-known aficionados of garden feeders – have enjoyed relative success in recent decades.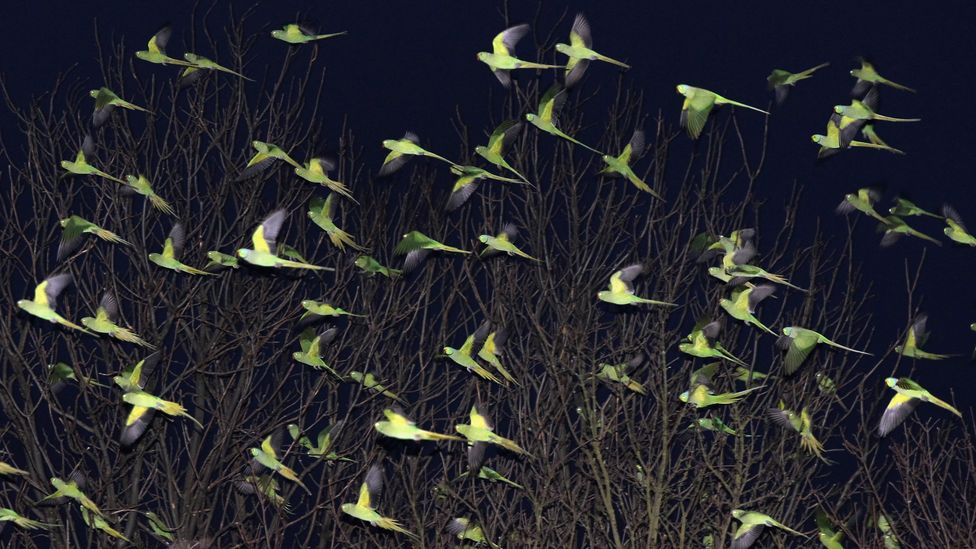 Putting out food for birds can provide an unfair advantage for invasive, non-native species (Credit: Getty Images)
Lees says his current hypothesis rests partly on the fact that willow tits tend to nest and feed in the same area, meaning they may be more "resource-limited" than the dominant blue and great tits, which will happily fly off to find bird feeders in gardens and stock up on food. Consequently, the blue and great tits are more likely to survive a harsh winter and bully the willow tits the following spring by stealing their nest holes off them.
While blue and great tits are native to the UK, it's possible that bird feeders could boost the fortunes of non-native or invasive species, too – such as ring-necked parakeets, which have a native range from West Africa to the Himalayas but are now widespread across Europe.
You might also like:
A 2017 study found evidence for this effect in New Zealand, where researchers set up an experimental bird feeder and found that of all 11 species of bird that visited, not a single one was native to the country. Additionally, the authors noted that just a handful of species seemed to dominate at feeders in urban locations.
There's also the problem of bird diseases. Infections such as trichomonosis, a particularly nasty condition that causes lesions to develop in birds' throats, are known to spread via feeding. The symptoms of tricomonosis means birds can find it hard or impossible to swallow food. Regurgitated matter, which carries the disease-causing parasite, can get passed on at feeding sites. The infection is known to have been particularly devastating for greenfinch populations in the UK.
And while conservation groups and charities often emphasise the need to regularly clean bird feeders in order to reduce disease transmission, Lees says the reality is that many people don't do this. "We expect a whole community of other species to eat from the same trough, if you like, a trough which is never cleaned," says Lees.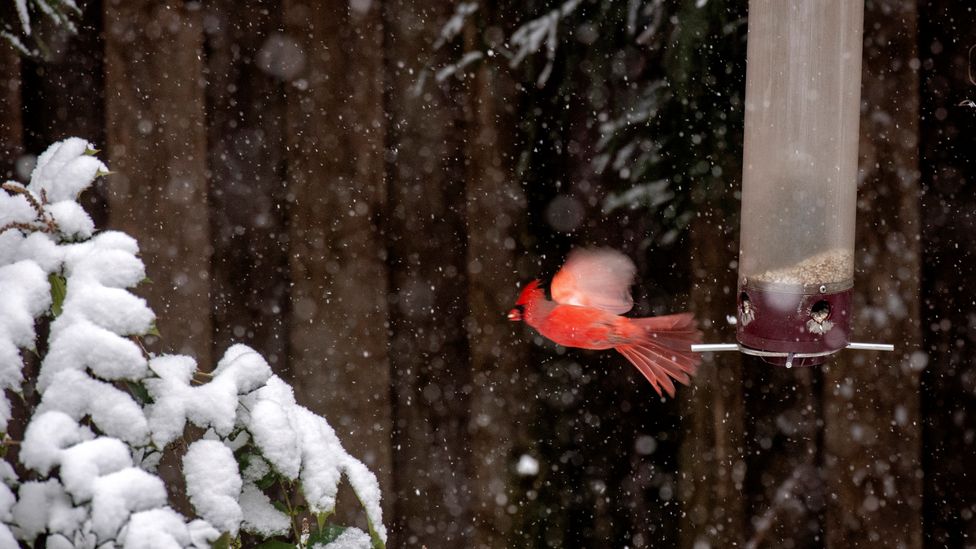 Bird feeders can be helpful when natural food is scarce, such as during the winter or in cities (Credit: Getty Images)
It's a global problem, and Joy O'Keefe at the University of Illinois Urbana-Champaign explains that infections are especially likely to spread when feeders attract lots of birds at once: "Certain species seem to be more susceptible, especially species that seem to aggregate in large groups." What these birds need is social distancing – not an excuse to exchange germs.
Plus, depending on where you live, bird feeders could even grant you unwanted visits from dangerous wildlife – including bears. At least this was one threat that Howlett, in her Derbyshire garden, didn't have to worry about.
As for bird feeders potentially favouring dominant species, Lees stresses there's still much research to be done before we understand this effect clearly. A 2019 study listed both negative and positive consequences associated with feeders. One welcome ramification of feeders was that they appeared to boost bird populations in British towns and cities, the authors reported.
Lees says that he used bird feeders himself up until co-authoring a recent paper on the potential problems with them and adds that they could still be beneficial in some contexts.
Adrian Thomas, wildlife gardener with the Royal Society for the Protection of Birds, agrees and is generally more relaxed about bird feeders – especially when they are used judiciously and cleaned very regularly.
"Bird feeders can be a really important lifeline especially in terms of over-winter survival," he says, pointing out that this could be key in the later stages of winter, when there is a dearth of berries and seeds on plants. It's a crucial time of year since many birds are getting ready to breed and need all the energy they can muster.
Thomas says he encourages the use of more organic feeding approaches, too. But he notes that having a garden rich with such food is itself likely to have an ecological impact and may also "alter the balance" of nature. In truth, it's hard to get away from these effects.
It begs the question, though: if you decide not to use feeders, or to use them only sparingly, what else can you do to support birdlife in your garden? The good news is that there is a long list of things that can help.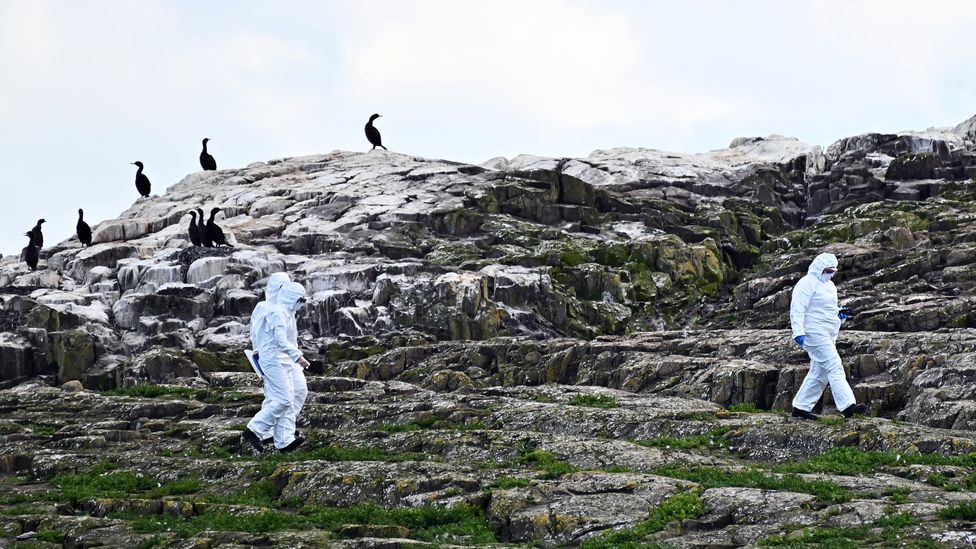 As diseases such as bird flu sweep around the globe, encouraging birds to congregate together – including at bird feeders – can be risky (Credit: Getty Images)
Howlett says that putting a small pond in her garden appears to have been very successful at attracting birds to visit. Ponds are known to be important habitats for a range of insects and birds. She's also planted teasels, impressive, structural plants with large, spiny seed heads. Several species including goldfinches love to pick the seeds out during winter.
And Howlett also has some fruit-bearing plants in her garden – a blackberry bush, frequented by various birds, and an old grape vine. "That's quite a good hideout for the blackbirds," she says, noting that they also get to share the grape harvest.
Besides some non-native plants that were already in the garden when Howlett purchased the property, she says she is keen to encourage native ones now – again, with birds in mind.
Lees emphasises natives, too. "You're building up an entire food web rather than buying a solution that benefits a few species," he says.
Some people try to rid their gardens of ivy and yet, when mature, it may flower and produces berries that are a valuable resource for birds through the winter. Plants that people think of as weeds, including nettles and thistles, are generally adored by insects and thus offer up yet more avian fodder, says Lees.
"The goldfinches earlier in the year were feeding on the dandelions. I've never seen that before," says Howlett, referring to the seed heads of these oft-annihilated flowers. "That was amazing."
Thomas adds that having a tree in your garden, even a small tree such as a miniature holly bush in a pot, can provide berries in winter. And hawthorn trees are a magnet for moths – yet another meal enjoyed by birds. Lees argues that gardeners should aim to introduce native tees only, where possible.
In the US as in the UK, oak trees are extremely valuable to wildlife, says O'Keefe. And she also gives the example of the serviceberry – or Alemanchier – shrub, which is ubiquitous in North America. It too bears fruit and provides a dense nesting habitat close to the ground, preferred by certain species.
Thomas does not take a native plants-only approach in his garden but suggests that aiming for a high level of overall diversity will have multiple benefits. There's no need to necessarily bin your favourite dahlias, which are native to Mexico, if you live in Europe, he says.
"We can have, and many of us already do have, gardens that are good for us and good for nature –and that feels like the best mix of all, really," says Thomas.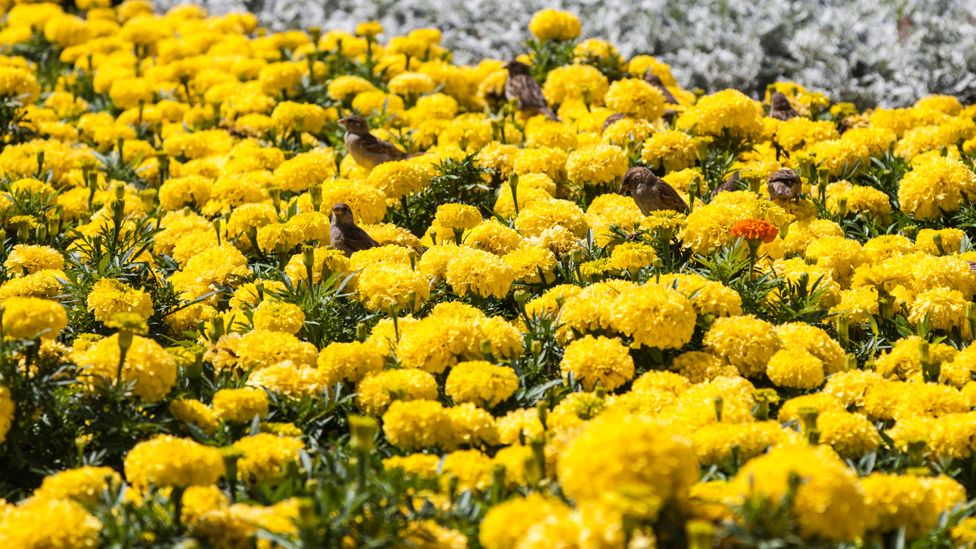 Plants that produce seeds or attract insects are particularly helpful for birds (Credit: Alamy)

And it's important not to forget edible plants. Take the mint in Lees' garden, thronged with insects. Or the kale in Howlett's vegetable patch, stalked by caterpillars, which themselves are predated by blue tits, she says. Many of the plants that are delicious to humans are particularly appealing for other animals, for the same reasons – they're often high in calories and lower in fibre.

For those of us lucky enough to share our gardens with hummingbirds, there are different approaches to feeding. You can use artificial feeders, says O'Keefe, who says she has some but cleans them daily.

"I would like to get more native species in the yard that the hummingbirds can feed from," she comments and mentions the trumpet vine, or Campsis radicans, as an example.

With some effort and a little patience, to allow plants and insect communities to become established, it's possible to turn your whole garden itself into a year-round bird feeder. You may decide to use artificial feeders within it as well but the message seems to be "take plenty of care if you do".

Howlett, for one, is happy with her organic approach to bird feeding. "I look out my back window and I know that my garden – it's not as tidy as maybe some people would like – but I know there's a lot of wildlife coming into it," she says.

We can't predict all of the ecological impacts that changes to our gardening activity will have. But we can certainly try to take steps in the right direction, and marvel as nature responds.

--

Join one million Future fans by liking us on Facebook, or follow us on Twitter or Instagram.

If you liked this story, sign up for the weekly bbc.com features newsletter, called "The Essential List" – a handpicked selection of stories from BBC Future, Culture, Worklife, Travel and Reel delivered to your inbox every Friday.

;