India's fruit trees are under threat, but a community of gardeners is using an old trick to save them – and even bring some back from the dead.
I
It can take an entire village to grow a new-age garden. That's what 42-year-old Shyju Machathi, a policeman living in Kannapuram in the Southern Indian state of Kerala, found out when his town was declared an "Indigenous Mango Heritage Area" by the Kerala State Biodiversity Board in 2020.
The honour came after the villagers had got together to grow over 200 indigenous species of mangoes, sourced from surrounding towns and villages, preserving diverse varieties that were in danger of dying out.  
The technique that made it possible, Machathi says, is the age-old art of grafting. He started experimenting with the technique in July 2016, despite no formal training in farming, after an unfortunate incident shook the village of Kannapuram.
A neighbour had hacked down a 200-year-old mango tree known locally as Vellathan, which grew in his home. "The tree had produced the sweetest mangos I've ever tasted," says Machathi. "It was exquisite, an endemic native variety that was very rare." But it was also undeniably old. Parts of the large tree would come hurtling to the ground, making it such a hazard that the neighbour decided that it needed to be chopped down for his peace of mind. "The tree was so much a part of our growing years, the landscape of our lives that we were all just shocked over losing it overnight," says Machathi. 
Staring at the wasted branches the next morning, and feeling a deep sense of loss, Machathi reached out to a friend who was working as an agricultural officer with the Kerala government. There was a way to save the tree, his friend said. If they could graft portions of the tree onto a growing mango plant with a sturdy root, they could regenerate the old tree and one day, savour its exquisite fruit again.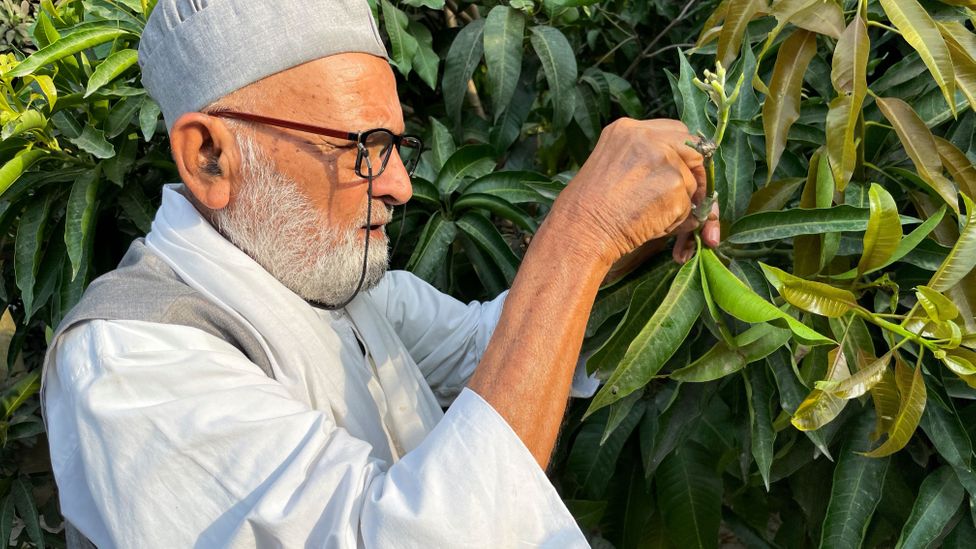 Kaleem Ullah Khan, also known as the Mango Man, is world-famous for growing hundreds of varieties of mango on a single "mother" tree (Credit: Getty Images)
Grafting involves building a new plant by connecting the organic tissues of two plants, often of the same species. Plants from a different genus or different species can be grafted too, but in many cases, the outcome is weaker, short-lived and sometimes, they never come together at all.
Even the earliest skin grafts as a medical procedure were inspired by agricultural grafting techniques that had their origins in ancient India – Paul Craddock
The scion, a portion of the shoot, is tied onto the rootstock – the roots of a plant grown from a seedling. In this case, the scion was carefully selected from the mango shoot that was chopped down, while the rootstock came from a sturdy young mango seedling. A wedge-like cut is made on the rootstock and a slanting cut matching the wedge is made on two sides at the bottom of the scion stick. The scion is inserted into the root stock, these are tied together. The tied portion, called the "graft union" must heal and fuse, to grow.
"We grafted 50 portions of that old tree onto sturdy rootstock and managed to prevent it from dying out entirely," says Machathi. "All of those trees are still thriving – it felt like we'd saved rare treasure."
There are many reasons to adopt grafting, says Narayanan Kutty, a professor of agricultural research and former associate dean of the Kerala Agricultural University, India. Kutty now runs a private consultancy and provides technical instructions for grafting to farmers, gardeners and enterprises. "Grafting gives an exact genetic copy of a desirable plant, because even plants that grow from seedlings don't have the exact nature of the parent plant," says Kutty. "It can accelerate flowering and fruiting, enhancing a plant's commercial value."
You might also like:
Even though it's seeing a revival now, the technique of grafting isn't new to India, says cultural historian Paul Craddock, who authored the book Spare Parts: A Surprising History of Transplants. Craddock says even the earliest skin grafts as a medical procedure were inspired by agricultural grafting techniques that had their origins in ancient India. "When they [surgical grafts] were first written about outside of ancient India, they were referred to as the 'agriculture of the body' and 'the farming of men'," he says.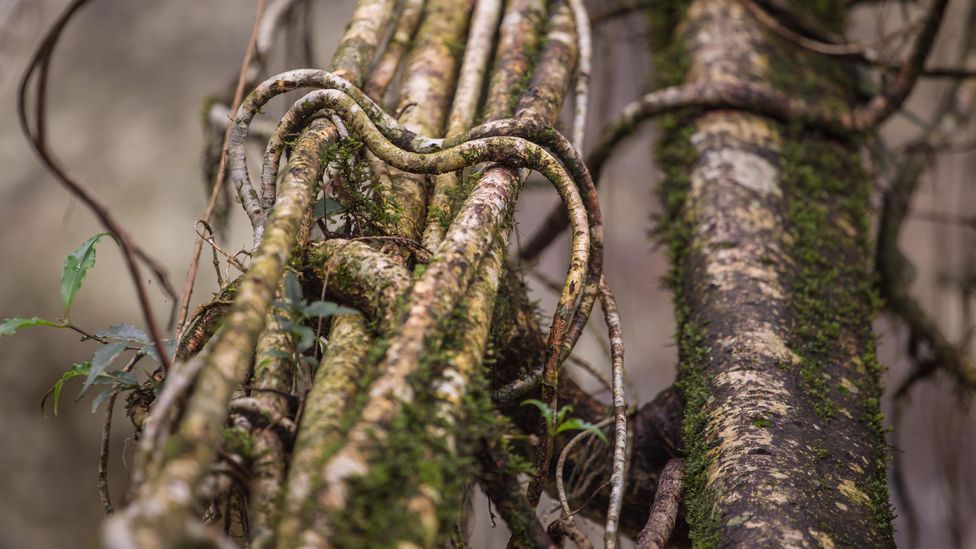 Living bridges become stronger over time as the tree's roots grow and fuse together (Credit: Alamy)
Grafting can occur naturally as well. Meghalaya, a state in India's north east is famed for its "living root bridges". Several trees have closely intertwining roots that form aerial bridges strong enough for people to walk over, helping them navigate steep slopes. The roots fuse and repair themselves through a process of self-grafting called inosculation – where after close contact for years or decades, the branches or roots of different trees fuse, growing as a single structure over time. Tribal community members have been known to intertwine and repair the roots manually through grafting as well. (Read more from BBC Future about the country's living bridges and how they could transform architecture.)
Today, a gardening movement across India is helping to revive that indigenous knowledge – using grafting techniques to battle practical modern-day problems such as the deteriorating quality of soil, to build resistance to pests and soil-borne pathogens, to minimise the use of chemicals and to build more climate and heat-resilient plants, Kutty says.
"In areas where the soil is prone to flood or has excessive salt content, we use flood or salt tolerant root stocks," says Kutty. Take, for instance, the tomato plant. The species that is cultivated widely in India is the Solanum lycopersicum, however, growth is affected by the high salt content in the soil. "There's another variety called the Lycopersicon cheesmanii which is salt tolerant. We're grafting the commercial tomato (S. lycopersicum) onto the salt tolerant variety (L cheesmanii), to build a more salt tolerant, stronger plant that has better yield in salty soils," says Kutty. 
Tomatoes, brinjals – also known as eggplants or aubergines – and chillies are widely-grown solanaceous crops in India's coastal areas. "When these crops are grown in acidic soils, bacterial wilt is a serious problem," says Kutty. Bacterial wilt can attack the plant at any stage of its growth, destroying [up to] 80-90% of the yield. For years, no one had managed to achieve high wilt-resistant plants that also had the same quality and yield as commercial hybrids, but in this area, Kutty recently made a breakthrough. "We are grafting tomato onto wilt-resistant brinjal root stocks," he says, explaining that in this way, high yielding commercial hybrids can be grown in wilt-sick soils, without the problem of bacterial wilt.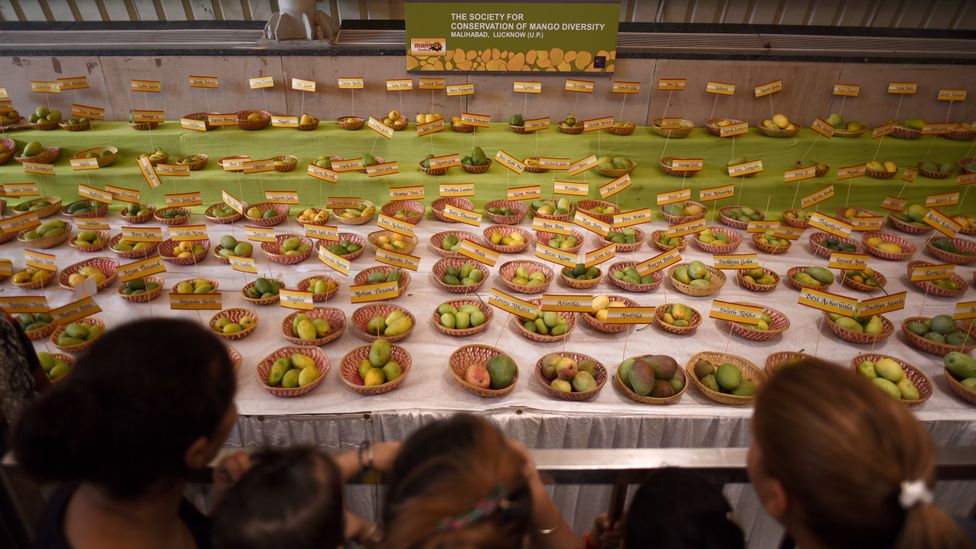 There are reportedly over 1,500 mango varieties growing in India, each with its own distinctive flavour and texture (Credit: Getty Images)
Today, almost every variety of mango available in India has been cultivated through the grafting process, says Kutty. While generally a maximum of four to five varieties can be grafted onto a single tree, some people have been testing this rule. Kalim Ullah Khan, an 80-year-old farmer based in Malihabad, Uttar Pradesh, made global headlines when he succeeded in grafting 315 varieties of mango onto a single tree. Each branch, he says, has a different texture and he has sought out rare varieties from across the country to graft onto the tree. 
21st Century Gardening
From working with contaminated city soil to reconsidering weeds, pests and even lawns, gardening is changing as we adapt it to the realities of modern life. This series takes a look at the future of gardens in the 21st Century – and explores how it can be updated to fit with modern sensibilities and challenges, such as environmental awareness and pollution.
Grafting has helped in the propagation, conservation and mitigation of soil-borne diseases in many other fruit and vegetables in India. As gardeners across the country engage in this process, the sharing of knowledge, seed samples and scions of indigenous species is becoming commonplace. Sometimes endangered varieties are transported thousands of miles to places where they can thrive and grow.
Seventy-three-year-old Tome Inacio Sequeira once worked in Muscat for an automobile company. After he retired, he decided to indulge in his passion for plants. Over the last six years, he has experimented with grafting techniques, creating awareness among the local community and enlisting his four sons to tend to The Farm Goa, the family's 2.5-acre [one hectare] ancestral estate in Goa, a state in the South Western coast of India.
"We make grafts of mangoes, jackfruit, avocado and sapota [also known as sapodilla, a tree that produces brownish fruit resembling mangoes, which taste of caramel], sourcing these from trusted nurseries across Maharashtra and Goa, and in some cases, Gujarat," says his son, Toswel Sequeira, who is an IT professional and cares for the farm on weekends.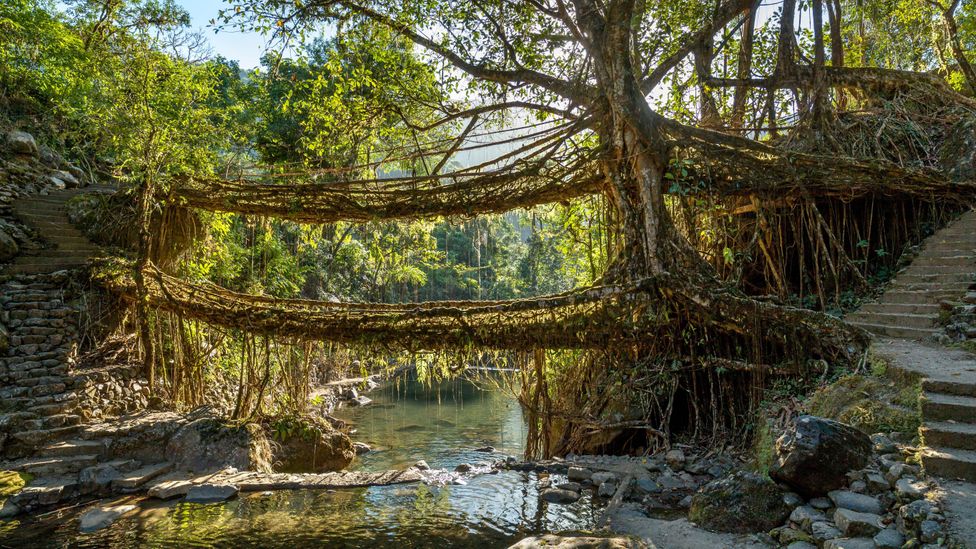 The living bridges in northeastern India form via a natural process of grafting, in which their long tendril-like roots fuse together (Credit: Alamy)
The enterprise has become a community project, generating significant interest among locals who are curious to see the varieties that they could revive and cultivate through grafting. "We encourage people to plant grafted hybrid fruit-bearing trees together, and explain the steps involved in planting, plant management and manuring," says Sequeira.
At a nominal cost, locals can buy good quality grafted saplings from The Farm Goa. "We use natural compost and the scions of trees that we know have already given a good yield, and that are of good quality, with sprouting buds," he says. "We study the width of the scion and the root stock to ensure that they're both compatible. We're careful to ensure that the grafted area isn't exposed directly to sunlight or that the plant isn't watered extensively." The grafted area is monitored for over a month, around 30-45 days. 
In one of The Farm Goa's recent successes, they cut the healthy scion of an existing jackfruit tree and, using a grafting tape, fused this onto a five-month-old jackfruit sapling that had germinated from a seed. "The tree is much stronger when it is grafted onto a variety that grows from a seedling," says Sequeira. Today, over one-third of the project's 150 grafted plants consist of 15 varieties of  mangoes, but they've experimented with other fruits as well and ones that aren't commonly found in Goa, such as rambutans (Nephelium lappaceum), guava, passionfruit and pomelo (Citrus maxima).
Aside from grafting, the farm has experimented with tissue cultures – a slightly different technique involving growing entirely new plants under lab-like conditions from small samples of tissue from a donor plant. They sourced the tissue of a lemon plant from Baltaru Nursery in Gujarat in 2015, and four years later, the  plant produced greenish-yellow fruit that were seedless, making them ideal for use as sliced wedges in pickles. However, tissue cultures require greater expertise than grafting and aren't as easily adopted by local communities.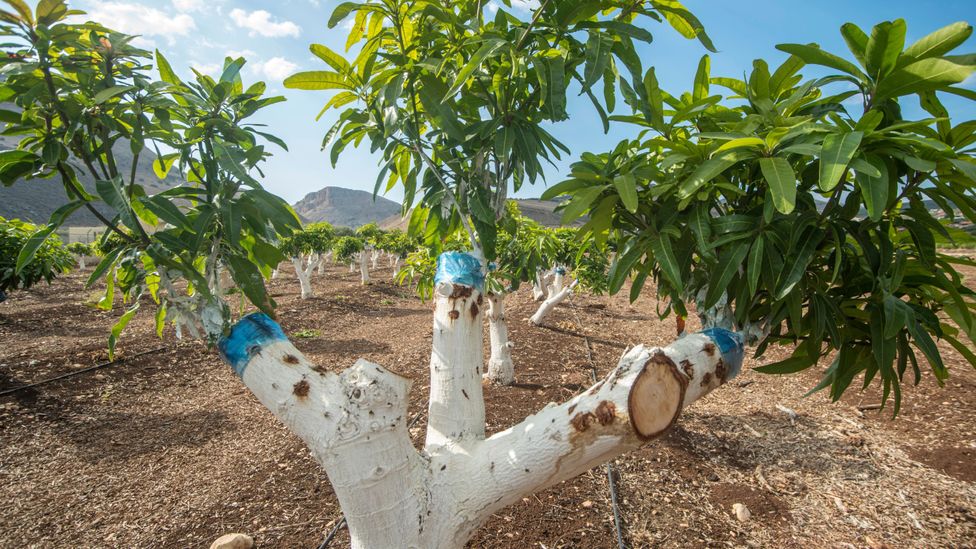 Branches that have been grafted on will produce fruit identical to that of the plant they came from (Credit: Alamy)

Back in Kannapuram, when other villagers learnt of Machathi's success in reviving the mangos of the ancient tree, they offered to pitch in to help document and revive other dying varieties as well. Going door-to-door, they documented the varieties available in the district. Soon, they had collected grafts from 200 varieties of indigenous mangoes, which they eventually managed to grow. In 2016, Machathi formed the Nattu Manchottil Educational and Indigenous Fruit Plants Conservation and Research Trust. Nattu Manchottil translates to "under a local mango tree".

Four years later, their painstaking labour had already paid off – the Trust was awarded with the government's Plant Genome Savior Community Award, an honour usually reserved for commercial farmers, for preserving these diverse varieties of mangoes.

Reviving a beloved native variety through grafting works best when you involve the local community in the effort and get them to tap into a deeper knowledge, says Machathi. He is now working with school children – NSS (National Social Scheme) volunteers – across the state of Kerala to create unique mango groves full of grafted varieties.

Who knows, perhaps one day Machathi's grafted trees will make it to the venerable age of the 200-year-old Vellathan, may it rest in peace.  

 --

Join one million Future fans by liking us on Facebook, or follow us on Twitter or Instagram.

If you liked this story, sign up for the weekly bbc.com features newsletter, called "The Essential List" – a handpicked selection of stories from BBC Future, Culture, Worklife, Travel and Reel delivered to your inbox every Friday.

;