University students are often derided for eating poorly. But is the stereotype of a bad diet stuck in the past?
S
Students have a reputation for eating nothing but pasta and baked beans on toast (which, in fact, is pretty good for us) – but there's much more to students' diets.
One survey found that one in 10 students in the UK are vegetarian, which is twice as many as the general population. Diets with low or no meat have been associated with health benefits, although the overall healthfulness of a vegetarian diet depends on what foods are eaten instead of the meat. The same survey also found that a quarter of students eat convenience foods most, or every, day.
Another study concluded that only one in five students have "favourable eating behaviours", which includes moderate snacking, consuming little fast food and eating a lot of fruit and vegetables.
Researchers have also found that students are more likely to gain more weight than people their age who don't go to university.
Despite a brief deviation from the norm during Covid when students didn't move out of their family homes, "the research shows that generally students don't eat very healthily", says Martin Caraher, professor emeritus of food and health policy at City, University of London.
On a more positive note, students are drinking less alcohol than they did 10 years ago, says John Holmes, professor of alcohol policy at the University of Sheffield in the UK. This is particularly good news because evidence suggests that we establish our drinking habits during young adulthood and maintain them, and that the risks for certain diseases, including liver disease, heart disease and some types of cancer (including breast, bowel and throat), increase based on the amount we drink over our lifetime, Holmes says.
You might also like:


Students' drinking habits can also affect their diets; they're more likely to eat after drinking alcohol, and more likely to eat calorific foods high in salt and sugar, according to research. This behaviour is perpetuated by the false belief that you have to eat something alongside drinking alcohol to help "soak up the alcohol", says Jessica Kruger, clinical assistant professor of community health and health behaviour at the University at Buffalo in New York.
"If someone's out drinking, they're not going to search for healthy options," she says. "Nor do many bars or restaurants that are open late have many healthy options, especially in student areas."
Kruger surveyed more than 250 students and found that they don't tend to make healthy choices regarding food the day after drinking, either. While there's no data, Kruger speculates that it may be because alcohol can make you dehydrated, and in response, the body craves salty foods in order to get you to drink more water.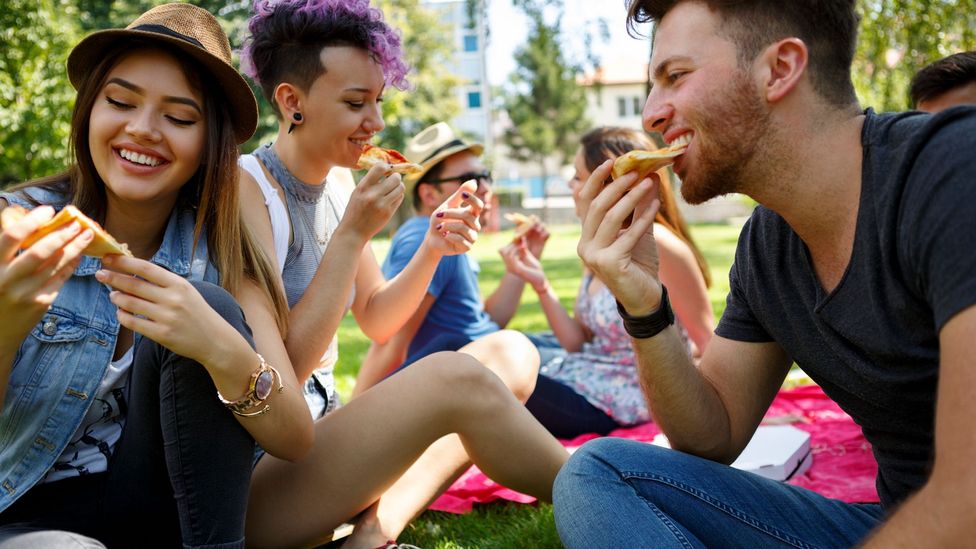 A recent study showed only one in five young people had a healthy diet (Credit: Damircudic/Getty Images)
"Also, with a lack of sleep, your cognition isn't where it should be," she says. "Poor decision-making comes with alcohol, which also lowers your inhibitions."
There are a few other reasons, researchers speculate, why students might not eat so healthily.
"There are so many variables, like their environment, their campus dining settings, and we also see differences in how food is provided on campuses in different countries," says Giovanni Sogari, assistant professor of consumer behaviour at the University of Parma in Italy.
His research from 2018 found that students in Italy face numerous barriers to eating a varied and balanced diet, including the availability of healthy food and a lack of time to prepare foods.
I've been teaching medical students for 26 years. When I first started, they knew nothing about nutrition, and now they're much more savvy – Annie Anderson
Research shows that students who are focused on eating healthily dedicate a lot of time to planning ahead, says Dina Nikolaou, research fellow in public health nutrition at the University of Greenwich in London.
"It takes more effort for students to have a healthy diet," she says. "Trying to navigate planning and shopping means that even those with the best intentions fall for ready meals from time to time."
As well as time having the knowledge and skills required to prepare meals from basic ingredients generally leads to having a healthier diet. However, one study from last year found that, of 200 students from two UK universities, only 47% had a good level of knowledge about nutrition. And even those 47% aren't guaranteed to apply their knowledge regularly.
"I've been teaching medical students for 26 years. When I first started, they knew nothing about nutrition, and now they're much more savvy," says Annie Anderson, professor of population health and genomics at the University of Greenwich in London. "However, this doesn't mean it translates to their behaviour; there's a gap between knowledge and practice."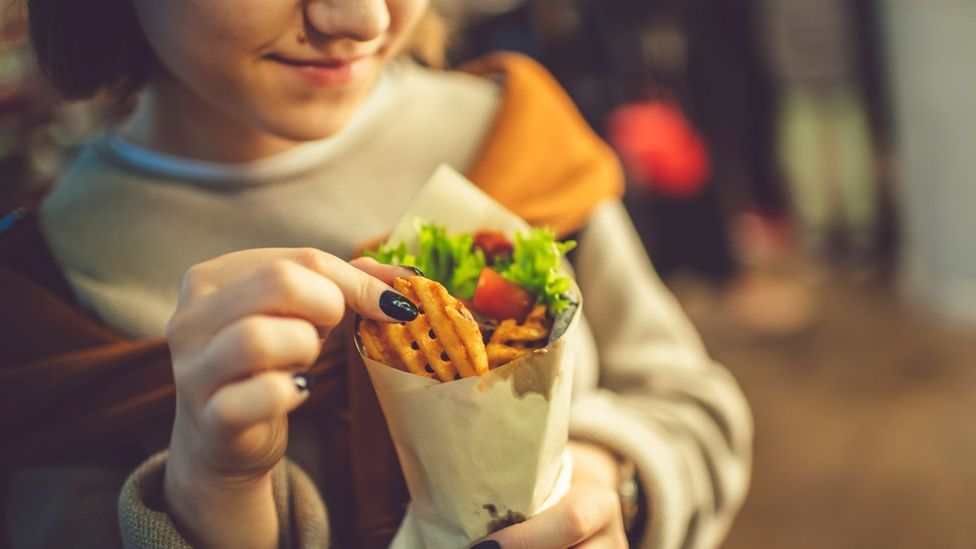 If someone is out drinking, then a healthy option may not be their first choice (Credit: ArtMarie/Getty Images)
Some students say their lack of budget is a reason for not eating more healthily. A recent survey found that almost half of students are switching to buying supermarket-own brands, and two in five are buying fewer takeaways in light of the cost of living crisis. But budget constraints don't necessarily prevent people from eating a diet that meets nutritional recommendations, says Jacob Hamilton, a dietetics student at Newcastle University in the UK.
Hamilton added up the costs of different food items from a UK budget supermarket earlier this year and found that a balanced diet of 2000kcal per day can be achieved for as little as £10 ($12) a week.
"Eating cheap and healthy as student isn't easy – but the notion that healthy eating is too expensive is overplayed and negatively impacts people's confidence and perceptions around healthy eating and reinforces unhealthy eating habits," he says.
When you move to a country with a different diet, it contributes even more to making more unfavourable changes in your diet – Angeliki Papdaki
Gaining independence for the first time, as well as moving to areas where there's often more fast food on offer, seems to play a part in students' eating habits, too. One series of studies looked at the dietary habits of Greek students who either stayed in their family home while studying,  moved out and lived nearby, or moved abroad to Glasgow, Scotland.
The author Angeliki Papadaki, senior lecturer in public health nutrition at the University of Bristol in the UK, found that just moving out of the family home contributed to eating more unhealthy snacks and less fruit and vegetables, and that moving to a city with a generally unhealthier food landscape made students' diets slip even more.
"There must be some 'Glasgow effect', even though living alone and being a student also contributes to some unfavourable dietary changes, too. When you move to a country with a different diet, it contributes even more to making more unfavourable changes in your diet," Papadaki says.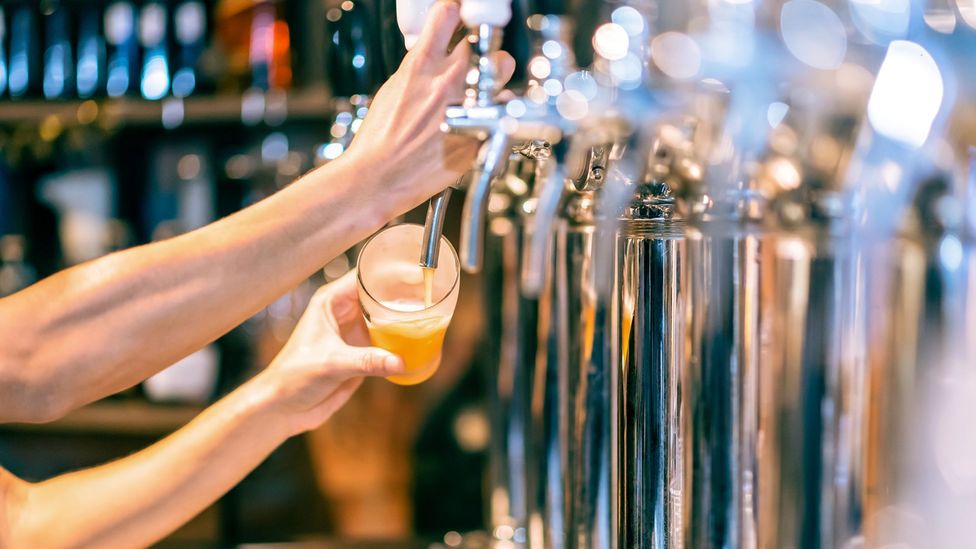 Students are more likely to eat after alcohol, and also choose food that is higher in salt and fat (Credit: ImpossiAble/Getty Images)

These studies corroborate the findings of numerous other studies: that students consume higher amounts of alcohol, takeaways and fast food, salt, sugar and saturated fat than recommended. Although, it is worth bearing in mind that most studies rely on self-reporting, so data isn't totally reliable.

While eating 'like a student' isn't likely to be too harmful in the short term, research suggests that unhealthy eating behaviours increase as we get older and are linked to higher risk of certain diseases in adulthood, including heart disease.

"The offers of junk food get them into a culture of thinking this is an acceptable and normal meal. You get a lot of adults coming through university and eating unhealthy stuff at the other end," Nikolaou says.

The barriers students face to eating a healthy, balanced diet, including limited time, budget and culinary knowledge, which affect much more of the population than just students. While these are significant barriers, research does show that healthy diets can be achieved with these constraints.

This perhaps sheds light on why baked beans on toast is a student staple: it's healthy, quick and simple. Even if it doesn't actually 'soak up' alcoholic drinks.

--

Join one million Future fans by liking us on Facebook, or follow us on Twitter or Instagram.

If you liked this story, sign up for the weekly bbc.com features newsletter, called "The Essential List" – a handpicked selection of stories from BBC Future, Culture, Worklife, Travel and Reel delivered to your inbox every Friday.

;