Celebrities such as James Dean can be brought back to life as digital clones thanks to the power of artificial intelligence, but it is raising troubling questions about what rights any of us have after we die.

Most actors dream of building a career that will outlive them. Not many manage it – show business can be a tough place to find success. Those that do, though, can achieve a kind of immortality on the silver screen that allows their names to live on in lights.
One such icon is the American film actor James Dean, who died in 1955 in a car accident after starring in just three films, all of which were highly acclaimed. Yet now, nearly seven decades after he died, Dean has been cast as the star in a new, upcoming movie called Back to Eden.
A digital clone of the actor – created using artificial intelligence technology similar to that used to generate deepfakes – will walk, talk and interact on screen with other actors in the film.
The technology is at the cutting edge of Hollywood computer generated imagery (CGI). But it also lies at the root of some of the concerns being raised by actors and screen writers who have walked out on strike in Hollywood for the first time in 43 years. They fear being replaced by AI algorithms – something they argue will sacrifice creativity for the sake of profit. Actor Susan Sarandon is among those who has spoken about her concerns, warning that AI could make her "say and do things I have no choice about". (Read about how the 2013 film The Congress predicted Hollywood's current AI crisis.)
Dean's digital resurrection is not the first time deceased actors have seemingly returned to life on screen with the help of advanced digital technology and a sprinkling of Hollywood magic. Carrie Fisher, Harold Ramis and Paul Walker are just a few notable celebrities who reprised iconic film roles posthumously. Brazilian singer Elis Regina was also recently resurrected for a car advert, where she was shown duetting with her daughter Maria Rita. Their screen appearances represent what Travis Cloyd, chief executive of immersive media agency WorldwideXR (WXR), refers to as "passive flat screen, 2D" portrayals, similar to deepfakes.
This is the second time Dean's digital clone has been lined up for a film. In 2019, it was announced he would be resurrected in CGI for a film called Finding Jack, but it was later cancelled. Cloyd confirmed to BBC, however, that Dean will instead star in Back to Eden, a science fiction film in which "an out of this world visit to find truth leads to a journey across America with the legend James Dean". 
The digital cloning of Dean also represents a significant shift in what is possible. Not only will his AI avatar be able to play a flat-screen role in Back to Eden and a series of subsequent films, but also to engage with audiences in interactive platforms including augmented reality, virtual reality and gaming. The technology goes far beyond passive digital reconstruction or deepfake technology that overlays one person's face over someone else's body. It raises the prospect of actors – or anyone else for that matter – achieving a kind of immortality that would have been otherwise impossible, with careers that go on long after their lives have ended.
Susan Sarandon on the dangers of AI in film industry
But it also raises some uncomfortable questions. Who owns the rights to someone's face, voice and persona after they die? What control can they have over the direction of their career after death – could an actor who made their name starring in gritty dramas suddenly be made to appear in a goofball comedy or even pornography? What if they could be used for gratuitous brand promotions in adverts?
So why not just let celebrities rest in peace?
Dean's cousin, Marc Winslow, who spent his childhood on an Illinois farmhouse with Dean, who he lovingly calls Jimmy, suspects it's his cousin's undeniable screen appeal that transcends the generations, making him an attractive choice for a leading role in modern cinema. "If there are two or three other people in a scene, your eye goes right to him," he says. "You know, I don't think anyone will ever be able to replace them, but It's possible that they can do that on screen and make it very lifelike." 
Digital clones
Dean's image is one of hundreds represented by WRX and its sister licensing company CMG Worldwide – including Amelia Earhart, Bettie Page, Malcolm X and Rosa Parks.
When Dean died 68 years ago, he left behind a robust collection of his likeness in film, photographs and audio – what WRX's Cloyd calls "source material". Cloyd says that to achieve photorealistic representation of a Dean, countless images are scanned, tuned to high resolution and processed by a team of digital experts using advanced technologies. Add in audio, video and AI, and suddenly these materials become the building blocks of a digital clone that looks, sounds, moves and even responds to prompts like Dean.
What Dean did not leave behind is a digital footprint, unlike today's celebrities who engage on social media, take private selfies, send texts and emails, use search engines, shop online for groceries and purchase online medical prescriptions. These activities provide huge amounts of data about how we think and act that could potentially be used to take a digital clone from just a superficial twin to an intelligent one that can convincingly converse with the living.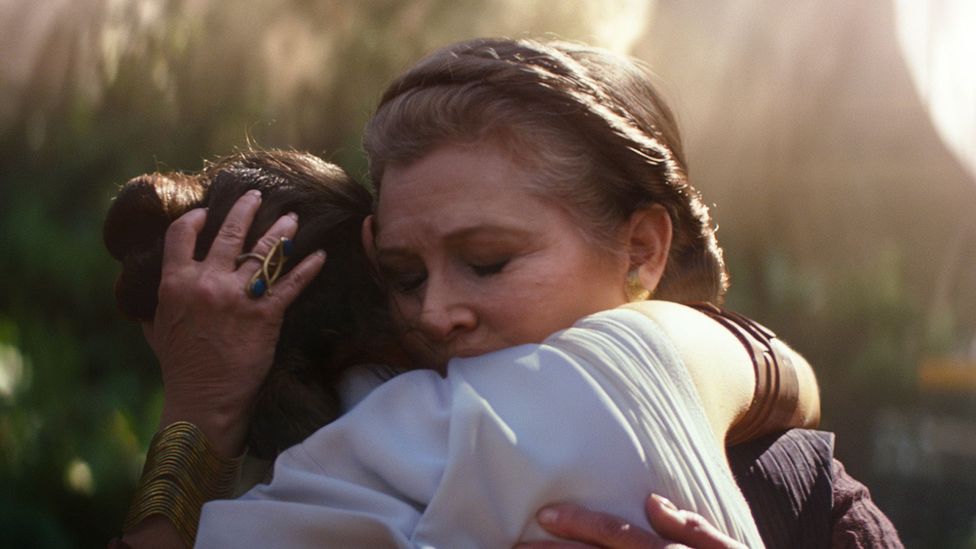 Carrie Fisher was "resurrected" through the use of CGI for her appearance as Princess Leia in the Star Wars film, The Rise of Skywalker film (Credit: Alamy)
There are now even companies that allow users to upload deceased loved one's digital data to create "deadbots" that chat with the living from beyond the grave. The more source material, the more accurate and intelligent the deadbot, meaning the executor of a modern-day celebrity's estate could potentially allow for a convincingly realistic clone of the deceased star to continue working in the film industry – and interacting somewhat autonomously – in perpetuity.
Actor Tom Hanks recently predicted that he could well be working well beyond his human lifespan, telling the Adam Buxton Podcast, "I could be hit by a bus tomorrow and that's it, but my performances can go on and on and on."
Actors losing jobs to the dead
Hanks' comment hints at a very real concern for actors who fear that the next phase of digital human resurrection presents troubling ethical, legal and practical issues for both celebrities and everyday citizens. Voice actors, in particular, have been leading the conversation and working across acting guilds to form a unified front in protecting the rights and careers of actors.
You might also like:
"For the voices of Mickey Mouse, Porky Pig, Snow White – every time a voice passes away, a new actor gets hired to play that voice," says Tim Friedlander, president and founder of the National Association of Voice Actors (Nava) in the US. "But what if you could use Mel Blanc [the voice actor who breathed life into many of the Loony Tunes cartoon characters] forever?"
Friedlander and his voice actor colleagues fear that this situation is imminent, and that digitally resurrected voice actors will monopolise the voiceover industry, eliminating jobs for living actors. "There's no opportunity for anybody else living because now they've lost their job to a deceased voice actor because he's the original voice of Bugs Bunny, Porky Pig and other [Looney Tunes characters]."
If the dead – or rather, their digital clones – are damned to an eternity of work, who benefits financially?
Cloyd acknowledges the potential for fewer acting opportunities but offers a "glass-half-full" perspective toward employing dead actors. "At the end of the day, it creates lots of jobs," he says, referring to the other technical and film industry jobs the technology could generate. "So even though it could be jeopardising one person's role or job, at the same time, it's creating hundreds of jobs in regards to what it takes to do this at a high level." 
The rights of the dead
If the dead – or rather, their digital clones – are damned to an eternity of work, who benefits financially? And do the dead have any rights?
Simply put, the rules are murky and, in some regions of the world, non-existent.
Attorney Erik Kahn, who co-authored an article about the post mortem publicity rights of celebrities for the American Bar Association's magazine Landslide, says that each state in the US has a different situation. Some states have no clear publicity rights to protect dead celebrities' wishes at all.
In general, when a celebrity dies, "rights to publicity" pass on from the celebrity to next of kin, or to the party granted these rights in a will. But Kahn says even a will, which will usually dictate who will benefit financially from the commercial use of the dead celebrity's image and likeness, holds limited legal weight since "it's not like a contract because it's a one-way document". The power for how that person's image is used passes to their living executor. A few celebrities, such as Robin Williams, were able to use a will to limit the use of their likeness after death, but that limit expires after 25 years.
But celebrities do benefit from an added layer of protection from certain types of defamation, says Kahn. Marilyn Monroe, for example, could not be employed posthumously in a pornographic film if her estate did not approve the use of her image and likeness. Depending on the state, Monroe's estate might argue that copyrights have been infringed upon, that she has been defamed by false statements that do not reflect her true reputation, and that portraying her in a damaging light could "interfere with prospective business advantage". Additionally, the federal Lanham Act serves as an additional buffer that protects deceased celebrities from being used in false or misleading advertising, and from trademark infringement.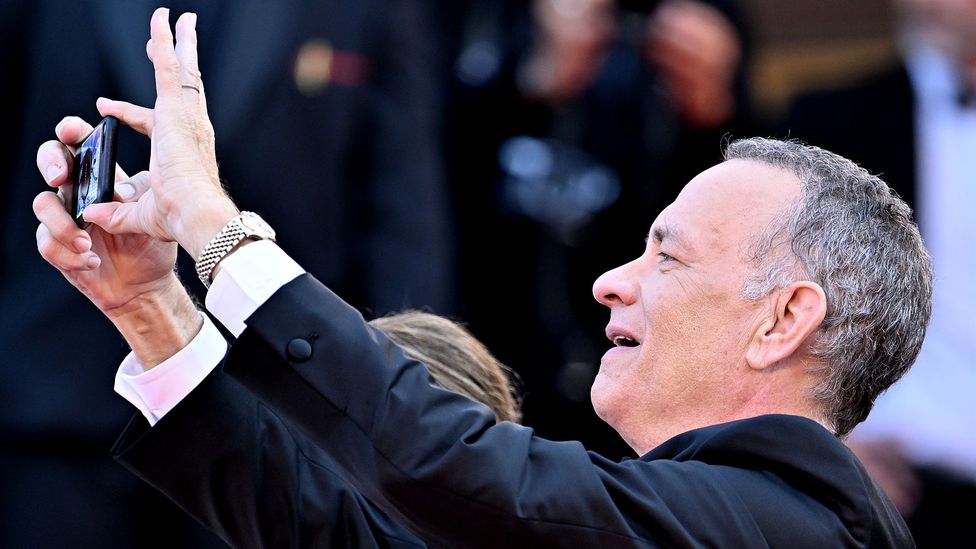 With huge amounts of "source material" available for modern celebrities there is a greater chance their careers will continue after death thanks to AI (Credit: Getty Images)

New York boasts the most comprehensive definition of "right of publicity" that protects deceased individuals against commercial exploitation or unauthorised use of their personal characteristics. But even in states with seemingly strict regulations in place, right of publicity really protects the estate of the deceased, not necessarily the dead person.

"If your family wants to sell you out and you're dead, there's not a whole lot you can do," says New York-based attorney Pou-I "Bonnie" Lee, who co-authored the Landslide legal article with Kahn. What this means is that Marilyn Monroe, for example, could appear in a pornographic film posthumously – legally – if her estate were to consent to the use of her image and likeness in this manner. "If the estate is saying they want this, it's unfortunate, but I think it could happen," says Lee.

Personal use and private individuals

While dead celebrities do have some vague protections in specific jurisdictions when it comes to commercial exploitation of their image and likeness, average citizens may have far less control over how their likeness and digital legacy are used postmortem. In the US, there's little legislation protecting the dead from being digitally resurrected for personal use. When you die, just about anyone can upload your public digital legacy into AI software to create a deadbot or an interactive AI avatar. States with more expansive postmortem protections, such as New York, do prohibit the use of individuals' identities for certain nefarious purposes, but Lee is sceptical of how these protections are enacted. "Ultimately someone needs to enforce it," she says.

Cloyd, Friedlander and Kahn all agree that there needs to be legislation put in place sooner rather than later to protect the rights and legacies of the dead – both celebrities and otherwise. Technology is advancing at a rapid pace, and ethical debates around digital representations of the dead are already cropping up. Cloyd admits to initially being "a little worried" about how the dead are being digitally revived but says he's confident that WXR is being proactive and sensitive in dealing with these issues.

Friedlander, too, is actively advocating for legislation that protects voice actors from losing work, and he hopes that Nava's work will help actors' associations around the world to organise and advocate for fair opportunities.

As for Winslow, he admits to having mixed feelings about seeing his cousin digitally resurrected. "I don't know what to think about it," he says. "I want him to be respected. He was really involved in acting, took it very serious. I would want the same image to be projected."

--

Join one million Future fans by liking us on Facebook, or follow us on Twitter or Instagram.

If you liked this story, sign up for the weekly bbc.com features newsletter, called "The Essential List" – a handpicked selection of stories from BBC Future, Culture, Worklife, Travel and Reel delivered to your inbox every Friday.

;