E-waste is mounting. Now the UK Royal Mint has found a new way to extract the precious metals hidden in laptops and phones to reduce our reliance on raw materials.
T
Through security, equipped with a pair of safety glasses and a white lab coat, I'm taken behind the scenes at the Royal Mint near Cardiff, South Wales – a place that's world-renowned for making billions of coins for more than 30 nations. For two years, the Royal Mint, the UK's official coin producer, has been developing a mysterious new way to recover metals from electronic waste.
As I walk into her small demo laboratory, Hayley Messenger, a chemist specialising in sustainable precious metals, explains why nothing here is labelled: "Everything is a secret!" she says, pouring a '"magic green solution" into a one-litre-capacity (35oz) glass flask of fragmented circuit boards.
She and a team of chemists and chemical analysts, together with Canadian start-up Excir, have invented and patented a clean, energy-efficient way which they claim extracts 99% of gold from the printed circuit boards found inside discarded laptops and old mobile phones. Later this year, the Royal Mint is opening a new multi-million-pound factory which will be able to process 90 tonnes of circuit boards per week once fully operational, recovering hundreds of kilogrammes of gold every year.
When the luminous mixture starts to fizz, Messenger screws the lid on, then places the flask on a tumbling machine to shake the contents. In just four minutes, any gold dissolves and leaches out into the liquid.
"This all happens at room temperature and it's very quick," says Messenger who explains that this chemical solution gets reused up to 20 times, with the concentration of dissolved gold increasing each time.
When another mystery solution is added, the gold becomes solid metal again. This powder is filtered out and melted down in a furnace into thumbnail-sized nuggets. These nuggets can then be crafted into pendant necklaces, earrings and cufflinks. But the real beauty of these recycled precious metals lies in the scalability of this super streamlined chemical process.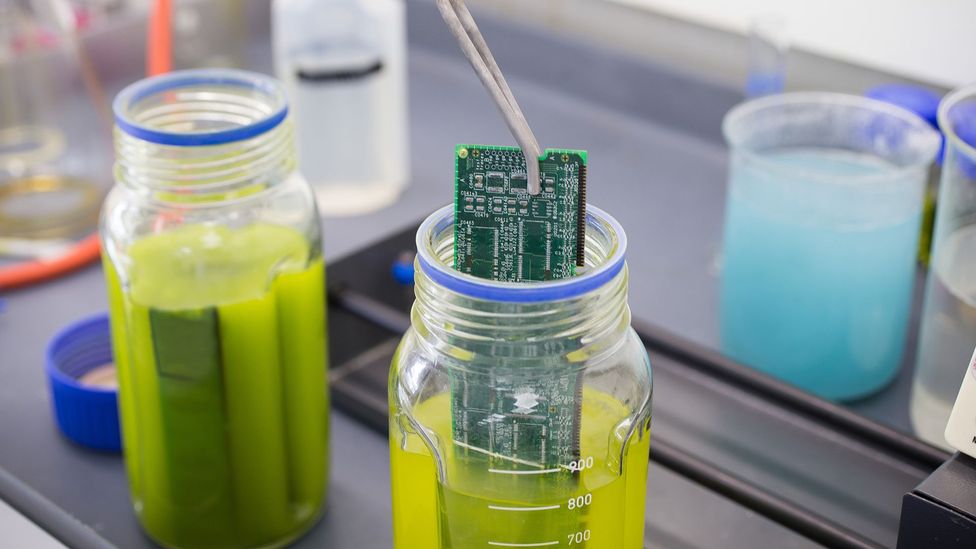 The Royal Mint has licensed chemical technology to extract gold from circuit boards found inside discarded laptops and old mobile phones (Credit: The Royal Mint)
A chemical solution
E-waste (also known as waste electrical and electronic equipment or WEEE) is the world's fastest-growing waste stream. According to the United Nations Environment Programme, an estimated 50 million tonnes of e-waste is produced globally every year, weighing more than all of the commercial airliners ever made. But only 20% of that is formally recycled, and most gets thrown away and either sent to landfill or incinerated. Last year a study by price comparison service USwitch found that the UK produced the second largest amount of e-waste per person, with Norway ranking top and the US in eighth position.
As demand for more portable devices and fast electronics grows, so too will the e-waste mountain. In 2019, the World Economic Forum estimated that by 2050, annual e-waste production will more than double to 120 million tonnes.
Like all critical raw materials, gold is a finite resource, yet 7% of the world's gold is currently sitting in disused electronics. Gold extraction usually involves exporting devices to the EU or Asia where e-waste is smelted down at extremely high temperatures in a very crude and carbon-intensive process.
"We want to recover as much of the precious metals as we can from things which are currently waste," says Messenger. "Our focus is on doing this sustainably within the UK, using a process that's effective at room temperature while producing a lot less greenhouse gas emissions than smelting."
"If we're producing the waste, it should be our responsibility to sort it, we shouldn't be shipping it to another country to sort it for us," says Mark Loveridge, commercial director at the Royal Mint. He says that developing e-waste supply chains around localised recycling plants would dramatically cut the waste miles required to transport discarded electronics by sea, air and road, and the Royal Mint is already in talks with partners around the world with the ambition to globalise this technology.
You might also like:
Swapping my lab coat for an orange hard hat, high-vis jacket and black, steel-toe-capped boots, I head to the new processing plant. Dozens of huge dumpy bags are stacked up in the far corner of this 3,000 sq m (32,292 sq ft) factory, each filled with colourful circuit boards. These have been removed from laptops and mobile phones, and delivered to the factory by a network of 50 e-waste suppliers around the country.
On arrival, circuit boards are inspected and tipped into a large silver hopper which funnels this raw material into a huge multi-coloured machine. Tony Baker, director of manufacturing innovation who is overseeing the installation of this plant, explains that as circuit boards get mechanically separated and broken up, any non-gold components are kept to one side, while any gold-bearing parts such as USB ports are digitally detected and sent to a 500-litre (110 gallon) reactor. Here, the "magic green solution" gets added on a much larger scale, gold sand is extracted and, again, nuggets are produced.
Because so much non-gold is removed at the start, the chemical processing is only applied to fragments containing gold, as Baker explains. The raw material used by the Royal Mint is comprised of circuit boards, rather than entire laptops or whole mobile phones. Once the gold has been extracted, the leftover non-gold components are all sent off to different parts of the supply chain for reuse, so nothing gets wasted. The gold content varies between 60 parts per million to 900 parts per million, depending on the feedstock, according to Loveridge.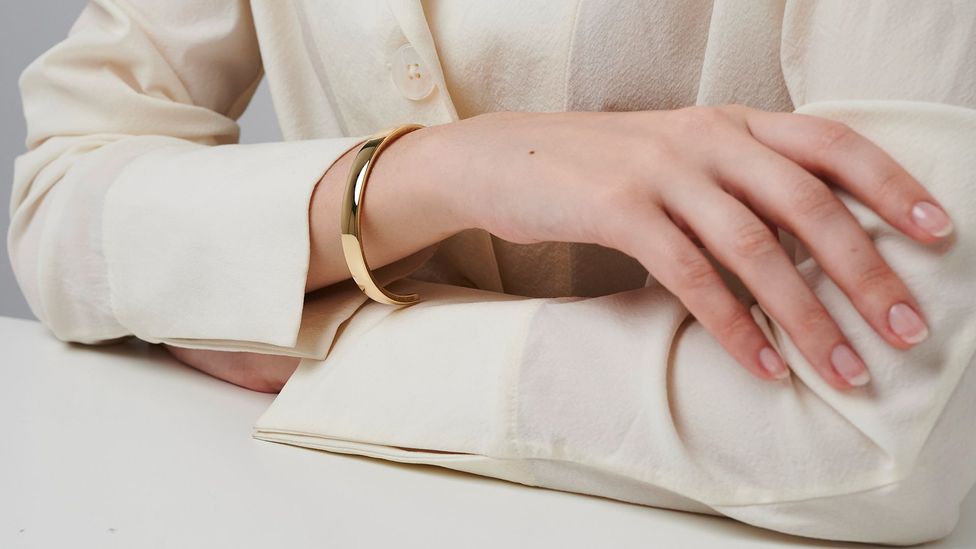 The gold nuggets extracted from electronic waste are crafted into bracelets, necklaces and cufflinks (Credit: Carl Wilson / DIY Creative)
While currently, the Royal Mint's waste reprocessing plant just specialises in gold recycling at a relatively small scale, the ambition is to eventually branch out and recover other precious metals from the same circuit board raw material as this system expands. And when any remaining plastic or fibreglass is processed, some of the energy produced is converted into synthetic gas that is fed into the Mint's own local energy plant – so it will be used directly to generate electricity and power on-site. This is part of the company's plan to generate 70% of the power required to run the entire manufacturing site through renewables such as solar, wind, combined heat and power plus battery storage.
If the Excir chemistry can be adapted to recover a wider variety of precious metals, and if the entire system can run on locally produced renewables, there's scope to replicate this at other refineries around the country in a low-impact way and divert e-waste before it gets exported. The biggest challenge is to ensure that this network of e-waste suppliers and processors grows in a way that prioritises and incentivises reuse close to home, says Loveridge.  
"The more you can separate at the start, the less effort you have to put in, the purer it is and the better value we get for it," says Baker. "We require the precious metals – that's very important as a material source for us – but it's not just about taking the metal out and discarding the rest. We wanted to find a home for every single part of these circuit boards."
If we're producing the waste, it should be our responsibility to sort it, we shouldn't be shipping it to another country – Mark Loveridge
Once the gold has been removed, what remains gets ground into fine particles with the non-gold e-waste. It's then split into different fractions. Tubs of copper concentrate, steel and tin are sold and sent off to specialist recyclers for reuse, while the remaining char from processing any leftover fibreglass goes to a local cement works. The leach solution used in the chemical process is also sent off for recycling once it's been reused up to 20 times. Once fully operational, zero waste will be the goal, says Loveridge.
Urban mining – recovering precious metals from existing waste products such as these circuit boards – is a burgeoning trend and there's certainly plenty of e-waste available.
Kate Hinton, external relations lead at Material Focus, the non-profit behind the Recycle Your Electricals campaign, points out that UK households are hoarding 527 million small old electricals, including 31 million old laptops, weighing around 190,000 tonnes. In the US, mobile phones containing $60m (£47m) worth of gold and silver are thrown out annually. A 2022 report by Lawrence Berkeley National Laboratory calculated that more than one billion electronic devices could be discarded annually in the US a decade from now – and that these electronics could become a source of roughly half the amount of gold that is currently mined there.
Experts argue metals are "eminently recyclable", especially because the environmental cost of mining ore to get just a tiny amount of gold is enormous.
Already, the US-based jeweller Ring Bear is working with salvaged gold. Pandora has set a target of using only recycled gold and silver by 2025. For the Tokyo Olympics, metal was extracted from six million mobile phones and almost 72,000 tonnes of e-waste to make 5,000 gold, silver and bronze medals.
155,000 tonnes of small electrical waste is thrown away every year, says Hinton, who wants to see e-waste recycling become the social norm. While she accepts that recycling won't solve every problem, she says it seems "crazy" to waste foundational materials needed to make future green tech.
"We need the resources to make smart devices smart or to make renewable energies function. At the moment we're letting too many of them get lost because they're not being recycled," says Hinton. "The challenge with tech is that it's presented to us as amazing, clean, shiny, and we don't really think about what's inside that. Let's value the materials that allow that tech to work and keep [these critical raw materials] in the system for as long as possible."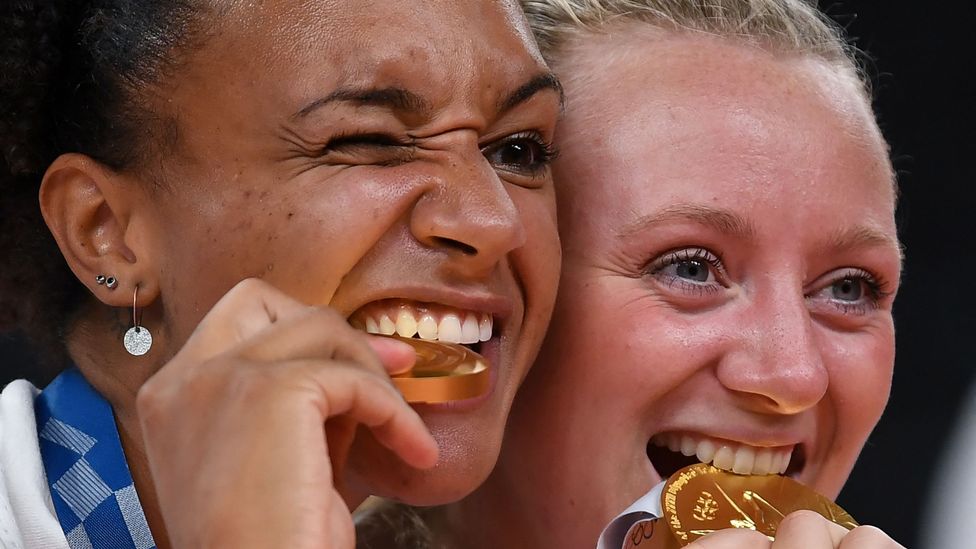 All the medals at the 2020 Tokyo Olympic Games were made from recycled electronic waste (Credit: Getty Images)
Innovation is needed to make e-waste recycling mainstream, says Hinton. "Particularly with small electricals, such as chargers, plugs and cables that are full of copper. Whilst what the Royal Mint are doing is great, the gold is a very small part of all this other material." This requires heavy investment in research and development to develop productive, commercial processes. With growing awareness about the environmental and social impacts of conventional mining, new green technologies could be scaled up enough to drive the growth of a more circular economy for precious metals.
When it comes to accelerating this transition, pioneers are few and far between. US firm New Gold Recovery is developing a toxic-free method that extracts gold particles from the mine tailings that would otherwise be disposed of. UK company N2S uses a bio-leaching technique to recover materials from shredded IT equipment – in 2021, they recovered 129 tonnes of copper alone. In New Zealand and Australia, green chemistry company Mint is scaling up its network of city-based biorefineries to extract various metals, such as gold and copper, from e-waste in a similarly low-carbon way. Mint's Sydney-based operation will service about 25% of Australia's total printed-circuit-board waste (approximately 3,000 tonnes), with plans to expand into the UK by 2024.
Material Focus estimates £13m-worth ($16.6) of critical raw materials could be recovered from waste electricals in the UK annually if more advanced recovery technologies are developed and used in the future. Material Focus also identified circuit boards, like the ones being processed here in South Wales, as a key component that needed to be better handled to reduce wastage and recover some of the most valuable materials such as gold, silver and palladium.
Let's value the materials that allow green tech to work and keep them in the system for as long as possible – Kate Hinton
The Royal Mint's secret chemical formula does have the potential to recover other precious metals besides gold, such as palladium, silver and copper from e-waste and in the future, these could be used to make lots of other products aside from jewellery. Loveridge is particularly excited by the prospect of recovering critical materials that can then feed straight into production of electric vehicles and renewable energy.

"We'll need a lot of copper and circuit boards are about 20% copper," Loveridge says. "So, while for us gold is really important and it's about us reducing our reliance on mined gold – actually the copper plays a really important role to other organisations within the UK. And we will be able to start generating a source here ourselves."

As my tour around the new factory site comes to an end, Baker says: "We're trying to encourage the idea that one person's waste is someone else's raw material."

--

Join one million Future fans by liking us on Facebook, or follow us on Twitter or Instagram.

If you liked this story, sign up for the weekly bbc.com features newsletter, called "The Essential List" – a handpicked selection of stories from BBC Future, Culture, Worklife, Travel and Reel delivered to your inbox every Friday.

;