The Wombles
5 February 1973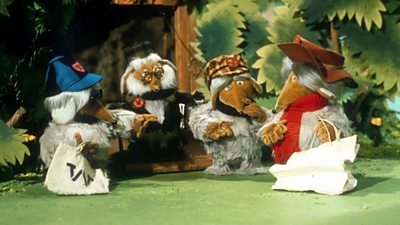 The Wombles first aired on 5 February 1973. The series was based on the books written by Elizabeth Beresford, about a secretive group of creatures who live beneath Wimbledon Common, collecting and recycling the litter left behind by the "everyday folk". The Wombles was ensured a large crossover audience as it was shown at the end of children's programmes, just before the news. With the aid of Mike Batt's catchy theme tune - which was the first top 10 hit of many for The Wombles pop group - it became a great success.
Ivor Wood designed The Wombles for television with pointed snouts and floppy ears, distinct from the teddy bear-like animals illustrated in the original book. Bernard Cribbins narrated the series and did all of the voices for the different characters, which Beresford had based on members of her family. The theme of the programme was not lost on children, gave a great boost to the idea of recycling, and perfectly fitted the growing awareness of environmental issues.
The last Wombles programmes on the BBC were made in 1975, but they were repeated for many years. There was a Womble film, stage show and merchandise, as well as Mike Batt's group. Ivor Wood went on to create other memorable children's programmes including Postman Pat.
Tagged: