Image: Michael Palin, Graham Chapman, John Cleese, Eric Idle and Terry Jones in costume for a new Gumby sketch. Python Night, BBC Two, Saturday 9 October 1999, 20.55
The Documents
The channel: BBC One, the date: Sunday, 5 October 1969, the time: 22.55 - a late night slot for a programme expected to be experimental, but not necessarily expected to last. Few predicted that 50 years on we would still be celebrating that comedy legend - Monty Python.
It all happened in a somewhat 'BBC way' - lots of discussion and lots of memos, against a backdrop that allowed writers and performers breathing space to create.
From the outset the series caused some internal head scratching for BBC bureaucrats as these archive documents reveal.
We are all used to data protection these days, but back in 1969 things were a little more 'fluid'. John Howard Davies, (who went on to be the producer of Fawlty Towers), was quick to pick up that David Frost's home address and phone number had 'mistakenly' been used in the celebrated Marriage Guidance Counsellor sketch: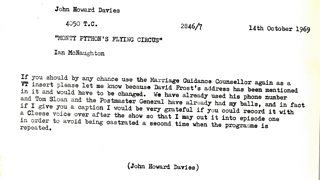 Another memo from the then BBC Head of Comedy to Ian McNaughton, Monty Python's producer and director, indicates some of the creative chaos that surrounded the series.
Was it not time for the team to come up with a title for the series?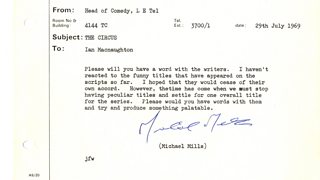 Within a week of Monty Python's first episode, BBC Audience Research had undertaken one of its regular Audience Research Reports.
The results overall were positive – amusing, entertaining, goon-like, and 'outrageous' being some of the comments:
By the end of the first series it was clear the BBC had a success on its hands. Now Michael Mills was Head of BBC Comedy, and clearly had another series in sight:
The BBC internal TV Weekly Review meeting was a regular gathering of BBC execs and bureaucrats.
The Corporation's brightest and best picked over the week's TV output, and their comments fed back to those that mattered. This exchange of views is from December 1970: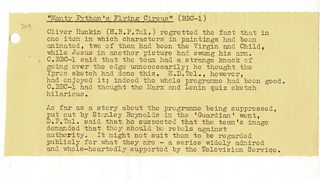 A week later, some senior BBC people were getting worried that one programme suffered from 'cruel' humour: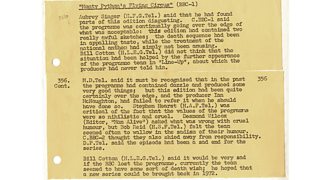 The documents give a frank insight into a different world of TV creativity, commissioning and audience research 50 years ago, and make fascinating reading.
Might the BBC's lightness of touch and bold approach to commissioning 'something completely different' account in part for the series success?
Behind the Scenes
Monty Python broke the mould, and changed comedy forever - an example of creativity at the BBC that just won't die. For Shane Allen, Python is the holy grail of comedy history.
Monty Python highlights that long-standing BBC reputation of being the vital place that champions pioneering new talents. The Pythons tore up the rule book of comedy grammar, conventions and traditions, and we can see how that elicited some discomfort in certain quarters at the time.
Thankfully the support for creative freedom won the day and has certainly paid off in the long run as audiences continue to celebrate and revere their enormous impact on comedy.
To contemporary commissioning eyes it's reassuring that not that much has changed. BBC Comedy is here to find the dazzling new talents who offer something original and progressive. But just as in Python times, sometimes frightening the horses and getting complaints, demonstrates that you're having cultural impact and keeping comedy fresh, relevant and bang up-to-date.
The immediate surprise to comedy fans is that such a surreal and subversive series aired on the more establishment BBC One, all thanks to then Director of Programmes, David Attenborough - in a late night slot. These documents also allude to the Pythons carrying the torch for Spike Milligan with their anti-establishment, anarchic, unconventional approach and attitudes, mixing the conceptual with superb physical slapstick, and all shot through with Gilliam's defining visual grammar.
I particularly loved that the 'very naughty boys' put David Frost's actual address in the show with clamorous results!
The show proved itself a global phenomenon, and laid out the blueprint for so much of the comedy that followed for decades. Monty Python pushed existing boundaries off a cliff face, and became daring and exciting as the first real rock-and-roll comedy troupe that conquered the world.
They played stadiums and released albums. They were super-clever and exuded anti-establishment and counter-cultural cool.
It's emboldening to see in these documents that they ruffled feathers internally and were even deemed by some to have a 'sadistic' edge.
However, on a positive note, the BBC Comedy heads were quick to recognise the Pythons' impact and pushed for a swift return of the show in quite a proactive way.
The Pythons would continue to break ever more sacred taboos throughout the 70s as they moved from TV to film and end the decade with their finest work, 'The Life Of Brian', which was banned in certain parts of the country, and sparked debates around blasphemy.
Monty Python is now part of the nation's cultural DNA. It encapsulates a recognisably British eccentricity and has spawned popular catchphrases and figures of speech; from inspiring the phrase 'spam e-mail', to featuring in the London 2012 Olympics when the UK presented itself to the world with 'Always Look on the Bright Side of Life' closing the ceremony.
Reflecting on these documents we tip our bowler hats and doff our Gumby hankies to the BBC Comedy heads who came before and recognised the sparks of magic in the minds of these six comedy behemoths.
If you enjoyed dipping into this small archive collection, then I would really recommend reading the Michael Palin diaries for further insider perspectives.
Ministry of Silly Stories
Ministry of Silly Stories is a collaboration between Ministry of Stories, Swanlea School in Whitechapel and BBC History. Young writers created brand new comedy sketches inspired by Monty Python's Flying Circus, to celebrate its 50th anniversary.
Only one of the 15 writers had heard of Monty Python before the project. Initial reactions to watching the show ranged from
'It was hilarious... the way they acted - they slammed the dead parrot on the table!' (Aamna, aged 12) to 'I imagined people wouldn't laugh at it that much'(Ishaq, aged 11).
The young people, all aged 11 to 12 years old, then worked with comedy writer/actor Gem Ahmet and poet Miriam Nash to explore the surreal, the unfortunate and the silly, bringing the spirit of Monty Python to their own time and place. Their final sketches were performed by professional comedy actors and filmed by the BBC.
Shane Allen, BBC Comedy Commissioner, added: "This is a brilliant collaboration, that totally gets the spirit of Python. Long live silly worlds!"
Monty Python Gallery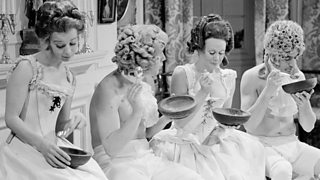 Our image gallery gives you a rare glimpse of some of the many images taken by the BBC originally to publicise the series. Some haven't been seen since 1969. The images are restored by BBC Archives photographic team, and held by BBC Archives. Images copyright: Python (Monty) Pictures Limited.
Share your memories
Which was your favourite Monty Python sketch? What did you think when you first watched Monty Python's Flying Circus? Let us have your memories and thoughts to celebrate 50 years of an iconic programme.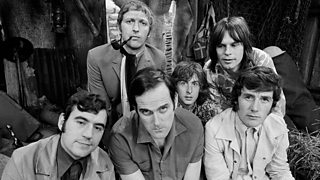 Your memories of Monty Python
My Norwegian Blue suffered the same fate...
"Department of Redundancy Department" MSG...
Neal Rudin, USA
Favorites are all the Gumby bits, opening and closing credits, and the Scotsmen jumping off parapets. The absolute best funny stuff in any medium for the last 50 years. The group will never be replaced or topped. I'm grateful that all their work has been preserved.
Alice Mulhern, Fort Collins, Colorado, USA
Most cult of comedy shows with every untruthness and unliveable who we experienced after this 50 years - again.
You with programme assesority of BBC1 co-operated with own Poland Television first channel, and I remember this first aired show on Poland was in 1993, four years after the reign of pro-Soviet communism regime. Wind of freedom takes with Mr. Clesse, Attenborough and Jones (indeed with the fantastic screenplay who he did, "A Dulcinea" based of Adventures of Don Cichote :)) and fantastic gags, skits and surreal humour who's it really everlasting in kind of spectrum of the reality! Your inspirations of Belgian surrealist movement, and XIX-c. circus centraltown troupeés kick any today predestinations with sublime form of mastery, feeling of moment, and externally undescead scatology in human mankind.
God bless you all, and the best wishes from out of 50th anniversary out of central-eastern Europe!
Sincerely, Adam - your greatest fan :)
p.s. Where's Canada? :)
Adam, Dachnow, Poland
In terms of pop culture touchstones, only Star Trek has influenced, shaped, or informed me as much as Monty Python. Whether that's a good thing or not is up for debate.
Colin Patrick Ennen, Albuquerque, New Mexico, USA
When "Monty Python's Flying Circus" began airing in North America, it was required viewing for my best friend, but strictly verboten by my overprotective mother, who was certain "they're all on drugs". Still, I eventually found it. And Mother was right: It DID affect my innocent little mind. In the best possible way.
My favourite sketch is "Dirty Fork", because it's so subversive.
It starts off in a very refined, very posh restaurant, with very refined, low-key people, but this refinement is just a fragile veneer, because all it takes is a tiny speck of dirt to shatter the social order. The scene quickly spirals into increasingly wild, violent, madly comic absurdity. And then, it ends with an arbitrary, understated punchline, which violates the usual Python formula of shunning punchlines in favour of stream-of-consciousness flow. With that punchline, the Pythons subvert even themselves.
(I'll remove the pickle from my bum now.)
Patte Rosebank, Toronto, Canada
BBC terms and conditions
We aim to read all of your emails but due to the numbers we receive each day it is not always possible to reply to everyone individually.
In some cases your images or audio may be used on BBC output.
If we use your material on BBC programmes or online we will publish your name as you provide it (unless you ask us not to) but we will never publish your email address.
If you are happy to be contacted by a BBC journalist please leave a telephone number that we can contact you on. In some cases a selection of your comments will be published, displaying your name as you provide it and location, unless you state otherwise. Your contact details will never be published. When sending us pictures, video or eyewitness accounts at no time should you endanger yourself or others, take any unnecessary risks or infringe any laws.
Please ensure you have read the terms and conditions.
Related links