Designed by Graham Dawbarn and operational by 1960, BBC Television Centre was, at the time, one of the most technically advanced production hubs in the world. The complex lies four miles outside central London at Shepherds Bush on a site used for the Franco-British exhibition of 1908.
Television Centre, or TVC as staff knew it, was the third purpose-built centre for television production to open, after ABC in Australia and Granada Television in Manchester, but was the first to be conceived.
A unique design
A distinctive circular main block, affectionately known as the 'doughnut', housed technical areas and equipment, together with facilities for artists and administrative offices. Grouped around it were the studios, linked by a covered walkway to a scenery block to allow swift movement of scenery.
There is a story behind the curious shape of Television Centre. When Graham Dawbarn first looked at the site, he was stuck for ideas and went to a local pub. He sat down, pulled out an old envelope and drew the triangular shape of the site on the back. He then drew a question mark in the middle.
How could he design a centre with eight studios, production galleries, dressing rooms, camera workshops, recording areas and offices to support them? It must also allow trucks onto the site with the sets and areas for audiences and guests that were separate from the trucks.
He looked at the question mark and in a flash of inspiration realised that it would make the perfect design.
The sculpture in the central garden of the building still displays Helios, the Greek god of the sun. Designed by T. B. Huxley-Jones, and erected in 1960, it represents the radiation of television light around the world. The two reclining figures at the bottom are Sound and Vision, the two components of television.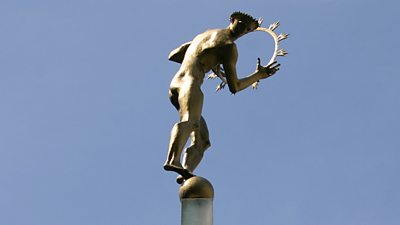 TV highlights
The centre originally had eight studios, ranging in size from 110 square metres to Studio TC1 at 995 square metres – at one time the second largest TV studio in Britain.
Notable TV programmes made here included Fawlty Towers, Monty Python's Flying Circus, Blue Peter, Absolutely Fabulous, classic Doctor Who and Strictly Come Dancing. In addition, the Centre featured the famous Blue Peter garden – loved by generations of child viewers, and now re-located to the Media City studios in Salford.
The last major drama series to be shot at the Centre was The House of Eliott, in 1994. After that, drama production moved onto film or single-camera video, and Television Centre was not entirely suitable for such production.
Sold and vacated by the BBC in 2012, the building has now been extensively refurbished as premium flats and offices, whilst retaining three television studios on the site including the biggest, TC1. BBC Studios, the BBC's commercial production and sales arm, have their headquarters on the site.
Further reading
Television Centre remembered
Search by tag: