The 1920s: Rumours
1922
Birth of the BBC. Its first Director-General John Reith has a reputation for strict morals but his personal diaries, held by BBC Archives, reveal he had at least one passionate, romantic and (his biographer believes) sexual relationship with a man when in his twenties.
In 1922, sex between men is illegal. There is no specific law about lesbians, but LGBT+ people lead hidden lives, risking blackmail, arrest, social rejection and ruin.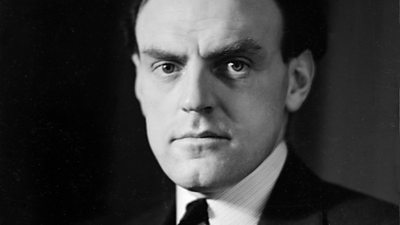 1928
Dame Ethel Smyth's work is first broadcast by the BBC. She is the first woman to be made a Dame for her achievements in music and is honoured by the BBC for her 75th birthday.
Ethel Smyth enjoys many passionate affairs with women. As a Suffragette she is jailed with Emmeline Pankhurst (with whom she is in love) and composes the Suffragette anthem "March of the Women".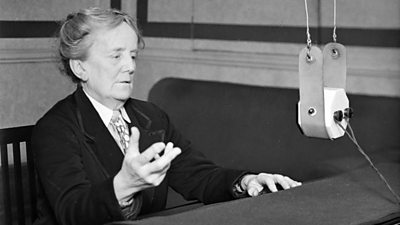 1929
Policeman Harry Daley broadcasts in the My Day's Work slot on Children's Hour. Oscar Wilde's The Selfish Giant is also broadcast that day.
Harry Daley, a self-educated gay man, meets the BBC producer JR Ackerley while walking his Hammersmith beat. Ackerley, also gay, puts Daley on the radio and introduces him to his literary friends including Room With A View author EM Forster.
Daley and Forster go on to become lovers for many years.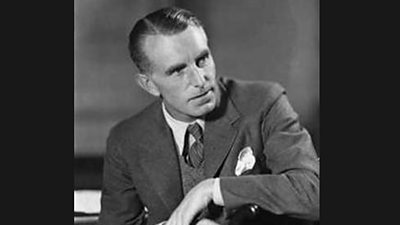 The 1930s: Can we mention?
1937
Can the BBC even mention the name of Oscar Wilde? The most celebrated gay man in living memory.
Wilde's work is broadcast but the man himself is never talked about. Journalist, author and playwright Jean-Joseph Renaud broadcasts his memories of Wilde's last months in Paris, without any reference to the cause of his downfall.
Some praise the BBC for its open-mindedness in mentioning him at all.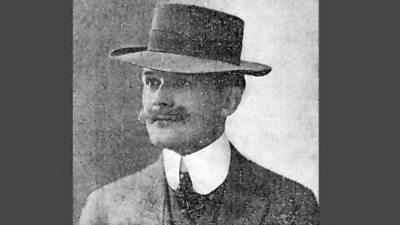 1938
Douglas Byng is the first female impersonator on television. He later has his own shows including Byng Ho! and Queue for a Song.
He never retires, and in 1977 at the age of 90 appears on Parkinson and Radio 4.
Within his own theatrical world, Byng is openly gay but very discreet outside it. He stars in music hall, revue and cabaret.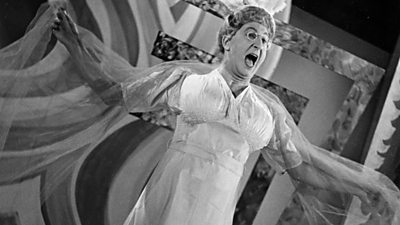 The 1940s: Performing from the closet
1941
Celebrated broadcasting bandleader Guyana-born Ken 'Snakehips' Johnson is killed in an air raid while performing at the Café de Paris in London. He is remembered for his influence on British swing.
Johnson lives with well-known writer and critic Gerald Hamilton who refers to Ken as "my husband". Biographers routinely ignore Ken's sexuality until academic Stephen Bourne discovers first-hand testimonies of Ken's relationship.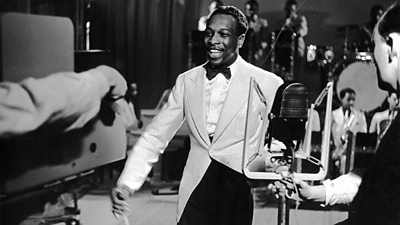 1944
Lord Alfred Douglas - otherwise known as 'Bosie', Oscar Wilde's lover, and central to his downfall 50 years earlier, reads poetry in his only broadcast.
A year before, the BBC considers asking Douglas to talk about Wilde, but thinks it would 'not be wise'.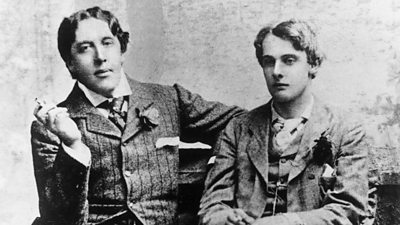 The 1950s: An acceptable subject?
Rex Jameson creates 'Mrs. Shufflewick' at a BBC audition, when a vicar character is deemed unsuitable for the BBC. As the cheeky Cockney charlady, Jameson appears on radio and TV from 1950 to the 1970s.
'Shuff' becomes a regular in venues around the gay scene with an innuendo-filled act. After Jameson's death in 1983, famous Camden drag pub The Black Cap names a bar 'Shufflewick's' after her.
Wally Stott is a household name as composer, arranger and band-leader, famous for The Goons and Hancock's Half Hour, the biggest hit radio comedies of the time. This is the title page from one of his original scores in the BBC Music Library.
In 1972, Wally transitions, and as Angela Morley enjoys an award-winning career. Film music includes the score for Watership Down and frequent appearances conducting the BBC Concert Orchestra.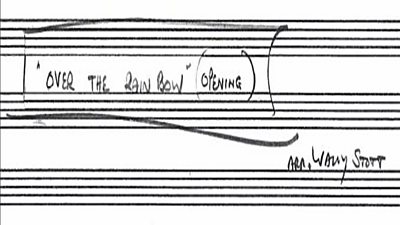 1953
Sir John Gielgud is arrested for cottaging.
Unlike Turing, his arrest does hit the headlines.
As a recently knighted celebrity actor, the case is one of the high-profile scandals in the early 50s that prompts a review of the law.
Gielgud gives a false name in court but is recognised and fears ruin, but he receives a standing ovation at his next theatre performance.
John's bother Val Gielgud enjoys a long BBC radio career and is Head of BBC Variety, from 1929-1963.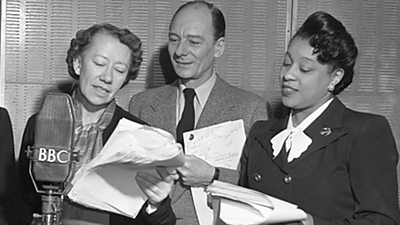 1953
The BBC wrestles with if and how it can talk about sexual orientation.
These memos from November 1953 show it is divided.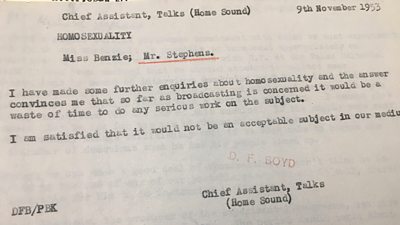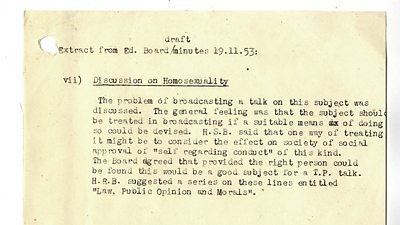 1954
Death of Alan Turing. In 1953 he reports a theft to police, but when officers realise he is gay, they arrest him instead.
Convicted, Turing accepts chemical treatment to 'cure' his same-sex attraction, rather than face prison.
An inquest records suicide by cyanide poisoning.
Turing's life as a gay man is reported cautiously by the BBC.
He receives a posthumous Royal Pardon in 2013.
Turing's code-breaking war work is unknown to the public at this time, but as a pioneer of computing and artificial intelligence, he broadcasts twice, in 1951 and 1952.
As was quite usual then, no recording is made.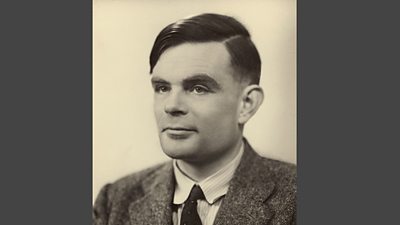 1957
The Wolfenden Committee publishes its Report into the laws on homosexuality and prostitution. It recommends a partial decriminalisation of sex between men over 21 in private.
A change in the law takes another ten years to get through the UK's parliament.
The BBC usually asks psychiatrists, lawyers and clergymen to discuss the 'problem of homosexuality'.
In the aftermath of the Wolfenden Report, BBC Radio broadcasts 'The Homosexual Condition'. The issue is similarly treated in BBC TV's Lifeline programme.
Wolfenden himself appears on Any Questions where the panel, including bisexual Lord Bob Boothby, is asked if the Church is making a moral error in supporting the Report.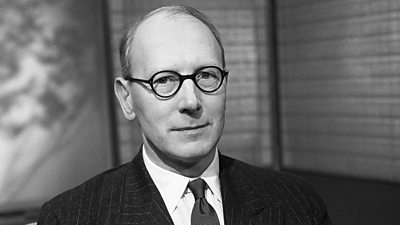 1958
Wolfenden (whose son is gay), and EM Forster meet on a BBC radio programme.
Forster is the author of Passage to India, Room With a View, and the 'gay Lady Chatterley's Lover', Maurice.
There is much speculation as to what is talked about off-mic during their radio encounter.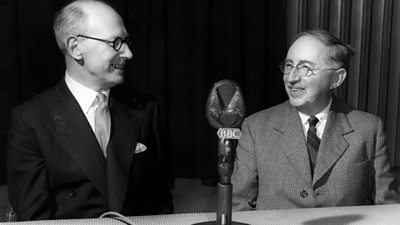 The 1960s: Nearly 'out'
1964
Naomi Jacob dies. Performer, composer, writer, panellist and essayist, her first work is broadcast by the BBC in 1924.
A lesbian when it was virtually impossible to be 'out', Jacob, otherwise known as 'Micky' to her friends and lovers, defends Radclyffe Hall's The Well of Loneliness against its banning in 1928.
She becomes friends with Hall and her lover Una Troubridge.
This photograph shows Jacob at her last broadcast on Woman's Hour in 1964, shortly before her death, aged 80.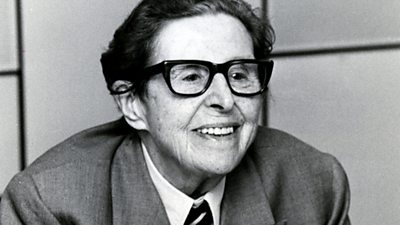 1964
Joe Orton is a startling new talent, spotted by young BBC Radio producer John Tydeman - later instrumental in his success. 'Tydie' eventually becomes a legendary head of BBC Radio Drama.
Orton is murdered by his lover in 1967. He leaves behind diaries perhaps even more entertaining and outrageous than his plays.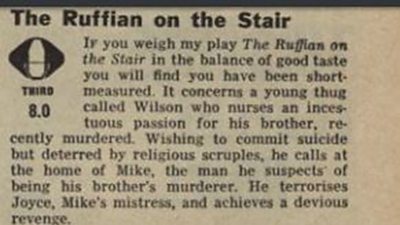 1965
Writers Marty Feldman and Barry Took use gay slang Polari in the innuendo-laced Julian and Sandy sketches in Round the Horne, with literal straight-man Kenneth Horne. Millions listen at Sunday lunchtimes to the highly gay stereotyped characters played by Hugh Paddick and Kenneth Williams.
Polari has origins in the Roma communities, Italian, slang, and other sources. Its aim is to confuse outsiders, especially 'Betty Bracelets', Polari for the police!
bona = good, dolly = pretty, eke (ecaf) = face, lallies = legs, naff = rubbish/poor, nanty = no/nothing, ogle = look/eye, omi = man, omipalone = gay man, palone = woman, riah = hair, varda = see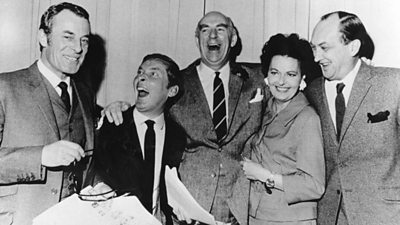 1965
In the Spring of 1965, a psychological TV drama features a love triangle with a gay aspect. The studio-based play is billed as 'a cosmopolitan London couple (Glenda Jackson and Alfred Lynch) find their outwardly charmed lives upended by a troubled homosexual friend (Nicol Williamson)'.
The BBC is sufficiently rattled to postpone its broadcast for a year.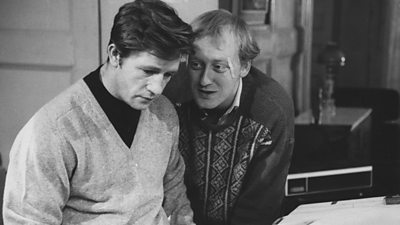 1967
The UK's Sexual Offences Act is law. However, after 10 long years of campaigning to implement the Wolfenden Report, the new act is barely a victory for gay rights. It only decriminalises gay sex in private between men. It does not cover the Merchant Navy or the Armed Forces, does not extend to Scotland or Northern Ireland, and does not equalise the discriminatory age of consent for gay men. An explicit ban on sex between women never exists in UK law.
Man Alive broadcasts two editions weeks ahead of the Act looking at the lives of gay men and lesbians in turn.
The 1970s: Breakthrough
The 1970s see many camp, effeminate but never actually out and positive LGBTQ+ characters on TV.
Mr. Humphries (John Inman), Bombardier 'Gloria' Beaumont (Melvyn Hayes) and comedian-host Larry Grayson represent only one type of gay man. The broader diversity of LGBT+ lives is barely represented on-screen. Especially absent are lesbians and the trans community.
These omissions and stereotypes are heavily criticised by the LGBT+ community and others subsequently. Could it be that the LGBT+ artistes that did make it on air in the 70s were presenting their authentic selves in the only way TV allowed at the time?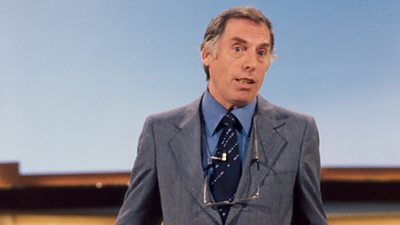 1970
In Steptoe and Son - Any old Iron? Harold is pursued by a stereotyped, predatory gay man, an antiques dealer. Albert teases Harold using the language of the time.
The title is a pun on Steptoe's scrap business and Cockney rhyming slang: 'Iron hoof = poof'.
Negative portrayals of the LGBT+ community on television are widespread at this time, but radical for its day, toward the end of this episode of Steptoe and Son a gay police officer is introduced, without all the usual stereotyped characterisations.
In the real world in 1962, with Steptoe and Son already an early hit, Albert, played by Wilfrid Brambell, is arrested for 'persistently importuning men' in Shepherd's Bush, West London. He is given a conditional discharge, and has to pay costs.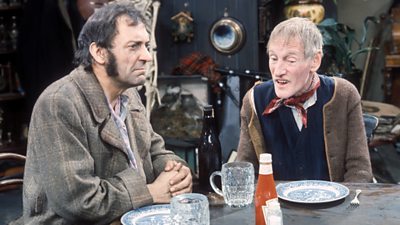 1970
The first male same-sex kiss on British television.
BBC Two's broadcast of Edward II by Christopher Marlowe sees Edward (Ian McKellen) and Gaveston (James Laurenson) kiss.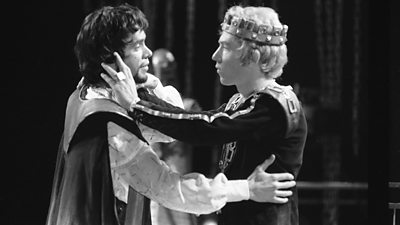 1970
The first female same-sex kiss on British television.
Ivich (Alison Fiske) and Irma (Consuela Chapman) kiss in David Turner's highly acclaimed 13 part adaptation of Jean-Paul Sartre's trilogy of novels, The Roads to Freedom.
1973
For the first time the UK trans community gets its own programme.
In Open Door, members of the trans community are given full editorial control over the issues that affect them, and there is a sense of celebration in this all-trans presented programme.
1974
Although The Roads to Freedom (BBC Two, 1970) shows two women kissing for the first time in a British television drama, it is not until 1974 that two characters specifically depicted as lesbians kiss on-screen.
The BBC TV drama 'Girl', is a 35 minute drama set in the army, by James Robson.
Jackie (Alison Steadman) is leaving the army and encounters Corporal Harvey (Myra Frances), her ex-lover.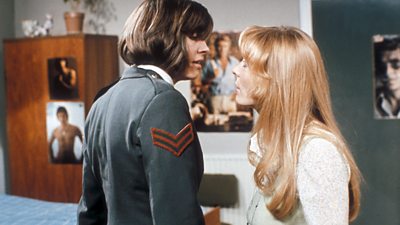 1974
Jan Morris, established historian, journalist, author, and travel writer publishes Conundrum, her account of her transition, becoming one of the most prominent trans women in the public eye.
Vincent Kane interviews Morris on the publication of her book, four years after he interviews Morris pre-transition.
1978
Tom Robinson's 'Glad to Gay' is released reaching 18 in the Top 40 within a week. Identifying as gay, Robinson is unique in chart music at the time, when record companies expect artistes to be in the closet for fear of affecting sales.
'Glad to be Gay' is banned by Radio 1's Top 40 show, and not performed on Top of the Pops, but John Peel continues to play it. Tom Robinson later presents many music and magazine programmes across BBC Radio.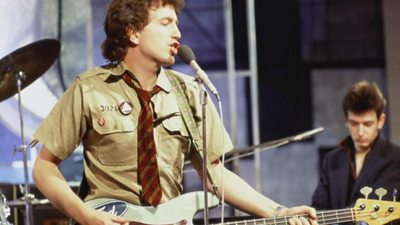 1979
Three films follow George Robert's transition to Julia Grant. The BBC's Audience Research Department analyses viewers' reactions and find only a minority feel the programme to be offensive or distasteful.
LGBT+ themes are now seen more often in BBC drama - and with less controversy.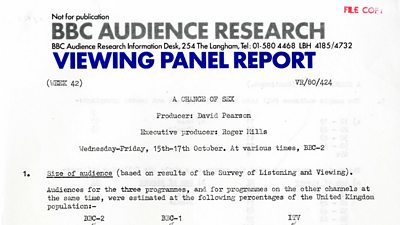 1979
The Other Side: Only Connect.
A play based around a researcher's discovery of thinker and early gay rights campaigner Edward Carpenter (1844-1929).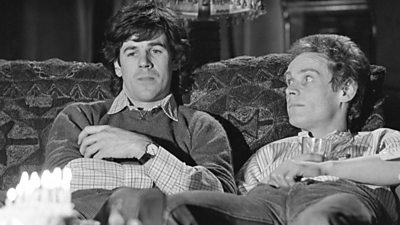 1979
Play for Today: Coming Out by James Andrew Hall with Anton Rodgers and Hywel Bennett.
The original billing says 'Lewis Duncan's reputation is as a best-selling writer of tough he-man thrillers. But Lewis is actually a life-long homosexual and when he rashly contributes an article to a gay magazine, it looks as though he may be forced to declare himself.'
The 1980s: That kiss
1983
AIDS was first reported on in-depth on television.
Panorama looked at a new condition during a wider segment about STDs and, in March 1983, noted there had been 12 AIDS related deaths in the UK.
Meanwhile science strand Horizon broadcasts Killer in the Village, the first full-length in-depth UK documentary on the health crisis emerging in New York's gay village known as Acquired Immune Deficiency Syndrome or AIDS.
In his interview for the BBC Oral History Collection, Producer Alec Nisbett explains to former Horizon Editor Simon Campbell Jones how Killer in the Village was made, despite initial resistance.
1984
Pop starts to come out! Most LGBT+ performers from Freddie Mercury to George Michael keep their sexuality quiet as the music industry demands, but two new bands with out-gay members and lyrics with gay themes break convention with their hit debut singles Frankie Goes to Hollywood's 'Relax' and Bronski Beat's 'Smalltown Boy'.
Broadcasting these tracks is another matter. In 1984 Frankie appears on Top of the Pops with 'Relax', but Radio 1 DJ Mike Read calls it 'obscene'.
The BBC promptly bans it from daytime and chart shows, though late show DJ's 'Kid' Jenson and John Peel continue to play it.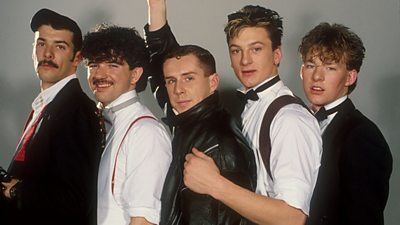 1987
1987 sees the first same-sex kiss in a UK television soap when Eastenders' Colin gives boyfriend Barry a light peck on the forehead.
The Sun newspaper reports, 'IT'S EASTBENDERS ... a homosexual love scene between yuppie poofs...when millions of children were watching.'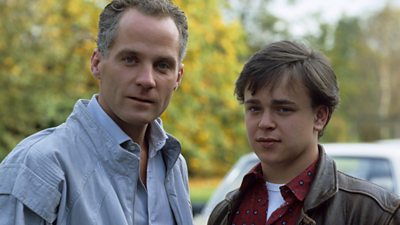 1988
Section 28 of the Local Government Act (1988, now repealed) states that a local authority 'shall not intentionally promote homosexuality... as a pretended family relationship.'
It is the first anti-LGBT+ law introduced for more than 100 years.
Lesbians protesting against Section 28 invade the 6 o'clock News while on air. Sue Lawley and Nicholas Witchell continue presenting over shouting and scuffling.
Editor, Tony Hall apologises later on the 9 o'clock News.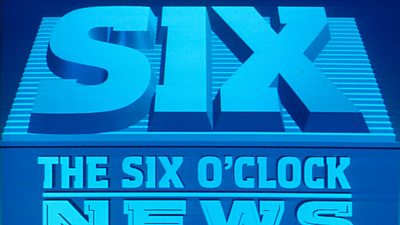 1988
Scene: Two of Us, is a BBC Schools drama telling the story of schoolboys Matthew (Jason Rush) and Phil (Lee Whitlock) trying to understand their feelings for each other.
In the hostile atmosphere of Section 28 and AIDS, a nervous BBC first avoids showing Two of Us at all, then does, but only at 23.30.
Eventually the drama gets shown in a daytime BBC Schools & Colleges slot in 1990.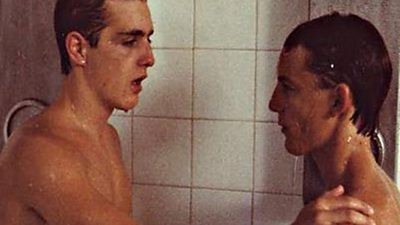 1988
Debating Section 28 and the arts on Radio 3 with the Sunday Telegraph's Peregrine Worsthorne, Ian McKellen 'accidentally' comes out.
He tells his family before the recorded programme was broadcast and goes on to found LGBT+ rights charity Stonewall.
The 1990s: It's not Daytime, it's Gaytime!
Justin Fashanu becomes the first professional footballer in England to come out as gay. In 1981 he he is the first black footballer to command a £1 million transfer fee.
His clubs and fellow players have known his sexuality with mixed reactions, but once public, he receives abuse from crowds during matches. He commits suicide in 1998.
In 1992 Fashanu presents a pilot for the first national radio show aimed at LGBT+ youth, but doesn't go on to present the strand on Radio 1.
In this interview from 1992, Justin talks openly about coming to terms with his sexuality. He acknowledges the concessions he's been forced to make and the effect coming out has had on his career, his family and his treatment by the media.
1994
Out This Week begins on Radio Five Live in 1994. Made by All Out Productions, it is the first national radio news magazine 'for lesbians and gay men'.
Presenters include Nigel Wrench and Rebecca Sandles.
Wrench wins a Sony Gold Award for Out This Week and uses his acceptance speech to come out as HIV positive.
In 1998 he makes AIDS and Me for BBC Radio 4.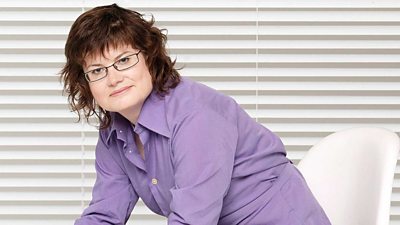 1994
Byker Grove runs a gay storyline in 1994. Aimed at 12-16 year olds, the drama tackles many controversial issues in its 20 year run.
In this episode, Noddy, exploring his sexuality, kisses his friend Gary at the cinema.
Gary does not react well.
The Sun newspaper calls for producer Matthew Robinson to be sacked over the gay storyline.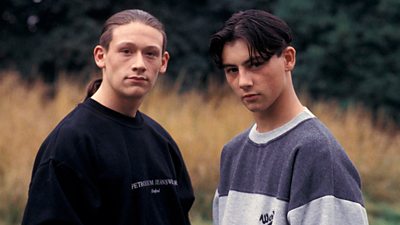 1995
Gaytime TV begins on BBC Two, the first BBC TV programme aimed at and LGBT+ audience.
It is presented by Rhona Cameron, Bert Tyler-Moore and Richard Fairbrass.
The programme runs until 1999.
Editor Neil Crombie bills the show as 'so glamorous and exciting straight people will love it too!'
Independent production company Planet 24, who makes Gaytime TV is founded by boyfriends Charlie Parsons and Waheed Alli.
In 1998, LGBT+ activist Alli becomes the youngest and first out gay member of the House of Lords. He is also the most prominent gay politician from a muslim tradition.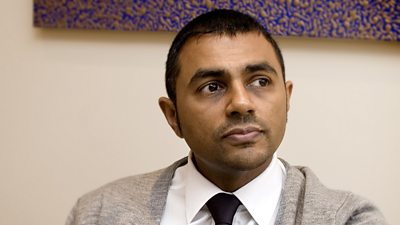 The 2000s: Trans visibility & BBC News LGBT+
In 2001 the BBC makes another attempt at targeting a gay audience - and this time only gay men.
That Gay Show "edgy and irreverent" is on the digital-only channel BBC Choice.
Presenters included Kristian Digby, Jonathon Natynczyk, Tom Ashton, Robert Robertson and Scott Cappuro.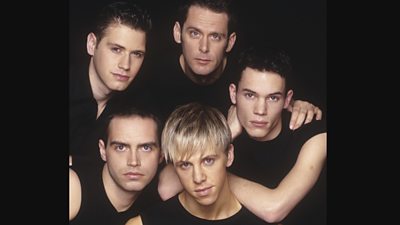 2002
Tipping the Velvet (BBC Two, 2002) is based on Sarah Waters' novel set in the world of Victorian music hall.
Some predictable elements of the press profess outrage, but the BBC's tone is more 'bring it on', celebrating an adaptation full of humour and fun – as well as pushing the boundaries of depictions of lesbian sex on UK television.
The 2000's see a number of advances in legal rights in the UK for the LGBT+ population:
2000 - LGBT+ people can serve in the Armed Forces
2001 - the age of consent is equalised at 16
2003 - Section 28 abolished in England, Wales and Northern Ireland
2005 - Gender Recognition Act grants legal status to trans people
2005 - Civil Partnerships introduced in the United Kingdom
2007 - Equality Act seeks to protect equal access to goods and services
The world's longest-running soap, Radio 4's The Archers, running since 1950, features the Civil Partnership of characters Ian and Adam.
2005
The UK's first LGBT+ History Month gets its initial publicity on BBC Radio 4's 'Today' programme. The underlying tone of the interview arguably mirrors that of earlier attempts by the BBC to grapple with the issues. Throughout the interview there is a general emphasis on challenging the need for the event.
2006
One of the most prominent out lesbians in broadcasting, Claire Balding, and Radio 4 Announcer Alice Arnold celebrate their Civil Partnership in 2006.
When same-sex marriage is legalised in 2013, they are able to backdate their union in a ceremony at the same venue.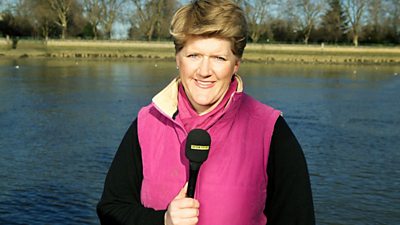 2015
In 2015 Rebecca Root is the first trans woman cast in a comedy.
Boy Meets Girl is developed from a winner of the BBC's 2013 Trans Comedy Award.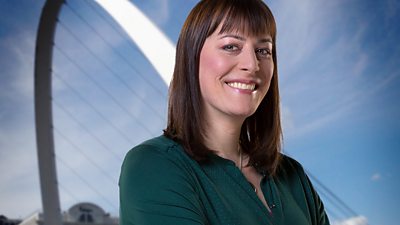 2015
In the same year Riley Carter Millington joins Eastenders as Kyle Slater, the first trans man to play a trans character in a UK soap.
Trans activist Paris Lees wrote 'Kyle's entrance into EastEnders is a cultural landmark on a par with the show's first gay character in the 80s.'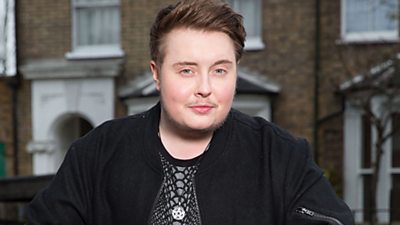 2017
50 years on from the first relaxing of anti-LGBT+ laws, the BBC's major Gay Britannia season looks back at LGBT+ history and tells many new stories from different perspectives about life for LGBT+ people in 2017.
2018
An established radio DJ at BBC Manchester in their former identity, Stephanie Hirst comes out as trans on BBC 5 Live.
In 2018 she becomes the first trans DJ with a daily radio show in the UK.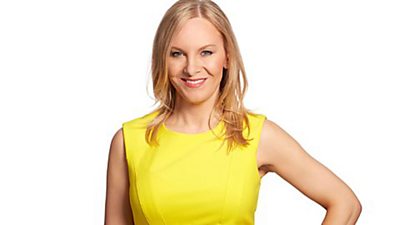 2019
Ben Hunte is appointed the BBC's first LGBT Correspondent in March 2019. He is succeeded by Lauren Moss in April 2022.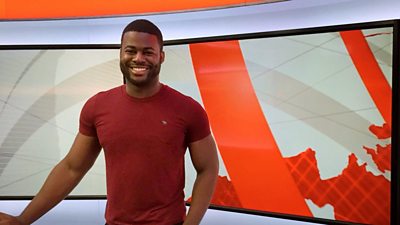 2019
Johannes Radebe and Graziano Di Prima are the first all-male partnership to appear briefly on Strictly at the end of 2019. Despite the dancers' popularity, series producers are surprised that there are 300 complaints about their appearance. None is upheld by the BBC.
However, just two seasons' later, when Johannes danced through to the 2021 Strictly final with celebrity baker John Whaite (the first all-male celebrity/professional dance couple), there was hardly any public comment.
BBC History explores inclusivity in Strictly in this AHRC funded project.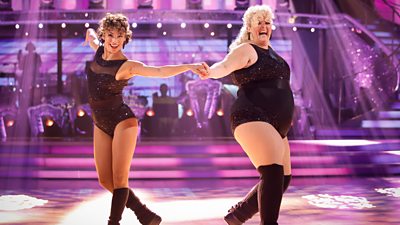 2019
RuPaul and a panel of judges' search for the United Kingdom's next drag superstar in RuPaul's Drag Race UK.
The show wins numerous nominations from the National Television Awards including The Bruce Forsyth Entertainment Award with both Visage and RuPaul receiving a nomination for Best TV Judge.
The first season achieves 15.6 million streams, and the success of the show plays a part in bringing back BBC Three from an online service to a full TV channel.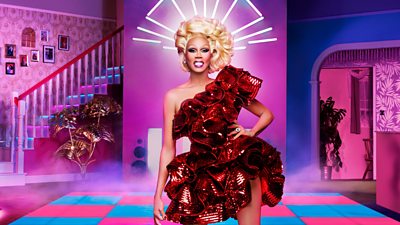 2022
50th Anniversary of Pride in the UK. Throughout June BBC Two, BBC Three and BBC Four mark the moment with titles available as a dedicated collection on iPlayer, whilst BBC Radio includes the Loud and Proud season on BBC Radio 6 Music plus podcasts and series on BBC Radio 4 and BBC Sounds.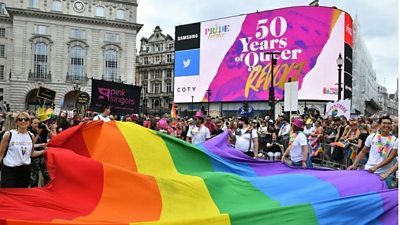 2023
A two year investigation by journalist and presenter Ahmed Shihab-Eldin for BBC News, culminates in a major documentary that uncovers the tactics used to lure, and eventually prosecute LGBT+ people in Egypt.
Shihab-Eldin discovers that the Egyptian police engages in conversations on dating apps such as Grindr, encouraging meet ups. Respondents are then charged under a "debauchery" law, and trumped up evidence is presented against LGBT+ people who are just looking for a relationship or friendship.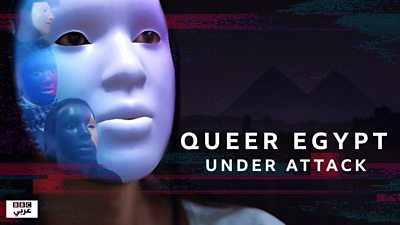 ---
Our LGBT+ timeline contain excerpts and programmes from BBC services at various moments in history. The archive material should be viewed in this context and with the understanding that some of the content reflects the attitudes and standards of its own era – not those of today. Please note that some footage contains language which is now clearly outdated but which was regarded as acceptable by many people when first used. If you are affected by any of the issues raised in the history of the BBC LGBT+ content, you can get advice and information here.
Research by Simon Rooks, BBC, & Stephen Bourne, author, Playing Gay in the Golden Age of British TV, History Press, 2019, and Playing Gay, BBC Research Blog, 2019. Additional research by John Escolme.