Image: From front cover image, vinyl record, Movement, Mime & Music, BBC Records - RESR 5, 1969.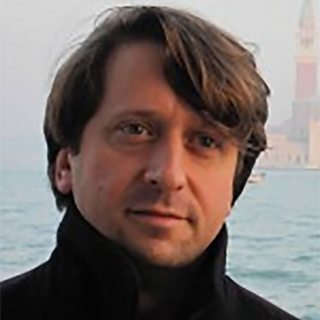 Dr Alban Webb
Lecturer in Media and Cultural Studies, University of Sussex
The start of the new school term this April is unlike any other that has gone before. In response to the Covid-19 pandemic, for all but a very few children of key workers and those in need, the school gates will remain shut and the school bell, silent. Instead, Britain in lockdown means that families are having to manage the reality of home schooling.
In response to these unique circumstances, from 20th April 2020 the BBC is providing daily programmes to help guide parents and children through curriculum related learning. BBC Bitesize Daily will offer 14 weeks of educational programmes and lessons to every household in the country.
But this is not the first time the BBC has tried its hand at schooling the nation. Since its inception in 1922, it has been part of the BBC's broadcast mission to "inform, educate and entertain".
Radio Pioneers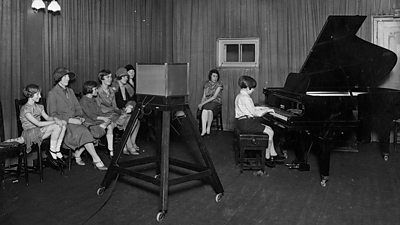 From the start, the British Broadcasting Company – it did not become a public Corporation until 1927 – was necessarily experimental. With very limited resources, staff, technical facilities, and experience, much of its initial output was concerned with trying different broadcasting styles, formats and techniques, in order to find out what was possible and what worked.
One such experiment was the transmission of content for children. In this interview from the BBC Oral History Collection one of the founding executives of the BBC, and World War One flying ace, Cecil Lewis, explains the haphazard and impromptu way in which children's programmes began.
That intimacy of the microphone, as Lewis put it, was augmented by some of the technical constraints experienced in early output. The BBC's first broadcast was from its London transmitter (call-sign 2LO), on Tuesday 14th November 1922. The following day, programmes from Manchester (2ZY) and Birmingham (5IT) started. With an initial broadcasting range of about 25 miles, depending on local topography, it was not until a network of radio stations and transmitters came on-line, over the following two years, that the BBC was able to provide a national service.
This meant that Children's Hour, along with other programmes, evolved as part of local broadcasting systems: devised, performed and beamed out from regional centres. As a consequence, there were multiple Children's Hours throughout the country, each with a distinctive broadcast tone and identity.
Manchester became a major centre for the production of children's programmes and it was here, in 1934, that Olive Shapley arrived to take charge of Children's Hour for the North Region. Shapley, who would become an influential documentary-maker, as well as presenter and producer of Woman's Hour, recalls the imaginative environment in which these children's programmes were made.
The new mass medium of broadcasting allowed programmes such as these to become an accompaniment to the daily lives of children, breeding familiarity not just with the "Aunts" and "Uncles" of Children's Hour, but with a diverse range of programme styles, from music and drama, to news and competitions. They introduced, as Shapley points out, a sense of participation into the mediated experiences of young people.
The programmes were educational in the broadest sense, in that they informed and entertained in equal measure. Meanwhile, the BBC had already embarked on a more formal approach to scholastic programming in 1924, when it started special broadcasts for schools. The first talk on music by Sir Henry Walford Davies, Professor of Music at Gresham College, London, was followed by a series of lectures given by eminent scholars on their specialist subjects. As later research showed, this academic style proved to be rather challenging and, as a consequence, somewhat unpopular with those school-children who had the facilities to listen.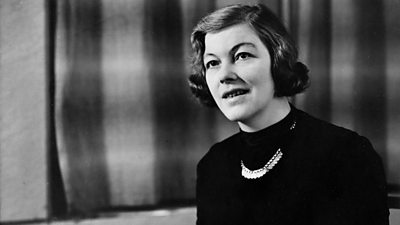 Instead, School Radio changed direction and began to address specific curriculum topics in a way that was intended to support teachers and institutions in their pedagogic practice. From 1929 this was done under the leadership of Mary Somerville, considered by many as "the world pioneer of school broadcasting".
Somerville's approach was child-centric, with a focus on engaging, enlivening and enriching the educational experience of young people. And she built a team of broadcasters, including the influential Rhoda Power, who applied the skills and techniques of production – sound effects and the sense of a virtual reality – to illuminate learning through radio.
By the 1930s, and principally transmitted on the new National Programme, schools broadcasting had developed into a huge enterprise. And while many of these programmes have evaporated into historical memory others have maintained a resonant cultural significance as an educational rite of passage. As can be heard from this clip of Ann Driver introducing Music and Movement, which bears more than a passing resemblance to the BBC's current Primary Dance programmes, more than eight decades later.
From the very beginning, programmes for children, both entertaining and educational, were at the core of the BBC's broadcast activities: a founding principle. And as the country went to war in 1939, the reliance on the Corporation as an educator, explainer and companion for young people was further woven into the DNA of British broadcasting.
Television Age
The massive expansion of BBC output during the Second World War, domestically and internationally, reinforced the idea of public service broadcasting as a force for the common good. Meanwhile, the 1944 Education Act widened educational participation and opportunity amongst the most disadvantaged and poorest in society. These democratising influences, combined with the ubiquity and reach of radio meant that schools broadcasting had, by the end of the war, became an established part of the British education system.
The restart of the BBC's nascent Television Service in June 1946, having been closed during the war, also brought the possibility of teaching through television into the frame. And while the newly created Children's Television department soon took advantage of this opportunity – with iconic programmes such as Muffin the Mule, Watching with Mother, Bill and Ben the Flowerpot Men and, of course, Children's Hour – the route to television for schools broadcasting took a little longer.
A pilot scheme was tried in 1952 with a handful of television programmes produced in the BBC's Alexandra Palace studios and transmitted by land-line to six local schools. But, as is explained by Donald Grattan, a future Controller of Educational Broadcasting at the BBC, it took another five years, and competition from the recently launched Independent Television (ITV) companies, before the Corporation embarked on a regular television service for schools.
Amongst those early programmes, running between Tuesdays and Fridays at 2pm, viewers would have encountered programmes such as 'Living in the Commonwealth', 'Science Helps', and the current affairs programme, 'Spotlight'. The last of these did not shy away from challenging contemporary topics, as this October 1957 clip on the subject of 'Blood Sports', demonstrates.
Over time, BBC television developed a wide range of curriculum-related programmes for schools. They combined a pedagogically-informed approach with the production values and appeal of broadcast images. But while programmes for children had hitherto dominated the BBC's thinking, by the 1960s there was growing pressure to address the issue of adult education.
This chimed with the political climate of the time where the new Labour Prime Minister from 1964, Harold Wilson, had made a point of advocating a "university of the air", as he called it, which would be accessible to all. As it happened, the BBC's Controller of Educational Broadcasting, John Scupham, was already devising programmes of this kind in partnership with the Department of Education. These, however, were soon overtaken by plans for a new Open University, in which the BBC was to play a central role.
Awarded a Royal Charter in April 1969, The Open University quickly became synonymous with a new style of higher educational broadcasting. But as the partnership between the BBC and the new university was being negotiated, a particularly sensitive issues arose around who, ultimately, took responsibility for what was broadcast: university academics, or BBC producers? In this interview from the BBC Oral History Collection the first Vice-Chancellor of The Open University, Walter Perry, explains how this thorny problem was resolved.
As with schools broadcasting, the BBC's programmes for The Open University were not intended as a replacement for university education. They were there to illustrate subject matter and enrich scholarship. However, the unique structure of distance learning meant that a heavy reliance was placed on television programmes, as well as radio, which acted as the public interface between students and their studies. As a result, these broadcasts have themselves become cultural artefacts that map the evolution of higher education in Britain.
Digital Britain
The experience of the BBC in the Twentieth Century was that radio and television broadcasting not only provided new ways of doing, understanding and communicating knowledge, but also played a role in shaping our sense of what was worth knowing. This is also true of the current digital age, where the remapping of our knowledge practices through digital technologies has happened at enormous scale and pace. Within the space of a generation, our mechanisms of learning have radically changed.
And this change has been reflected in the BBC's school's programmes and supporting materials, which are now available online, via its BBC Schools Radio, BBC Teach, and BBC Bitesize platforms.
This move online, however, is only the latest development in a surprisingly long history of the BBC's engagement with digital education. Responding to the increasing power and influence of computing technologies, by the late 1970s the BBC started addressing concerns about the perceived unpreparedness of British industry and society to deal with the impact of the silicon microchip on jobs, innovation and education.
The result was the launch of the BBC's Computer Literacy Project in 1982. A major programming, publishing and engineering enterprise, it has been credited with inspiring a generation of coders and educating BBC audiences on the importance of computing. It also involved the design and manufacture of the BBC Micro desktop computer, used as part of the British government's Computers for Schools programme, which sold over two million world-wide.
Such was the success of the project that its programmes attracted large national audiences. So much so that in 1983 a special live two-hour broadcast of Making the Most of the Micro transmitted on BBC1, spawning a series of Micro Live transmissions.
The BBC's concern with our digital education has continued and there is a direct link between the BBC Micro agenda of the 1980s and the more recent 2015 launch of the BBC's Make It Digital campaign, which "aims to get the nation truly excited by digital creativity". And in an echo from the past, it has also produced its own hardware, a pocket-sized computer called the BBC micro:bit.
Nearly a century after the beginning of programmes for children and schools, the BBC's latest initiative – BBC Bitesize Daily – continues the Corporation's long history of schooling the nation. And from the nursery to doctoral study, the BBC's sense of public service has been epitomised by that founding principle: to educate.
But for all this history, the circumstances we find ourselves in now are unique. Normal educational service in Britain will not be resumed for some time. In the meantime, the BBC, along with students, teachers and parents will continue to grapple with the challenges of learning in lockdown.
Share Your Memories
Share your recollections of BBC education programmes with us. What was your experience of Music and Movement? Did you code with BBC Make it Digital? What do you think of the current BBC Bitesize Daily content during the Covid-19 pandemic?
Your memories
Who remembers one of the school radios, a brown wooden box on wheels, being trundled into class and tuned in for "BBC Radio for Schools. Singing Together"?
A fantastic programme where a group of musicians would take you through half a dozen songs each term, teaching you how to sing them? And what an eclectic mix of songs too!
Robert Spowart, Bonsall
I went to Hermitage Primary School , Uxbridge Middlesex. We had a fabulous music teacher, Carmen Raumen. Our primary school choir featured in a BBC Schools Music programme - Music Time. I think I was a part of the choir for at least two years 1970-72? We rehearsed and filmed the programmes on Sundays at BBC Television Centre. I can still remember most of the songs and the thrill of the BBC canteen!
Karen Peck, Wimbledon
My son and I have 'attended' Bitesize school with Karim Zeroual and the teachers (primary 9-11) every morning. His energy and infectious humour set us up for a mornings learning, (we don't do afternoons).
Brian Flynn, Uddingston, Scotland
I have lovely recollections of Music & Movement from my time at Oldfield primary school, in Chester. The school was newly built when I arrived, I think in 1965. Of course, nostalgia and time can blur the details, but my memory puts the classrooms along corridors that ran from the school entrance, with the school hall to the right. We would troop along the corridor to the hall for Music & Movement, playing on what I recall as an enormous, square-shaped wooden radio atop a triangular-shaped trolley placed in the middle of the room. I remember circulating around it as an animal, a tree, a sprite! I remember as well being one of a small delegation of pupils in July 1969, who met Mr Jones, the headteacher, to plead against his refusal to show TV broadcasts of Neil Armstrong walking on the moon. The summer holidays must have been imminent, marking the end of my primary school life. Initially Mr Jones would not be moved, but then I blurted out: 'but if I don't see the moon walk, how will I ever be able to look my grandchildren in the eye?' I remember he roared with laughter, saying I'd won, and adding: 'you should become a politician.' So, the entire school was brought to the hall, to sit in rows before a tiny TV and witness the lunar spectacle. I'll guess it was on the BBC…
Nick Fairclough, Lewes
Well I remember being brought into the Hall at junior school to watch the strange programme about the alien who helped with spelling . I also remember the Science in Action with the diver . 35 years later as a lecturer at UCL I wrote the scripts for two BBC School Science programmes.
Steven Chapman, Oxted
I have very fond memories of the BBC singing programme from the 1960s, learning a wide range of traditional and folk songs from the UK, from Under Milk Wood, and Edith Sitwell's Lily O'Grady. Many of these songs have stayed with me over the years as we had to learn them by heart. As a primary school teacher my classes always enjoyed learning from the Words and Pictures programme - a particularly special one was when the programme hadn't recorded and I had to improvise by cutting the front from a cardboard box, putting it over my head and telling my Year 1 children that I was going to be doing the programme. They were held spellbound from the time that I started singing the theme tune, and we used the accompanying worksheets as usual... I also used whatever Music & Movement was current in the 1990s for dance and the children always enjoyed these classes as it gave them the opportunity to use their imagination in their improvisations. A colleague was particularly entertained to catch me modelling a "sad cow" from Jack & the Beanstalk...
Jennifer Fairley, Leeds
I remember with great fondness 'Singing Together' with William Appleby in the late 1940s. Barbara Allen, The Lass of Richmond Hill, The Skye Boat Song, etc, etc. We sang along with great gusto, and I still remember all the words! In later years, my late husband, the illustrator John Dyke, went on to illustrate a couple of the booklets that went with the series.
Jennifer Dyke, Teignmouth
The BBC Micro in school was my first experience of computers. I learnt to programme in BASIC and also spent many hours waiting for programs to load from cassette! It sparked an interest that has remained with me since and I am now a teacher and responsible for the digital curriculum in my school.
Simon Detre, Amersham
I loved a radio programme in the late 60's called Singing Together - I still remember the words to many international folk songs which pop into my head at odd moments. Does anyone else remember "a wagon bound for market" transporting a "calf with a mournful eye" ....while those 100 pipers or more are still "gi'ing a blaw" somewhere!
Deborah Ball, Edinburgh
Although I'd left school, I used to enjoy watching "Music Time", with my little brother.(late 60s/early 70s).
Also, I can remember the radio programmes in the 50s, at school when we learnt folk songs.
Rose Sedgwick, Barnsley
Primary school 1964-1968. We regularly gathered in the hall in vest and pants to exercise to Movement & Music.
There was always great excitement when we sat on exercise benches in the staff common room to watch a television. There we watched Primary Geography and saw places that seemed a world away such as Gozo. We also listened to geography programmes on the radio.
If you were off sick you may have been lucky enough to watch the schools programmes.
Bridget Burge, Hereford
I remember the wireless music lessons at school in the early 1950's. The wireless had to be turned on in advance of time to warm up before it would work and the head teacher was the only person allowed to touch it. I remember Barry Appleby presenting the singing lesson and it was a favourite lesson for all of us. I can still sing all the words of Puck's song from A Midsummer Night's Dream. It began "Where the bee sucks, there lurk I.
Janet Potter, Tiptree
As a 73 year old my memory is a little hazy, however, I do remember as a five year old my enjoyment of physical movement in the large hall at my school. Our teacher, Mrs Holland, would lead us in single file and ensure we had sufficient space to move and swing arms around. A little like social distance. After a little turning of knobs and lots of static the sound of music and instructions to accompany would be bellowed into the hall echoing like a huge chamber. There were lots of giggling and shuffling around which ensued with Mrs Holland putting on her stern and masterful voice. The music was always rhythmic and we were often trees swaying gently in the wind or rising to a greater tempo when the storms arrived. The boys seemed more hesitant to join fully with the activity moving around as a solid plank. The presenter of the programme always referred to us as 'children' which is what we were, not as today it seems to be the norm to use 'kids', I always thought that they were baby goats. The session would include a short time when everyone ran, skipped, jumped and then began to quieten as the end was approaching. Wonderful, today, as young people are so free to express feelings and emotions with their bodies to move in ways never thought of. This was my first introduction to movement to music and I have loved it always, allowing freedom and expression. I still attend ballet class, contemporary and show dance classes, they are wonderful and our choreographer is first class. Thank you for the opportunity to share early memories, maybe not earth shattering but very happy times.
Mary Griffiths, Wood Lane
I went to school 1970-82. I can remember a TV (huge set with a little screen) being wheeled into the classroom and watching a 'For schools and colleges" production. It was all very exciting.
We also did 'Music with Movement' ; generally in our vest and knickers, running around pretending to be trees. All very tame and innocent by todays standards.
Phillippa Hails, Newcastle Upon Tyne
BBC terms and conditions
We aim to read all of your emails but due to the numbers we receive each day it is not always possible to reply to everyone individually.
In some cases your images or audio may be used on BBC output.
If we use your material on BBC programmes or online we will publish your name as you provide it (unless you ask us not to) but we will never publish your email address.
If you are happy to be contacted by a BBC journalist please leave a telephone number that we can contact you on. In some cases a selection of your comments will be published, displaying your name as you provide it and location, unless you state otherwise. Your contact details will never be published. When sending us pictures, video or eyewitness accounts at no time should you endanger yourself or others, take any unnecessary risks or infringe any laws.
Please ensure you have read the terms and conditions.