Wimbledon in colour – BBC 2 was the first broadcaster in Europe to start regular transmissions in colour on the 1st July 1967.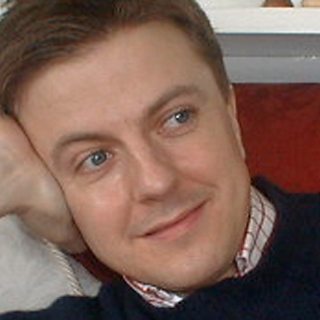 John Escolme
BBC History Manager
For more than 90 years the BBC has broadcast radio coverage from Wimbledon, it has been on UK television screens for more than 80 years, and the first programme in colour came from the Championships more than 50 years ago. John Escolme BBC History Manager, explores some significant milestones in broadcasting history from the tennis event of the year.
Wimbledon '27 on radio
First radio broadcast from Wimbledon, 29 June 1927 2LO
Only Centre Court matches were covered in this first year of radio commentary, but these early outside broadcasts were heard across nearly the whole of the UK. 'Running Commentary' as it was then known, was presented by the gloriously named Captain Henry Blythe Thornhill (Teddy) Wakelam.
As a rugby union player, it was fitting that Wakelam would give the first ever sports commentary six months earlier at a Rugby International match, England v Wales at Twickenham. Now he was to give the first ever tennis commentary at Wimbledon. His style was enthusiastic, and was utterly unflappable. He once set his script alight, and simply kept on commentating whilst he put out the fire.
No recordings exist of that first running commentary at Wimbledon. However, in 1932 when the BBC moved to Broadcasting House, its new headquarters, a nostalgic programme looking at the BBC's early years at Savoy Hill, re-created a number of key moments in the BBC's earliest history.
The programme re-created the typical sound of the commentaries of the 1920s, and is by fellow commentator Col. R.H. Brand on the Men's Semi-finals of the All England Tennis Championships at Wimbledon, between Bunny Austin & Henri Cochet, although there is no record of them ever having played each other at Wimbledon.
The match coverage was interspersed with light music from The Daventry Quartet, and the soprano Dorothy Smithard. Fred Brough also accompanied on the violin.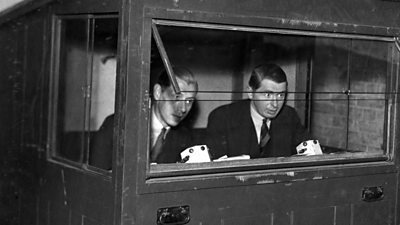 Wimbledon '37 on television
First television broadcast from Wimbledon, 21st June 1937 BBC Television Service
Teddy Wakelam was still commentating when the fledgling BBC Television Service started live coverage of Wimbledon matches.
The first match viewers could see in the comfort of their own homes was on 21 June 1937, with a match between Bunny Austin and George Rogers. Freddie Grisewood also commentated during the 1937 season.
Curiously the coverage was not listed in the Radio Times, but was highlighted in this delightful illustration: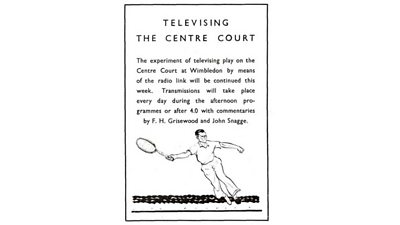 The BBC sent three outside broadcast vans, a camera, a van housing the transmitter, and another which powered everything with a generator.
The coverage was enlivened when the cameras swung round to view Queen Mary entering the Royal Box.
Wimbledon '67 in colour
First television broadcast in colour from Wimbledon, 1st July 1967 BBC2-Colour
Wimbledon '67, shown on BBC TWO, marked the beginning of regular colour television in Britain. Journalists who attended a special viewing at BBC Television Centre were impressed with the new technology and the quality of the picture. David Attenborough, Controller of BBC TWO, announced that the channel would initially broadcast in colour for about 5 hours a week. By December, 80% of programmes were in colour.
The original December launch date was brought forward to July so the BBC could claim to be the first broadcaster in Europe with a regular colour service, although occasional unpublicised yet publicly radiated colour editions of the arts review programme Late Night Line-Up were broadcast before even this.
France, Germany and the Netherlands – who had planned an autumn launch of their colour services – were all beaten to air. However, with fewer than 5000 colour sets in circulation, the audience was very small.
The period up to the full launch exposed audiences to the new service, and gave time for BBC staff to get used to the technology. It also offered manufacturers a chance to fully prepare for the sale of the new sets that were required.
Wimbledon '67 and the race to get colour on air
Getting colour television on the air was a personal ambition of one man - David Attenborough. He began his career in broadcasting in 1952, starting out as the presenter of the popular Zoo Quest series, and by 1965 was Controller, BBC TWO.
Two years earlier he had seen the unveiling of the European standard for colour transmission, which most broadcasters on mainland Europe adopted from 1967.
The BBC (with the ITV companies), soon realised home grown plans for their own colour system were never going to meet the high standards achieved by the superior German PAL system, and started radiating colour test programmes on PAL gradually from early 1967. But Attenborough had an ambition to get the first regular colour service on air before anyone else – and this he did with colour coverage of Wimbledon that year.
Watching a colour transmission was an exciting experience, which today seems hard to believe. As Attenborough outlined what colour programmes were to come, the public couldn't believe their eyes.
Wimbledon 2011 in 3D
First BBC broadcast in 3D from Wimbledon, 2nd July 2011 BBC HD
2011 saw another technological leap forward, as BBC 3D television was launched in time to celebrate the Wimbledon Championships' 125th anniversary.
The men's and women's singles finals were all broadcast in 3D that year.
Announcement of the coverage came hot on the heels of the BBC increasing the number of live streams online from Wimbledon, across PCs, mobiles, tablets and connected TVs. In addition, up to three streams were available through the Red Button for viewers on cable, satellite and Digital Terrestrial TV.
Whilst 3D added an extraordinary extra dimension in Wimbledon viewing at home, the extension of online streaming made watching the game whilst on the move a real possibility for the first time.
Documents
My wife and I got engaged at Wimbledon in 1980. We had tickets for Centre Court and it rained and rained and rained and there was practically no play all day. Each time the TV referred to Wimbledon to see what was happening (nothing ;) ) there was nothing to show...except two people sitting there sheltering under an anorak. So we featured in the national coverage. But no-one knew why we stayed there hour after dripping hour....it was because it was an exciting day for us. The cameras weren't on when we put the ring on her finger though - bad timing BBC!
Richard Anderson, Leics
---
In the late 50's I was at school in Wimbledon and my friends and I regularly went to the Championships after school and were given tickets by leaving patrons which allowed us to get into the Centre Court to watch the late afternoon matches - Hoad, Rosewall, etc - it was very informal in those days! My parents were always glued each evening to the television coverage at home, but I was often able to get them tickets also, so that they could quickly come down to the All England Club and watch live on Centre Court the actual match they had been watching on TV, which was a great thrill for them.
Michael Denham, Ipswich
---
After 90 years of coverage perhaps this year the BBC will get it right and not mess about with swopping matches to other channels in the middle of a match. For years I've got really fed up with watching a match, getting up to go to the loo or make a coffee during a break, to then come back and find a totally different match being covered. Cue much channel hopping and probably missing the best hit/volley/serve of the match in the process of trying to find where they have out the match I was originally watching. And, PLEASE, can we not have a load of inane speculation from the pop-up studio? BBC are very good at this with all sports and other events thus denying the viewer some relevant live action.
Kate, Southampton
---
My first memory of watching Wimbledon was a match between John McEnroe and Jimmy Connors. The match was intense and john was swearing every time the umpire called a ball out, John: "man you cannot be serious the ball was IN" and Jimmy stayed calm like a cucumber while John was furry with either line man or the umpire. It was a good match watching those two battling it out. Ever since I've been glued to Wimbledon every year. I hope Wimbledon never changes the tradition of wearing all white.
Esther Davies, London
---
Always loved the voices of Mark Cox, John Barrett, Dan Maskell. Andrew Castle, McEnroe etc not in the same league, far less informative. Many a happy hour spent amusing ourselves while Mum holed up for a fortnight with the curtains closed watching avidly until we started to get interested in tennis too.
Jenny Dee, Teddington
---
I love Wimbledon with its traditions. All white kits, strawberries and cream and Pims. I have been watching religiously since 1969. I have been lucky enough to go five or six times. Hope the BBC never lose the viewing rights.
Sharon Smith, Skegness
---
We loved when Wimbledon came on my mother would hardly move when it was on the TV ..after we would play tennis in the street no racquets just our hands and a rope tied to a lamppost as a net... we had to lower the rope when the bus came up our street!
David Gibson, Dumbarton Scotland
---
As long as I can remember, Wimbledon has been on TV in my household. I remember the black and white portable TV being brought out to the garden so we could watch and enjoy the sunshine at the same time. The coverage is wonderful, the commentary, interviews etc etc. It is my only way of watching tennis and I love it.
Sheila Maxwell, Largs, Ayrshire
---
I remember coming home from school in the 1960s during Wimbledon fortnight and always finding my mother in the sitting room, curtains drawn, watching the tennis avidly. There would be lots of screams and shouts as she followed the progress, or otherwise, of her favourites. On one occasion my grandmother, who was staying with us at the time, reported that my mother was in the sitting room with the vicar! Why she thought the curtains were drawn and what all the screaming was about I'm not sure! Happy days!
Judith Haynes, Charlbury
---
Wonderful experience to see Wimbledon in colour.
Christine McKelvey, Cheltenham
---
Watching Wimbledon coverage on the BBC has always been one of the highlights of the year, two weeks of wall to wall tennis unless the rain delays intervened which happened more often than not. Having said that the replays of 'Classic Matches' between McEnroe and Borg were just essential viewing, totally unbelievable. Even when I visited the championships in 2004 I couldn't quite believe how big the place was, I always imagined it to be smaller. There have been some amazing matches that I have watched but I think the highlight for me has to be the Mens Final in 2008 between Federer and Nadal just couldn't take my eyes of the tennis for the whole match. Keep up the great work its been fantastic.
Bridget Wardroper, York
---
Navotna / Graff final 1993... poor old Jana in tears on the Duchess of Kent's shoulder and Steffi not quite able to believe she'd snatched victory from the jaws of defeat... great sporting telly!
Karen, Plymouth
---
Love the tennis quality today but miss the characters of yesteryear, will there ever be another Dan Maskell with the wonderful " Oh I say"?
Peter Graham, Welling
---
I love Wimbledon and it defines my summer. I've been watching for at least twelve years now and I so wish I discovered the tournament sooner. I have been lucky enough to visit on three occasions and I hope to be there more in the future. I will remember the Federer v Nadal 2008 final for the rest of my life.
Katie Corrigan, Glasgow, Scotland
---
I think that tennis is now a better game since the new line judge so no more shouting or players being the way they are.
Kenneth John Owen Spires, Gwynedd
I would like to know how Sue Barker, Tim Henman, Andrew Castle etc etc etc; feel about granting Sharapova a wild card to the Aegon by the LTA. Surely morally wrong and a slap in the face to players ranked ahead of her at present who would love such preferential treatment. I believe she must always have to go through qualifying like everyone else lowly ranked.. NO WILD CARDS FOR DRUG CHEATS.
Tony Haworth, Newton Aycliffe
---
I remember Peter West and Dan Maskell. Black and White pictures. Watching Hoad, Rosewall, Laver, later Roger Taylor then John McEnroe. Ladies were Margaret Court, Tracy Austin, etc. then Chris Evert and Martina Navratilo. Great days, lots of controversy. Now the question is are players clean?
Francis Walker, Antipolo City, Philippines
---
In the mid 60's my father used to bore the pants off my mother and I with Wimbledon on the BBC being on seemingly all day - lots of genteel players tip-tapping the ball back & forth. Hated the game. Then a gentleman by the name of Jimmy Connors arrived and my life changed. I became a member of my father's tennis club so that I could emulate my hero. At my father's funeral, in 2015, we used the music from the closing credits of the BBC's "Today at Wimbledon" in tribute to his love of the game. Thank you BBC.
Douglas McGorum, Banchory, Scotland
---
I am unashamedly an Andy Murray fan and try to watch all his games broadcast by the BBC. But it was a another player that sticks in my mind the most. We had been on holiday in France, and had to listen to Wimbledon when we could. We were on the ferry just in sight of the English coast, when the Captains voice came over the tannoy with a special announcement. I was just thinking we were about to sink, or could I swim to the coast (NO!) when the captain announced that Virginia Wade had just won Wimbledon! Phew!
Mary George, Alnwick
---
My first memory was Jimmy Connors and Arthur Ash as a young boy in 1975. I have watched it every year ever since now nearly 50. I like many fell in love with the game and remember the white balls also. I am also really glad to have watched on TV both the British ladies with Virginia Wade in 1997 and men with Andy Murray. I used to love listening to Dan Maskell as well and always tried to do his voice. The BBC should be proud of the coverage every year, always a pleasure to watch.
Stuart, Ongar
---
I used to enjoy watching tennis, now because they just change channels without warning has ruined it for me. You get into a match and up pops Sue Barker saying, you can now follow this match on, say , BBC 2. Awful it is. Don't do it BBC.
Honor Lewis, Andover
---
I am not really a tennis fan,but i like to watch wimbledon on BBC as it is really enjoyable,black and white,colour, it does not matter as BBC makes it such a sporting spectacle.
James Peden, Gullane, Scotland
---
When I was a teenager, I remember listening to the entire Final in 1950-something when Yaroslav Drobny at last won after many years of trying. Not sure of his nationality but he was very popular in GB and almost everyone except his opponent's supporters was willing him to win!
Angela Martin, Bath
---
Watching Virginia Wade beat Betty Stove in the 1977 ladies final. I was 10 years old (i'm now 51!!) I remember crying because I was so happy with the result. Wimbledon is simply the best and I never miss it.
Nadine Fegan-Earl, Maidenhead
---
My first visit to Wimbledon was for the 1977 Ladies Final where Virginia Wade won the title in front of the Queen. My seat was immediately below the main camera, looking down the court towards the Royal Box. In fact this camera was literally a few inches above my head ! At the moment Wade won the final point I, like the rest of Centre Court, jumped up in celebration, only to be slapped on the back by the camera man behind me , who shouted " sit down you bugger " as I was blocking his camera's view ! If you watch this moment again you will see the picture immediately switches to another camera, lower down on the court ! I have been lucky enough to attend Wimbledon every year since 1977 but this remains my favourite memory!
Steve James, Weymouth
---
Re Jaroslav Drobny. He was what was called after WW2 a "displaced person" but was given citizenship by Egypt. Seem to remember a very long final. No tie breaks, no bathroom breaks. The good old days.
Tom Russell
---
I had just left school & remember cramming into a friend's sitting room just to see this momentous broadcast. Remember thinking that colours seemed rather overpowering & unreal like an over brushed colour photograph.
Bo Denkowycz, Mayrhofen, Austria
---
Loads. My fondest, though, are of Dan Maskell and his repeated comments; "The high backhand volley, one of the most difficult shots in the game!"; "Both men playing well at the same time!"; "Oh! I say!"; "Peach of a shot"; "And that return right at the feet of the incoming serving-volleyer!". I was a boy playing tennis in the street or the local park courts. And Dan was known and welcome, and part of the timeless experience.
David Kirkwood, East Kilbride, Scotland
---
Have always had a love affair with Wimbledon on the BBC - one that started when I was 6 (watching with my mother back in the 60s) and has lasted 50 years (and hopefully a few more!). Dan Maskell's appreciative (and fairly frequent) "That was a peach of a shot!" is a memory that sticks in the mind. The most terrific tennis match I have ever seen on TV took place at Wimbledon in the 70s between Bjorn Borg and Vitas Gerulaitis. Really enjoyed the BBC coverage of that one. How sad that Vitas Gerulaitis died so young! I was heartbroken!
Jill Leatherbarrow, Bolton
---
I remember listening to wonderful mens doubles matches on the radio especially American players such as Gardner Mulloy who was over 40 but still enthralled the crowds. Those were the good old days.
Brian Leach
---
I remember watching a ladies doubles match, Peaches Barvovitch ((?) and Julie Helman beat Billie Jean King and Rosie Casells. The match started on BBC 1 I think and moved to BBC 2, which we could only watch by holding the aerial in the air beside the TV. My mum, dad, brother and I took turns holding it in the air so the rest of the family could watch to the end of the match.
Ann Jones, Stratford upon Avon
---
I come from Grimsby on the east coast of England and I was treated with respect and dignity when I first went to Wimbledon. It was better than I could have dreamed of. The Wimbledon expience was a magic moment in my life.
Peter Gooseman, Grimsby
---
Growing up in Scotland I spent my school holidays glued to the TV watching as much as I could of the Wimbledon fortnight - in the Yvonne Goolagong, Virginia Wade, Jimmy Connors and David/John Lloyd era. Loved Dan Maskell's voice. Every evening before the highlights programme began I would be outside hitting an old white tennis ball against the side of the house with my wooden dunlop racquet never imagining that I would ever get to Wimbledon. I now live in Surrey, play club tennis and have been so lucky to have been to SW19 to see those who continue to entertain and inspire me! I wouldn't have had this love for tennis today if it hadn't been for the BBC and Wimbledon fortnight!!
Lesley Paterson, Walton on Thames
---
I was born in Wimbledon, so it is familiar! During the 1960's I worked for minicab firm and often collected "Teddy Tingling", the tennis dress designer, from Fulham to the Courts! During the 1980's I new one of the stewards who got tickets for me on both Centre & No.1 courts, Very happy times spent there! Now watch it every year on TV. So pleased when Andy Murray won! Also delighted that Sue Barker is still introducing the broadcast, it would not be the same without her! Finally I do remember it on radio, My hero was Lew Hoad and Ken Rosewall, Great memories!
L E Jackson, Taunton
---
Love BBC Wimbledon, My favourite is Monsour Bahrami he was/is fabulous. Long may he play doubles & entertain us all when it is late on BBC 2.
Anne Malthouse, France
---
My earliest memory of Wimbledon on the beeb was your radio coverage. And it was the mens final between Boris Becker and Stefan Edberg. I think it was the 1990s Wimbledon when Zina Garrison Jackson featured in the womens final. I was hooked after that and really enjoyed the BBC World Service radio coverage of the championships. When I think of Wimbledon and the Beeb, the voices of Barry Millns and Linda Spurr come to mind. Congratulations on your 90th anniversary!
Noela Tavares, Malindi, Kenya
---
At home in Wales, listening to the men's final on the radio in 1972 of Stan Smith beating Illie Nastase was and still is a wonderful memory.
Robert Lake, Georgina, Ontario, Canada

---
I remember the Wimbledon of 1960. I wasted a lot of time watching the tournament on TV instead of studying for my A level exams and almost failed them which would have been a life altering event.
Dan Thomas, Canada

---
Oh, I Say! Wimbledon and the BBC

Charles Runcie looks back at the enduring relationship between the BBC and Wimbledon and some of the events and characters that helped shape it.

50 Years of BBC TV Colour

Amanda Murphy tells the story of how the ADAPT TV project reunited a pioneering television crew 50 years after the first colour outside broadcast.
Read more about outside broadcasts
Search by tag: