The British Broadcasting Company, as the BBC was originally called, was formed on 18 October 1922 by a group of leading wireless manufacturers including Marconi.
Daily broadcasting by the BBC began in Marconi's London studio, 2LO, in the Strand, on November 14, 1922. John Reith, a 33-year-old Scottish engineer, was appointed General Manager of the BBC at the end of 1922.
November 1922 - 2LO launched
Following the closure of numerous amateur stations, the BBC started its first daily radio service in London – 2LO.
After much argument, news was supplied by an agency, and music drama and 'talks' filled the airwaves for only a few hours a day. It wasn't long before radio could be heard across the nation.
December 1922 - John Reith appointed
Thirty-three year old John Charles Walsham Reith became General Manager of the BBC on 14 December 1922.
I hadn't the remotest idea as to what broadcasting was.
There were no rules, standards or established purpose to guide him. He immediately began innovating, experimenting and organising, and with the help of his newly appointed chief engineer, Peter Eckersley, the service began to expand.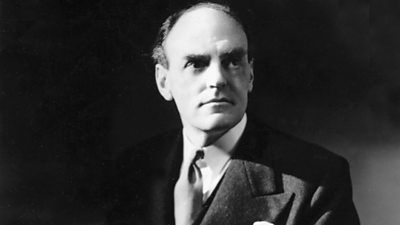 September 1923 - Radio Times first edition
The first edition of The Radio Times listed the few programmes on offer.
It also provided advice for budding radio enthusiasts, and numerous advertisements by the fledgling radio industry, offering the latest in radio receiving technology. It was to become one of the world's most popular listing magazines.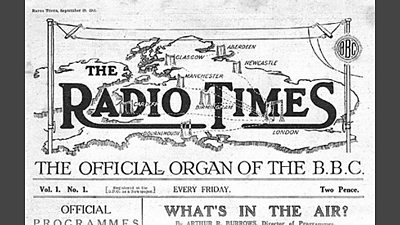 February 1924 - the Pips first heard
Heard on BBC radio since 1924, the six electronically generated 'pips' to indicate the Greenwich Time Signal (GTS) were invented by the Astronomer Royal Sir Frank Watson Dyson, and the Director General of the BBC John Reith.
The six short 'pips' were designed to mark the precise start of every hour on BBC radio. Today the GTS is heard on BBC Radio 4, and other BBC networks. Time signals based on the same principle exist in other countries.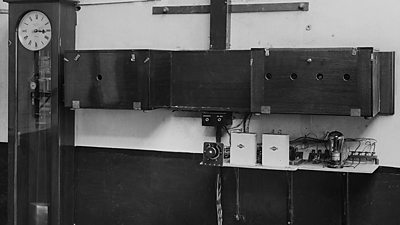 January 1927 - British Broadcasting Corporation established
The BBC is established by Royal Charter as the British Broadcasting Corporation.
Sir John Reith becomes the first Director-General. The Charter defined the BBC's objectives, powers and obligations. It is mainly concerned with broad issues of policy, while the Director-General and senior staff are responsible for detailed fulfilment of that policy.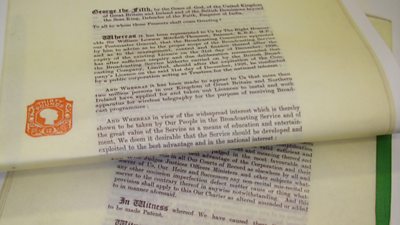 November 1929 - John Logie Baird tests television
Using BBC frequencies, John Logie Baird broadcast some of his first experimental television broadcasts from studios near Covent Garden in London.
Pictures were in black and white, created by mechanical means using a scanning disc, consisting of just 30 lines definition.