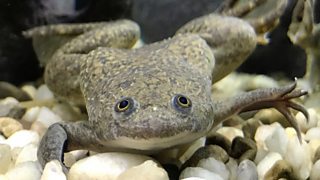 To play this video you need to enable JavaScript.
How this frog can tell if you're pregnant
Before home tests were available, pregnancy tests involved frogs. Yes frogs!
Made by The Derek Jarman Lab, 8 February 2019
Remember when? Curiosities from the recent past
7 VIDEOS
21:27
225.5k views
Modern life is changing at an incredible rate - but sometimes it's worth remembering how different things were in the not too distant past.