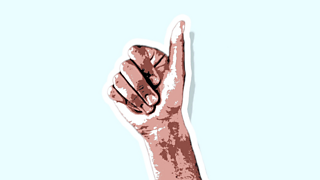 To play this video you need to enable JavaScript.
Thumbs up! Why do we do it?
Thumbs up, chocks away, 'the American OK' - the story behind the hand gesture that's everywhere.
Made by Dayglow Media & Pencil & Pepper, 22 August 2018
The hidden history of hand gestures
Thumbs up, fingers crossed, bunny ears, clenched fist... Why do we make these hand gestures? How did they come to mean what they do?