New Generation Thinkers to redefine our understanding of History, Literature and Art
BBC Radio 3 and the Arts and Humanities Research Council today announce the 2021 New Generation Thinkers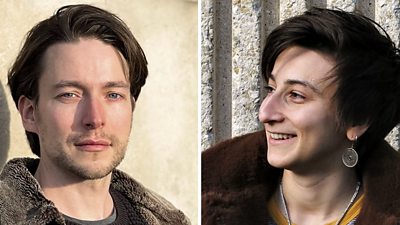 We want to help those who are engaged in research projects which explore our past and present, find links between the two, and make interesting hypotheses for our future, be able to explain and bring to life their important work to a wide audience. This is what the New Generation Thinkers scheme does - and that is why we are thrilled to welcome our New Generation Thinkers for 2021."
Names of the 10 researchers have been announced as part of a special episode of Free Thinking on BBC Radio 3 as broadcast on Wednesday 17 March at 10pm
The 2021 New Generation Thinkers will bring new insights into diverse topics such as the nature of socially useful art; the way in which an alphabet can be political; and the exploration of neglected figures such as Brazilian soprano Elsie Houston and poet William Martin, born in a pit village near Sunderland
Each New Generation Thinker will be given the opportunity to share their pioneering research by making programmes for BBC radio
Every year, BBC Radio 3 and the Arts and Humanities Research Council (AHRC) hold a nationwide search for academics, with game-changing ideas that will resonate with a wide audience. These New Generation Thinkers represent some of the brightest minds in the country and their research has the potential to redefine our understanding of everything from our history to the way we speak.
Names of the 2021 New Generation Thinkers were announced today (18 March 2021) as part of a special episode of Free Thinking on BBC Radio 3. Featuring all ten researchers, the episode is now available to listen to on demand on BBC Sounds.
The New Generation Thinkers will have the prestigious opportunity to communicate their research by making programmes for BBC radio. They will also be provided with unique access to training and support from AHRC and the BBC. New Generation Thinkers alumni have gone on to become prominent public figures in their fields, as well as the face of major documentaries, TV series, and regular figures in public debate.
The 2021 New Generation Thinkers have been recognised for their ability to communicate complex ideas and for their research into timely issues, such as how we remember British history and the role that art plays in informing political policy.
The final 10 academics selected to take part in the scheme were chosen after a four-month selection process, including a series of day-long workshops. They have undergone training and development with the AHRC and will spend a year being mentored by producers from Radio 3's Free Thinking programme, where they will appear to take part in discussions about a wide range of topics between April and July. They will also be working on episodes of The Essay, to be broadcast on BBC Radio 3 next spring. Meanwhile you can find examples of other programmes made by New Generation Thinkers in a playlist on the Free Thinking website and on air with The Essay, and Sunday features in the current BBC Radio 3 schedules.
Alan Davey, Controller of BBC Radio 3 says: "With our colleagues at AHRC we want to help those who are engaged in research projects which explore our past and present, find links between the two, and make interesting hypotheses for our future, be able to explain and bring to life their important work to a wide audience.
"This is what the New Generation Thinkers scheme does - and that is why we are thrilled to welcome our New Generation Thinkers for 2021."
Professor Christopher Smith, AHRC Executive Chair says: "New Generation Thinkers is a flagship scheme for the AHRC and is vital in supporting the next generation of arts and humanities researchers to connect with the public and challenge what we think we know. For over a decade, the New Generation Thinkers scheme has brought academic research to a wider audience as part of AHRC's longstanding commitment to public engagement with impact.
"The New Generation Thinkers scheme continues to provide researchers with a unique opportunity to share their findings, push their research in new directions, and develop their communication skills."
The New Generation Thinkers scheme is one of the major ways that AHRC inspires other arts and humanities researchers across the UK to get involved in engaging a wider public with their research. It's a chance for early-career researchers to develop the confidence and skills to work with diverse audiences to share and develop their research.
New Generation Thinkers are also exemplars for AHRC's academic community, leading the way for other researchers and inspiring other arts and humanities researchers to get into public engagement. The successful 10 were selected from hundreds of applications from researchers at the start of their careers. They have all demonstrated a passion for communicating their work and a skill for making complex areas of study engaging, accessible, and enlightening. 
Meet the New Generation Thinkers 2021
Dr Julia Hartley, Leverhulme Early Career Fellow, School of Modern Languages, University of Warwick 
Julia Hartley is working on a project which looks at French representations of Iran in the 19th century, covering everything from crossdressing women travellers in Qajar Iran, to the invention of the Aryan myth, to the first French translations of Persian poetry. She has also published book on Reading Dante and Proust by Analogy (Legenda, 2019).
Florence Hazrat, Leverhulme Early Career Fellow in English Literature, University of Sheffield 
Florence Hazrat is interested in any kind of punctuation and is currently writing a volume on the history and culture of punctuation for Reaktion Books, London. She has written on the subject among others for Aeon and Time online. Her blog and podcast are called Standing On Points, and explore the quirky wayward appearances of dots, dashes and company in our writing, from hieroglyphs to text messages. The specific focus of her current academic research is the use of brackets in chivalric stories of the Renaissance.
Mirela Ivanova, Junior Research Fellow, University of Oxford 
Mirela Ivanova is studying the significance of the Cyrillic alphabet in Eastern Europe. She explores the way history resonates in contemporary identities in the region and is particularly interested in moments of displacement, whether across language or political culture. She has herself experienced some cultural displacement: born in the Balkans, she worked or studied in Bulgaria, Russia, the UK and the States, and written about contemporary Eastern Europe for publications like the Los Angeles Review Of Books and the Balkanist magazine.
Sarah Jilani, AHRC-Newton Trust PhD candidate, Faculty of English, University of Cambridge
Sarah Jilani is a British-Turkish researcher and culture journalist who has studied films, fiction and art looking at subjectivity and decolonisation in post-independence (1950s-80s) Africa and South Asia. Her academic research has been published in peer-reviewed journals including Journal Of Postcolonial Writing, Literature/Film Quarterly, Women: A Cultural Review and Life Writing, while her freelance writing on contemporary art, film and books can be found in The Times Literary Supplement, The Economist, The Guardian, ArtReview and Frieze Magazine, among others.
Dr Jake Morris-Campbell, Assistant Lecturer in English & Creative Writing, Newcastle University
Jake Morris-Campbell is a poet, and his current project looks at the writing life of William Martin, who was born in a pit village outside Sunderland and whose work fuses Eastern spiritual traditions with his North Eastern heritage. Jake's Northern Bridge (AHRC)-funded PhD, The Poets' Hyem, explored international regionalism in post-war poetry of North-East England and led to the production of his first manuscript of poetry, Corrigenda For Costafine Town. He has published two pamphlets of poetry: The Coast Will Wait Behind You (Art Editions North, 2015) and Definitions Of Distance (Red Squirrel Press, 2012). His work often appears as part of multidisciplinary collaborations, including Ghosts Of The Restless Shore: Space, Place And Memory Of The Sefton Coast, and the Heritage Lottery-funded initiative, Stringing Bedes: A Poetry And Print Pilgrimage. A winner of New Writing North's Andrew Waterhouse award, Jake has tutored for The Poetry School and led many workshops in schools.
Adjoa Osei PhD Researcher, Latin American Studies, University of Liverpool
Adjoa Osei's research focuses on 20th-century staged performance and visual arts culture. As part of that she has been looking at the Brazilian mixed-race soprano Elsie Houston and at other, relatively unknown, Afro-Latin American women artistes working between 1920 and 1945, who were part of international artistic and intellectual modernist practice. She was a predoctoral fellow at the Library of Congress, Washington DC from 2018 to 2019.
Jake Richards, Assistant Professor of African History, Department of International History, LSE
Jake Richards specialises in the history of the African diaspora, law, and empire in the Atlantic world. His first book project analyses the abolition of the transatlantic slave trade as a violent legal regime. His academic research has appeared in the journals Past and Present and Comparative Studies in Society and History. He has also written for History Today and appeared on the BBC's In Our Time. Over the next two years, he will co-curate an exhibition at the University of Cambridge Museums on the connections to Atlantic enslavement present in the Museums' varied collections.
Dr Fariha Shaikh, Lecturer in Victorian Literature, University of Birmingham
Fariha Shaikh is interested in emigration in the 19th century. She points out that these travellers were readers and writers too, and the literary marketplaces was filled with their letters and life-writing, emigrant manuals and guidebooks, periodicals and novels. Her research includes looking at Charles Dickens' links with Australia and the way Elizabeth Gaskell looks at emigration, and more broadly it tries to uncover the multiple, complex relationships between genre, form and globalisation within the context of the British empire and its legacies. Part of this work has been published in a monograph, Nineteenth-Century Settler Emigration In British Literature and Art (Edinburgh University Press, 2018). She has appeared on BBC Two's Novels That Shaped Our World (2019), Channel 4's Britain's Most Historic Towns (2000), and on the Migration Museum's podcast accompanying their exhibition, Departures: 400 Years Of Emigration From Britain' (2020-21).
Vid Simonti, Lecturer in Philosophy, University of Liverpool
Vid Simoniti asks questions about socially engaged art. What does it mean to make art that is concerned with the environment, or which could also be described as a building? What value do we place on beauty? He has just launched a podcast interviewing artists taking part in the Liverpool Biennial "Art Against the World". He writes art and book reviews and has curated several exhibitions (e.g. at the Ashmolean Museum, the National Gallery of Namibia).
Lauren Working, Postdoctoral Researcher, University of Oxford
Lauren Working wants us to look at ruffs and colonial fashion, at plants and china depicted in still life paintings. Her first book is called The Making Of An Imperial Polity, and it explores how English colonial projects in the Americas, from Venezuela to Virginia, influenced taste and politics in early 17th century London. She has published on topics including intoxicants and rituals of sociability, Jamestown archaeology, and Native American artefacts. Lauren freelances for the National Portrait Gallery and is developing projects that use material culture to explore the entangled histories of colonialism and English heritage.
EC