Published: 27 April 2022
Updated: 27 April 2022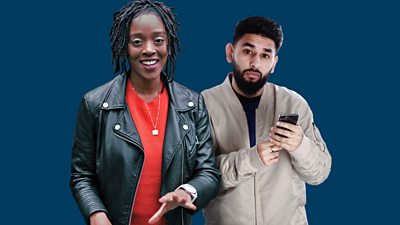 DMs Are Open is the new showcase for the public's comedy writing talents on Radio 4 and 4 Extra. This debut six-part series will feature a mixture of sketches, one liners, and voice notes written by listeners. Hosts Athena Kugblenu (Mock The Week, The News Quiz) and Ali Official (social media content creator and star of Muzlamic) will be joined by a cast of comedians who bring to life gags submitted by contributors.
Building on the success of Newsjack, DMs Are Open will provide even more opportunities for up-and-coming writers and performers to break into the industry, for example with a voice notes section of the show hearing directly from the public themselves. The satirical sketch show is loosely topical, reflecting online conversations and trends through a heady cocktail of comedy formats. This broader playing field is designed to attract a wide range of submissions and will reflect pop culture, hot takes and the political and social zeitgeist.
Athena Kugblenu says: "Co-hosting DMs Are Open is going to be a downright privilege. This is the people's show and I can't wait to be part of something that's going to amplify some of the best untapped comedy writing talent in the UK!"
Ali Official adds: "DMs Are Open will cover politics to pineapple on pizza. Having creative permission to dissect the world's week in a funny and interactive way, is my type of gig! Really looking forward to lending my voice to explore and unpack both the silly and satirical."
Aspiring comedy writers are invited to join a webinar at 6pm on 11 May to learn more about what the producers are looking for. Submissions for the first episode will go live on 12 May through the Radio 4 Extra website.
DMs Are Open begins Thursday 19 May, 10.30pm, on Radio 4 Extra and BBC Sounds, also available on Radio 4, Monday 23 May at 11pm.
The programme is a BBC Studios production for BBC Radio 4 and 4 Extra.
SH2
Search by tag: