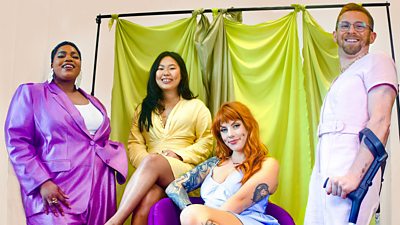 BBC Studios TalentWorks is delighted to be able to team up with Meta to offer these young creators the opportunity to craft their skills, and we can't wait to see their pitches come to life."
Building on the success of its Creator Residencies, BBC Studios TalentWorks has teamed up with Meta's Facebook Creator Collective and Instagram Diverse Voices to offer four creators the chance to gain TV experience and skills, create original IP, and help accelerate their careers.
Funded by Meta, the residencies will see up-and-coming creators invited on to placements with BBC Studios, to gain first-hand experience and mentoring, as well as the opportunity to develop their own projects.
The four selected creators are:
• Shahira Allen - a black beauty content creator who champions the power of natural hair. With a strong focus on black Britishness, she invites everyone to learn and share through her experiences as a young black British woman. Her pitch focusses on exploring the modern-day history of "blackness" in cities and towns outside of London.
• Bea Dux - a queer sex worker and content creator from Lancashire. During her placement with BBC Studios ScriptWorks, she will focus on a scripted comedy-drama loosely based on her own experiences entering the adult nightlife scene in London.
• Irish presenter and media commentator Paddy Smyth, who is also a disability and rights activist. Having previously won the 2019 series The Circle on Channel 4, and presented The Fitting Room for RTE2, his pitch 'Do I Need to be Fixed?' speaks to people living with disabilities such as himself (Paddy has cerebral palsy) and looks at medical advances since their childhood, asking whether these people could/should be "fixed".
• Shu Shi Lin – a British born Chinese food and travel content creator who uses her platform to share a positive outlook on cultural lifestyle content and bringing representation for the East and South East Asian community in the UK. Her pitch uses food and people-driven storytelling as vehicles to talk about heritage, identity, history, and body image, as well as introducing the home and history of dishes and their cultural importance.
Shahira, Shu and Paddy will spend six months in residence with BBC Studios Productions Digital Originals team and Bea will spend six months in residence with BBC Studios ScriptWorks.
Helen O'Donnell, Head of BBC Studios TalentWorks said: "Shahira, Bea, Paddy and Shu are exciting emerging creators from a wide range of cultural and socio-economic backgrounds with innovative original ideas. BBC Studios TalentWorks is delighted to be able to team up with Meta to offer these young creators the opportunity to craft their skills, and we can't wait to see their pitches come to life."
Louise Holmes, Director of Creator Partnerships, EMEA, from Meta said: "We're so proud that Shahira, Bea, Paddy and Shu have been selected by BBC Studios to gain new experiences doing what they love. In partnering with BBC Studios, we've been able to bolster our long-running Diverse Voices Programme in the UK, as we continue to look for opportunities that amplify the voices of creators who speak for underrepresented communities. We look forward to seeing the results and continuing our partnership with these creators as they embark on this exciting new residence."
Meta's Diverse Voices Programme was launched in 2021 and headed up by Georgie Maltby, Meta's Creator Partner Solutions Lead, to support creators from underrepresented communities across the EMEA region. As part of the Programme, Meta worked with c.500 creators, offering a bespoke education program to aid development; audience & community building resources; and strategic product support through consultations with Partner Managers.
-Ends-
For more information, please contact: Gwen.Eluned@bbc.com
NOTES TO EDITORS
About BBC Studios
BBC Studios, a global content company with bold British creativity at its heart, is a commercial subsidiary of the BBC Group, supporting the licence fee and enhancing programmes for UK audiences. Able to take an idea seamlessly from thought to screen and beyond, its activities span content financing, development, production, sales, branded services, and ancillaries across both its own productions, and programmes and formats made by high-quality UK independents. Award-winning British programmes made by the business are internationally recognised across a broad range of genres and specialisms, with brands like Strictly Come Dancing/Dancing with the Stars, Top Gear and Doctor Who. BBC.com, BBC Studios' global digital news platform, provides up-to-the-minute international news, in-depth analysis and features to more than 139 million unique browsers each month. BBC Studios has offices in over 20 markets globally, including ten production bases in the UK and production bases or partnerships in a further seven countries around the world. The company, which ordinarily makes around 2000 hours of content a year for both the BBC and third parties including Apple, Netflix and Migu, is a champion for British creativity around the world. It is also a committed partner for the UK's independent sector through a mix of equity partnerships, content investment and international distribution for programme titles.
BBC Studios | Website | Press Office | Twitter | LinkedIn | Instagram |
About Meta
Meta builds technologies that help people connect, find communities, and grow businesses. When Facebook launched in 2004, it changed the way people connect. Apps like Messenger, Instagram and WhatsApp further empowered billions around the world. Now, Meta is moving beyond 2D screens toward immersive experiences like augmented and virtual reality to help build the next evolution in social technology.
Search by tag: