Cast biographies
Cast biographies for the new BBC Three comedy Cuckoo.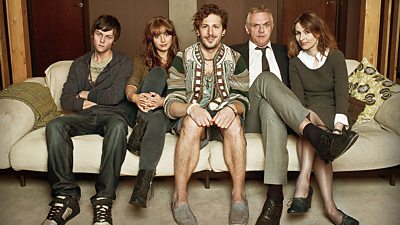 Andy Samberg, born in Berkeley California, is a comedian, writer and actor. He is also a member of the comedy group The Lonely Island, in which he stars with Akira Schaffer and Jorma Taccone and which gained widespread exposure following the debut of their digital short music video 'Lazy Sunday', releasing their first album Incredibad in 2009. The Lonely Island have since collaborated with Akon, Nicki Minaj and T-pain with whom they created the Grammy Award nominated music video 'I'm on a Boat'. Andy has featured as a regular performer on Saturday Night Live from 2005-2012 and has numerous film credits to his name, having appeared in the feature length films Hot Rod, Nick and Norah's Infinite Playlist, I Love You, Man and Friends with Benefits. He also hosted the MTV Movie Awards in 2009.
Greg Davies
Well known for his role as the psychotic Head of Sixth Form Mr Gilbert in The Inbetweeners, Greg Davies is an actor, writer and stand-up comedian with numerous sell out shows under his belt. Greg is one third of the sketch act We Are Klang, who, in 2006, performed four critically acclaimed shows in Edinburgh Festival and were nominated for the Edinburgh Comedy Award before turning the show into a TV series for BBC Three. Greg also picked up a nomination for the Fosters Edinburgh Comedy Award for his debut solo stand up show Firing Cheeseballs at a Dog, before taking the show on a sell-out national tour. Greg has also appeared on a multitude of TV programmes, including Never Mind the Buzzcocks (BBC Two) The Royal Variety Show (ITV1) and Live at the Apollo (BBC One).
Helen Baxendale
Helen famously played the role of Rachel Bradley in Cold Feet (ITV) for four series and her performance gained her a nomination for a British Comedy Award. Helen also picked up a BAFTA nomination for Best Actress for playing the role of Dr Claire Maitland in medical drama Cardiac Arrest (BBC One). Helen has also featured on US television and made her debut in the hit sit-com, Friends, as Ross's girlfriend, Emily Waltham. More recently, Helen appeared alongside Stephen Mangan as Susan Harmison in the comedy detective drama Dirk Gently. As well as on the big and small screen, Helen's career has seen her feature on stage and her theatre credits include playing the title role in The Woman Before at The Royal Court Theatre in the West End.
Tamla Kari
Tamla was born in Coventry and studied Acting at the Drama Centre London graduating in 2011. Tamla postponed her studies slightly during her final year to film The Inbetweeners Movie, in which she starred as Lucy, alongside Simon Bird. Despite being in the early stages of her career, Tamla has featured in fourth series BBC Three's supernatural drama Being Human, and series two of the BBC One drama Silk. She has also performed in numerous theatre shows, including Saturday Night and Sunday Morning directed by Matthew Dunster and performed at the Manchester Royal Exchange Theatre.
Tyger Drew-Honey
Tyger is best known for playing the role of Jake in popular family comedy Outnumbered which is now in its fifth series. Tyger has also appeared alongside comedians Alexander Armstrong and Ben Miller in The Armstrong and Miller Show (BBC One) as well as with Vic Reeves in The Ministry of Curious Stuff (CBBC). Among numerous other Radio and TV appearances, the young actor is also a regular presenter on the BAFTA nominated television programme Friday Download and earlier this year, performed with Dani Harmer on Let's Dance for Sport Relief 2012.
Selina Griffiths
Selina, born in Richmond upon Thames, Surrey trained at Central School of Speech and drama and is well known for her role as Janet in the BAFTA award winning sitcom The Smoking Room, where she starred alongside Robert Webb. Selina also featured as Pauline in the popular ITV sitcom Benidorm as well as starring in BBC Three drama Being Human and in such comedy programmes as Twenty Twelve (BBC Two) and Matt Lucas and David Walliams' Come Fly with Me (BBC One). Selina is also a familiar face on stage and her numerous theatre credits include Afterlife at the National Theatre, Noises Off at the Piccadilly Theatre and a stage adaptation of Roald Dahl's Twisted Tales at the Lyric Theatre.
Kenneth Collard
Kenneth has had a hugely successful acting career on both television and film and has toured internationally on stage. On the big screen, he has most recently starred alongside Keira Knightly and Jude Law in Joe's Wright's Epic, Anna Karenina and his previous TV credits include Episodes (BBC Two) Skins (E4), Dirk Gently (BBC Two), Freshmeat and Campus (Channel 4). Kenneth will soon star alongside Stephen Fry as he plays Alan Cruikshank in new TV drama, Doors Open. Kenneth is also a familiar voice in radio drama, having featured in BBC Radio 4's The Archers, and the station's drama, Strangers and Brothers as well as BBC Radio 3s Stalingrad Kiss.