Proms Plus
Proms Plus is a series of free workshops, talks and events designed to complement the main BBC Proms concerts. The series takes place at the Royal College of Music and comprises six categories: Intro, Literary, Sing, Family, Portrait and Late (at the Royal Albert Hall).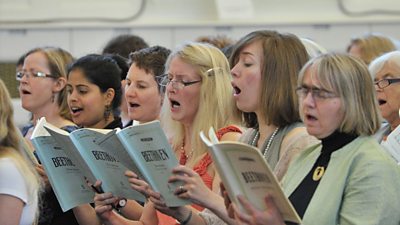 Proms Plus Intros are designed to give audiences an insight into the music they will hear at that evening's Prom. There are 27 Proms Plus Intros in 2012, exploring everything from oratorios by Handel and Elgar, to Schoenberg's epic cantata Gurrelieder.
There will also be the opportunity to hear composer James MacMillan in discussion about religion in music, ahead of the world premiere of his Credo, and the chance to explore the political context of John Adams's first opera, Nixon in China.
Orchestras will also be put under the spotlight with interesting insights into the São Paulo Orchestra and the West–Eastern Divan Orchestra.
Contributors include Pierre Boulez, Sir John Eliot Gardiner and Marin Alsop, as well as members of the Berliner Philharmoniker, Gustav Mahler Jugendorchester and the St Louis Symphony.
Proms Plus Literary
Proms Plus Literary returns with a varied line-up of high-profile speakers exploring cultural themes behind this year's music.
Highlights include Oxford Professor of Irish History Roy Foster and dramatist Neil LaBute discussing George Bernard Shaw's play Pygmalion, the original inspiration for My Fair Lady (14 July); a panel discussion on the influence of last year's 'Arab Spring' on contemporary Arabic literature (24 July); poet Jackie Kay and novelist Ali Smith on Lewis Grassic Gibbon's classic Sunset Song from the A Scots Quair trilogy (3 August);
and Glenda Jackson, MP, and film critic Mark Kermode on the late film director Ken Russell, who made groundbreaking and controversial films about classical composers including Delius (23 August).
There will also be the opportunity to hear Proms musicians reveal their private literary passions and to explore the personal writing of some of the great composers through letters, diaries, autobiography and reviews.
Back for its second year is the Proms PoetryCompetition. Launched in 2011, it will invite verse from children and adults that takes inspiration from a piece of music being performed during the season. The winning entries will be announced by Ian McMillan and award-winning poet Wendy Cope at the Royal College of Music on 7 September.
Proms Plus Sing
Returning for its second year is the popular Proms Plus Sing, a series of participatory singing events which invite people of all abilities to join professional singers and leaders in performing some of the music to be heard at the Proms. From Berlioz's Requiem, John Adams's Nixon in China and Mozart's The Marriage of Figaro to the popular musical My Fair Lady and the Gilbert & Sullivan operetta The Yeomen of the Guard, the series suits all interests and abilities, from enthusiastic amateur singers to those who just want to try something new!
Highlights of this year's series include a special Proms Plus Sing event on the opening night of the London Olympics (27 July) which invites participants to join well-known vocal animateur Mary King, from Channel 4's Operatunity, in a performance of the uplifting 'Ode to Joy' from Beethoven's Ninth Symphony.
There is also the exciting opportunity for audiences to join a singing workshop prior to the Last Night of the Proms(8 September).
Proms Plus Family
The popular Proms Plus Family events are one hour pre-concert workshops with presenters and professional musicians designed for family members aged 7 and upwards, offering jargon-free explanations of the music of the Proms in dynamic and participatory events.
The series encourages families to bring along their instruments and play alongside professional musicians. Participants will be able to enjoy a virtual trip from the Italian Riviera to a cathedral under the sea with members of BBC National Orchestra of Wales (26 July), explore the sounds of Paris in the company of Delius
(14 August) and bring out their dancing shoes in an interactive introduction to Prokofiev's ballet Cinderella (22 August).
The Inspire Young Composers' Concert at the Royal College of Music (4 August) will feature performances of the winning entries from this year's BBC Proms Inspire Young Composers' Competition, played by the Aurora Orchestra.
The Royal College of Music learning programme, RCM Sparks, also offers a fun complementary programme of musical activities for 6 to 18-year-olds throughout the 2012 Proms season. See rcm.ac.uk/sparks for details.
Proms Plus Family Orchestra
Proms Plus Family Orchestra & Chorus events give participants of all abilities the chance to work with professional musicians and Royal College of Music students to create and perform new pieces of music. From Wallace & Gromit (29 July) to Beethoven and Boulez (21 July), there's something for everyone! There will also be the opportunity for all wind and brass families to come and join the first ever Proms Family Wind Band to compose a piece and perform it at the end of the session (12 August).
Proms Plus Portrait
Proms Plus Portrait is a series of four talks by contemporary composers whose music is being performed during the season, giving audiences a more intimate insight into their creative process. Kaijo Saariaho (17 July), Per Nørgård (9 August), Olga Neuwirth (13 August) and Helen Grime (25 August) all discuss their work prior to their premieres that evening and introduce performances of their chamber music by musicians from UK conservatories and the London Sinfonietta Academy.
Proms Plus Late
After its successful launch in 2011, the Proms Plus Late series of relaxed and informal post-concert events will return to the Royal Albert Hall. Hosted by Petroc Trelawny and Sara Mohr-Pietsch, and featuring poetry and music from young artists, it is the perfect way for concert-goers to end an evening at the Proms.