Blackburn Sings Christmas With Gareth Malone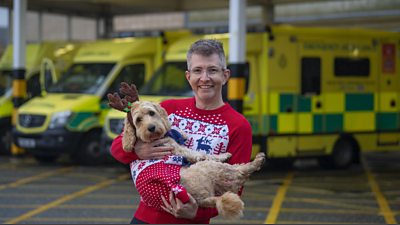 In this seasonal special, choirmaster Gareth Malone heads to Blackburn - one of the areas of the country hardest hit by Covid-19 - to create a concert that celebrates the work of NHS staff and the community spirit of the town.
In the Royal Blackburn Hospital and the surrounding town, Gareth comes across a wealth of amateur musical talent. Working with them to devise and rehearse musical performances that reflect their experiences over the last year, he uncovers a range of moving stories about how the town has pulled together through the pandemic.
In the hospital Gareth meets porter Stephen. Before the pandemic, Stephen worked as a singer, but when all of the music venues in the area closed because of lockdown, he found himself in need of work and decided to take a job at the hospital. As a cleaner and porter during the height of the pandemic, Stephen found he was able to bring comfort to patients through his singing. Even now, with music venues open again, Stephen continues to work at the hospital, and the performance he devises with Gareth will beam his talent out across the town.
Then there's Tanviha, a local mother who found herself in critical care at the hospital when she contracted Covid last year. At eight months pregnant she had to give birth by caesarean, before being put into an induced coma. Through the care of the hospital staff, Tanviha pulled through and was able to be reunited with her husband Tabraiz, baby son, Kameel, and her three year-old daughter, Sonum. Her moving and uplifting story will culminate in a family song at the concert.
Other performers include local pub landlady, Carole, who'll help Gareth to lead a special singalong in the town square; teenagers Ray and Maddison, who've helped to compose an original song; and ambulance driver Justin, whose powerful voice with lead a new interpretation of Good King Wenceslas.
The final concert will be an emotional thank you to the local hospital, an uplifting celebration of community, and a chance to bring some festive joy to the nation.
Blackburn Sings Christmas With Gareth Malone is a Swan Films production for BBC Two, commissioned by Jan Younghusband and Patrick Holland, Director, Factual, Arts and Classical Music Television. The producer and director is Harry Beney and the executive producers are Neil Crombie and Joe Evans.
Publicity contact: BBC Arts Publicity
Date
Thursday, 23 December, 2021
Updates
Confirmed for BBC Two on 23 December at 8pm to 9pm