Procesan a estrella de pop japonesa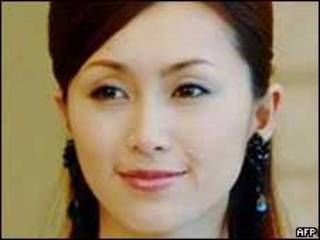 Japanese pop star goes on trial
More than 6,000 people have queued for the 20 seats in a courtroom public gallery in Japan to see a famous singer and actress go on trial. Noriko Sakai has pleaded guilty to using and possessing illegal drugs.
Reporter: Roland Buerk
When she sang and acted, Noriko Sakai could always draw a crowd but rarely as big as the one that turned up to witness her downfall. 6,615 people queued, some all night in pouring rain, to get into the courtroom in Tokyo. Officials set up tents and handed out numbered armbands before holding a lottery draw to decide who would get the 20 seats in the public gallery.
When the hearing began the 38-year-old pleaded guilty to possessing 0.008 of a gram of what's been described as stimulant drugs, and using drugs too.
Noriko Sakai has been famous since she was a teenager, first as a J-pop singer, later as an actress. But her girl next door image was shattered in August when her husband was arrested over a drugs offence. She went on the run for several days before turning herself in. In the meantime the police have found more drugs in her flat.
In court, Noriko Sakai said she wanted a divorce and to make a fresh start, studying nursing care for the elderly. Her lawyers pleaded for leniency. The prosecution is seeking an 18-month prison sentence.
Roland Buerk, BBC News, Tokyo
could always draw a crowd siempre atraía la atención (de sus seguidores, de la prensa)
turned up to witness her downfallllegaron a presenciar su ruina
pleaded guiltyse declaró culpable J-pop una abreviación para pop japonés
girl next doorniña buena
went on the rundesapareció (para esconderse de la policía)
turning herself inentergarse (a la policía)
to make a fresh start empezar de nuevo
nursing careenfermería
pleaded for leniencypidieron que se atenuara la sentencia