Nuevas pautas para combatir el VIH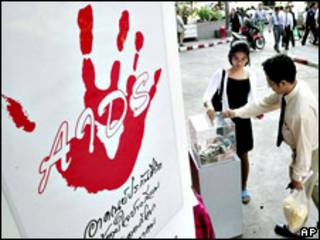 New guidelines for fighting HIV
The World Health Organisation has issued new guidelines for HIV treatment which would significantly increase the number of patients receiving anti-retroviral drugs.
Reporter: Madeleine Morris
At the moment, four million people around the world receive anti-retroviral drugs. There's another five million who need them but don't get them.
The WHO recommendations on when to start treatment for HIV would mean an extra three to five million people would be added to that waiting list. The WHO wants people who have HIV to start drugs before their immune systems get so weak they start displaying symptoms. A study recently published in the medical journal The Lancet showed starting treatment at the newly recommended level could increase survival by nearly 70%.
It would also add significantly to the cost on health care systems. In South Africa, which has one of the biggest HIV burdens in the world, currently fewer than half of the people who should be receiving HIV drugs get them.
Poor health infrastructure is a common problem for nearly all developing countries. Putting HIV-positive people on drugs earlier would significantly reduce the cost to health systems of treating opportunistic infections - illnesses which take hold while the immune system is weak. It would also greatly improve life expectancy of HIV patients, with repercussions for families and the workforce.
The WHO is still working out how much it would cost countries to improve their treatment regimes, but it won't be cheap.
Madeleine Morris, BBC News
anti-retroviral drugs drogas antirretrovirales
an extra three to five million people would be added to that waiting listse añadirían de tres a cinco millones de personas a la lista de espera (para recibir tratamiento)
diplaying symptomsmostrar síntomas
add significantly to the cost on significaría un gran aumento en los gastos (para los sistemas de asistencia médica)
which has one of the biggest HIV burdens in the world donde hay más personas del mundo que padecen del VIH
HIV-positive peoplegente seropositiva
opportunistic infectionsinfecciones que surgen (porque la gente tiene las defensas bajas)
greatly improve life expectancy of mejoraría las expectativas de vida de
repercussionsrepercusiones