Chelsea, campeón en la liga inglesa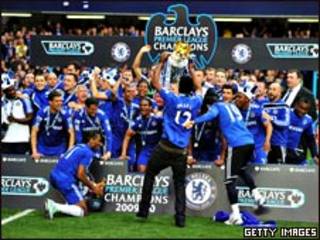 Chelsea take Premier League title
London football club Chelsea have won this year's English Premier League title.
They won their last game 8-0 which prevented their rivals Manchester United from overtaking them.
Reporter: Alex Capstick
So no dramatic late twist in the closest finish to an English Premier League season in recent years. Instead Chelsea completed their first League title since 2006 in some style.
The London club began the day with a one point lead over their nearest rivals Manchester United. It could have been a jittery afternoon, but the London club simply overpowered their opponents.
It rendered United's comfortable victory over Stoke City as meaningless. The result ends Manchester United's three-year monopoly of the trophy. A fine accomplishment for Carlo Ancelotti in his first season as Chelsea's manager.
And there could be more silverware for the Italian and his Chelsea team. They face Portsmouth in next week's FA Cup final.
All this in a season which has at times been difficult. Two of the club's biggest names grabbed the headlines for non-footballing issues. There were allegations over the private lives of the club captain John Terry, and his fellow England defender Ashley Cole. And Chelsea's form did suffer in the wake of those scandals. But they picked themselves up and for most neutral observers have finished the campaign as worthy champions.
Alex Capstick, BBC Sport
dramatic late twist un cambio dramático de última hora
jittery nerviosa
monopolio (en este caso) control absoluto
silverwarecopa de plata (como premio)
grabbed the headlinesacapararon los titulares
allegations alegatos / acusaciones
in the wake of luego de
picked themselves upse recuperaron
neutral observersobservadores neutrales (que no apoyan ni un equipo ni el otro)
worthy championscampeones dignos (de ganar)