Primary schools under pressure for extra places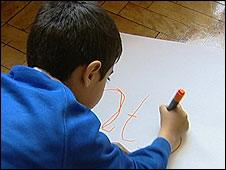 Primary schools in some parts of England are facing a surge in demand for places this autumn.
The councillor in charge of education in Surrey says schools are already "full to bursting".
In Lewisham in south London, the council has to find space for the equivalent of an extra 17 reception classes by September.
The increase has been caused by a sustained rise in the birth rate.
It is likely to mean some authorities having to put up temporary classrooms and recruit more staff.
In Richmond in south-west London, space for an extra nine classes has had to be added for the autumn and in Surrey, schools have had to accommodate the equivalent of an extra 14 classes of children.
In the London Borough of Lambeth, all school-age children in the borough will have been allocated a place, but this has meant adding an extra 11 permanent and temporary classrooms for the autumn.
This is a patchwork quilt of a problem - affecting some parts of the country much more than others. There is still a parallel problem of surplus places in some areas.
But rising populations are putting pressure on some authorities.
"This shows the severe strain the economic downturn and a booming birth rate are putting on education in Surrey when many of our schools are already full to bursting," says Peter Martin, the cabinet member for children and learning in Surrey.
In Surrey, the council says the birth rate has risen by 20% between 2002 and 2008 - which will mean having to create an extra 6,000 places in primary and secondary schools in the next four years.
Across England and Wales, there were 114,000 more children born in 2008 than in 2001 - with each year having seen an increase.
And the Office for National Statistics says the rise in births between 2007 and 2008 alone will mean an extra 700 classrooms when these children reach school age.
What makes planning more difficult for building schools is the fluctuation in birth rates and an increasingly mobile population. The birth rate had been falling until 2001 - and the current birth rate is only slightly above the figure for 1990.
But the gap between these highs and lows in this 20-year cycle is the equivalent of about 3,800 primary classes.
Last year funding was given by the government to create an extra 15,000 primary places, as councils struggled to accommodate increasing numbers of children starting school.
In London, three quarters of boroughs had to create extra places to cope with demand last year.
The local authority group, London Councils, has forecast that the capital would need an extra 18,300 places in the next four years.
This follows a higher than average birth rate increase in the capital - rising by more than a third in some boroughs since 2001.
In inner-London, authorities said that as well as the birth rate the recession had pushed up pupil numbers - with fewer families selling their houses in London and moving to the suburbs.
Related Internet Links
The BBC is not responsible for the content of external sites.