Governors told to ensure Sats tests take place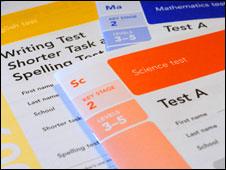 School governors are being told they must make sure Sats tests in primary schools in England take place - despite a boycott by head teachers.
Guidance being sent to governors by Children's Secretary Ed Balls says they have a "statutory duty" to ensure the tests go ahead.
If head teachers will not administer the tests, governors are being told another "competent person" can do so.
Pupils not taking the tests would be "unacceptable", says Mr Balls.
Governors are being told to remind head teachers that they have a legal duty to carry out the tests.
But union leaders supporting the boycott have said that head teachers should keep the test papers "locked up".
The tests - to be taken by about 600,000 children in the last year of primary school - are being boycotted by two teachers' unions, the National Association of Head Teachers and the National Union of Teachers.
The unions say the Sats tests are "misused to compile meaningless league tables, which only serve to humiliate and demean children".
The government has attacked the decision to stop pupils taking the tests for which they had been preparing.
And the National Governors' Association has voiced its opposition to the boycott.
School governors have now been told that the tests must go ahead - using another member of staff or "competent person" if necessary.
And they have been told that head teachers will not be allowed to stop someone else from administering the tests.
"If a head teacher still does not intend to administer the tests themselves, it would be wrong for them to frustrate another competent person from administering them, and you should establish that they would not do so," says the advice to governors.
The Department for Children, Schools and Families says planning for this year's tests is "going ahead as scheduled".
The leader of the National Union of Teachers, Christine Blower, described the advice to governors as a "desperate last throw" by the government.
"It's revealing that nowhere in this advice does it claim that our industrial action is illegal. We maintain that we have got a legal trade dispute and we're calling on our leadership group members to take the action," she said.
"We will continue to advise head teachers to follow our industrial action advice and to keep the 2010 papers securely locked up.
"Government suggests that another competent person could administer the tests, but the only people legally competent to carry them out are the heads and leadership group members who are being called on to take the action."
Related Internet Links
The BBC is not responsible for the content of external sites.