Oak disease 'threatens landscape'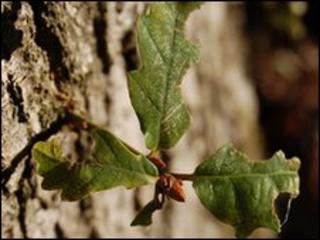 The continuing spread of a deadly disease that affects the UK's native oak trees is causing concern among tree professionals and conservation groups.
Acute Oak Decline (AOD), caused by a bacterial infection, can kill an infected tree in just a few years.
Some tree experts are comparing AOD to Dutch elm disease, which killed millions of trees throughout the UK during the 1970-80s.
They said extra funds for more research into the disease were urgently needed.
Although AOD has been confirmed in 55 cases, the number of trees displaying symptoms was steadily increasing, delegates at the Royal Forestry Society's (RFS) annual conference were told.
The disease affects the UK's two native species of oak - sessile and pedunculate. To date, there have been no confirmed cases in other species of oaks found in Britain, such as Turkey and red oaks.
'Extensive bleeding'
Information from Forest Research, the scientific department of the UK Forestry Commission, says the new disease affects oaks more than 50 years old.
Symptoms are "extensive stem bleeding" in which dark fluid seeps from small cracks in the bark and runs down the tree trunk.
In early stages of the disease, the health of a tree's canopy does not appear to be affected, but it may become thinner as the tree succumbs to AOD.
On its website, Forest Research says: "The incidence of AOD in Britain is unquantified at this stage, but estimates put the figure at a few thousand affected trees.
"The condition appears to be most prevalent in the Midlands and investigations to determine the extent of the disorder are under way."
A spokesman told BBC News: "Forest Research pathologists have isolated a previously unidentified bacterium they believe is highly likely to be playing a key role in the Acute Oak Decline observed in Leicestershire and elsewhere.
"However, the full cause of the condition is thought likely to be complex, involving a number of factors besides the bacterium. A research report is currently awaiting peer review."
'Major threat'
Tree organisations are calling for more funding to be made available to allow researchers to better understand the full impact of the disease.
John Jackson, the organiser of the RFS's conference, said: "Urgent action is not an option - it's a necessity."
Hilary Allison, policy director for the Woodland Trust, added: "The impact of the loss of an iconic tree both from our countryside and towns would be catastrophic, and therefore has the capacity to be a major threat to the UK's oak woods."
"I have never seen anything like it," said Peter Goodwin, co-founder of Woodland Heritage.
"Its spread over the last two years has been quite alarming."
Mr Goodwin told BBC News that very little was known about the virulent bacteria responsible for the disease.
"We've never had a bacterium that is capable of doing what this one is doing."
He suggested that people were possibly the main way in which the disease was spread from tree to tree, but added that "natural vectors" - such as squirrels, birds and insects - could also play a role.
"I think this is the worrying thing, we all want to know what are the vectors that is spreading it. Is it airborne? We just don't know."
Forest Research advises people working in affected areas to take appropriate measures to limit the chances of AOD being carried to new sites.
"The most important thing we can do in this and other cases is to research and understand the causes so that we can provide appropriate management advice for tree owners and woodland managers," the spokesman added.
"It is also important that we remain vigilant against accidentally importing new and damaging pests and diseases from outside Great Britain."