Will sanctions against Iran hit Russian firms?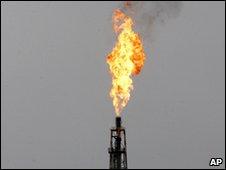 Further UN Security Council sanctions against Tehran have yet to materialise, but a number of international companies have already been pulling out of Iran.
While some firms are reluctant to risk investing in a country with uncertain perspectives, others also have to take into consideration their own interests in other parts of the world, as well as their national government's stance on Iran.
Russian President Dmitry Medvedev seemed to confirm that the Kremlin was ready to support new sanctions against Tehran over its nuclear plans.
"As of yet, Iran is not demonstrating the required restraint and is behaving quite irresponsibly," he said in an interview with Danish television earlier this week.
"Of course, sanctions are a bad thing, because they rarely produce results. But when all other means have been exhausted, why not?"
An adviser to the European Union, Mehrdad Emadi, believes that it is not in Russia's interest to be in direct conflict with the EU and the US over the issue of Iran.
"If the US and EU agree on sanctions [against Iran], what cost will Russia be ready to pay?"
The volume of trade between Iran and Russia now stands at about $3bn (£2bn) a year, almost 10 times less than between Iran and China, says Vladimir Sazhin, a senior fellow at the Institute of Oriental Studies of the Russian Academy of Sciences.
India, Germany, Italy, the Netherlands and some other countries are also ahead of Russia, according to statistics.
Mr Sazhin says that historically, Iran has favoured Western rather than Russian technologies.
"Technology supplies from Germany to Iran account for 80% of the volume of trade between the two countries," he says.
Also, oil, an important factor in trade between Iran and many other countries, including China and Italy, is not part of Russian-Iranian relations, as both countries are among the leading oil exporters.
Russia also appears to have frozen arms sales to Iran, as it has not supplied Tehran with missile systems, despite a contract signed by the two countries several years ago.
So opportunities for stronger Russian-Iranian business co-operation could be found mostly in joint oil, gas and nuclear projects.
However, there is an obstacle here, because, as Christopher Granville, managing director at Trusted Sources, an emerging markets research service, points out, "Iran has an extremely closed economy, even without sanctions."
Experts point out that most oil, gas, nuclear and weapon projects have been taken over by companies owned by or affiliated to the Iranian Revolutionary Guards.
Mr Emadi says that the Russian participation in the projects is "mostly limited to engineering output": Iranians had to agree to Russian involvement because they lacked know-how.
Experts says, however, that many of these projects exist only on paper.
"Documents were signed, but no action has been taken," says Mr Granville.
Meanwhile, the Iranian petrochemical industry desperately needs foreign money.
Although it is the world's fifth largest exporter of crude oil, Iran has to import up to 40% of the fuel it consumes, because it does not have enough refining capacity.
Lukoil, Russia's largest private oil company, and Russian gas monopoly Gazprom have signed up to several oil and gas projects in Iran in recent years.
But since March, Lukoil has been mentioned, along with Royal Dutch Shell, Glencore, Vitol, Daimler and HSBC, as being among the firms pulling out of Iran or scaling down their activities in the country.
The company announced in March it was taking a $63m loss "for Anaran project in Iran, which was abandoned because of international sanctions".
Andrei Kuzyaev, the vice-president of Lukoil, stressed back then that the company was not "saying goodbye" to the oil project and it "does not mean that we lose the rights" to it.
Two weeks later, Lukoil declined to comment on reports that it was planning to stop supplying petrol to Iran.
The developments did not come as a surprise, as the company has 2,000 petrol stations in the US, while US firm ConocoPhillips holds about 20% of Lukoil.
"No US company is allowed to invest more than $20m in the Iranian economy, but Lukoil needed to invest hundreds of millions," said Rajab Safarov, director of the Centre for Contemporary Iranian Studies in Moscow.
Experts agree that international companies doing business both in Iran and in the US have to choose "the lesser of two evils" even before any new UN sanctions are introduced.
They need to compare the potential losses if they stay in Iran (and risk having problems in the US) and if they pull out of the country (while securing stability for their business interests in the West).
For Lukoil, it seems like an obvious choice. As Mr Emadi described Lukoil's involvement in Iran, "Russians are dipping toes in the water, but not a lot."
One of the main projects in which Russia is involved is building Iran's first nuclear power plant in Bushehr.
Russian and Iranian officials have said the plant should be up and running in the next several months.
Mr Granville thinks it is crucial for Russia that Bushehr is not part of any new sanctions.
In turn, Mr Emadi believes that even if Russia has to pull out of the project, it will not be a big problem in terms of money.
"Russia, so far, is not going to be in a loss position, as they have covered what they had actually spent."
He is also sure that "Russia does not want oil included in sanctions as well".
Some analysts suggest that Russian firms with little or no business interest in the US or the EU, such as Gazpromneft, might try and replace Lukoil and the Western companies leaving Iran - "to keep cards in play in Iran", as Mr Granville put it.
Experts, however, doubt that big corporations, such as Gazprom, will be able to do it.
"Large companies must operate in line with the national policy, which [now in Russia] is aimed at effective co-operation with the EU and the US, and it includes reducing support for Iran," says Mr Safarov.
Mr Sazhin agrees: "Gazprom is more free than Lukoil [to take others' places in Iran], but if new sanctions are introduced, the Russian government will not approve this approach."
Russia has made it clear that it could support sanctions against Iran if they target the Iranian regime, not its people.
It seems that the Kremlin will not have to think too hard about the business consequences for Russian companies when the final decision is due.
Related Internet Links
The BBC is not responsible for the content of external sites.