Legality of raid on home of iPhone blogger raid queried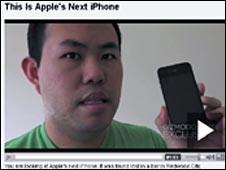 The examination of computers belonging to a technology blogger who bought an iPhone prototype has been put on hold.
Gizmodo editor Jason Chen had computers and other equipment taken from his house after he paid $5,000 (£3,200) for the phone, which was found in a bar.
His lawyers argue that he is protected by California's shield law.
State lawyers are considering whether the raids in Fremont were legal, according to the San Francisco Chronicle.
The shield law states that journalists have the right to protect their unpublished material from examination.
San Mateo county chief deputy district attorney Steve Wagstaffe said he was considering the matter and expected to issue a legal memo later this week.
He told the Chronicle that the computers would not be examined until then.
The laptops, hard-drive and USB memory sticks that belong to Mr Chen are currently being held by the Rapid Enforcement Allied Computer Team (React), the state's high-tech crime taskforce that conducted the raid.
They ordered the search after Apple reported the phone stolen.
The prototype was left in a bar by Apple software engineer Gray Powell and details and pictures of it were subsequently published on the Gizmodo website.
Earlier, in an interview with technology news site CNet, Mr Wagstaffe had defended the raid, saying prosecutors had considered whether reporter shield laws applied to the case but decided to proceed.
He also said that police knew the identity of the person who took the phone and that they had talked to him.
Related Internet Links
The BBC is not responsible for the content of external sites.