Greece crisis: investors wait on deal details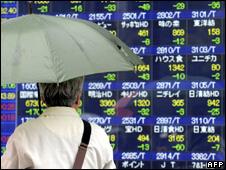 The euro halted its fall against the dollar on Thursday as investors wait for more details on the rescue package for the Greek economy.
The currency has recovered slightly from a one-year low hit on Wednesday amid fears that the Greek crisis could spread to other parts of the eurozone.
US President Barack Obama has added his concerns over possible contagion.
In a telephone call to German Chancellor Angela Merkel, the president called for "resolute action".
Investor confidence took yet another knock on Wednesday when rating agency Standard & Poor's downgraded Spain's debt - reflecting a loss of confidence in another eurozone country.
Following that news, the euro fell to a one-year low of below $1.312. It has since recovered to $1.323.
But investor confidence remains muted due to the lack of detail on any bail-out for the Greek economy.
On Wednesday, Angela Merkel joined the head of the International Monetary Fund (IMF), Dominique Strauss-Kahn, in calling for talks on a rescue deal to be sped up.
"It is perfectly clear that the negotiations with the Greek government, the European Commission and the IMF need to be accelerated," she said.
"We hope they can be wrapped up in the coming days."
But concerns remain over how much money Germany will pledge as Europe's biggest economy, and what conditions it will attach to the funds.
Currently, a loan package worth 45bn euros ($59bn; £39bn) is being discussed, some of which must be delivered by the middle of May if Greece is to avoid defaulting on its immediate debt repayments.
Related Internet Links
The BBC is not responsible for the content of external sites.