Yahoo chief Carol Bartz sees trouble for Google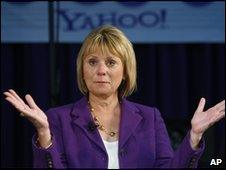 Google will have "a problem" if it does not diversify its business, the head of Yahoo has told BBC News.
Carol Bartz said that Google would have to "do a lot more than search" and suggested that it would have to "grow a company the size of Yahoo every year".
Ms Bartz made the comments when asked if Yahoo's sprawling network of sites and services had a defined brand image.
Yahoo is one of the largest sites in the world with an audience of more than 200m, according to analysts Nielsen.
It competes with Google in the search market, but has only 17% of the US market, compared to Google's 65%, according to Comscore. Yahoo recently did a deal to use Microsoft's Bing to power searches on its sites.
"Google is going to have a problem because Google is only known for search," said Ms Bartz.
"It is only half our business; it's 99.9% of their business. They've got to find other things to do.
"Google has to grow a company the size of Yahoo every year to be interesting."
Yahoo has more than 70 websites and services, many of which are available in 20 languages around the world.
Some have criticised the firm for growing too large, not making use of acquisitions and having too many sites.
Technology blog Techcrunch has said that Yahoo is the place where "startups go to die".
But Ms Bartz said that its broad portfolio would be its advantage in the long run.
Ms Bartz also said that the firm could also hold its own against Facebook, the current poster child of the web.
She described the site, which has more than 400 million users and has stated that its ambition is to be at the heart of the "social web", as a "frenemy".
"They certainly are taking people's attention and time," she said. "But what is kind of wrong about the conversation is that social just means Facebook.
"Social is interaction. Social is commenting on news stories. It's blogging. It's sharing photos.
"So there are social capabilities running throughout all of our sites, including Twitter feeds and Facebook feeds."
However, earlier, she had told a press conference that she expected that Facebook and Google would overtake Yahoo in terms of the amount of time visitors spent on the site.
Ms Bartz took over the company from founder Jerry Yang in January 2009.
Since then, she has been trying to reverse the fortunes of the firm by cutting costs and jobs, as well as changing the organisational structure of the company.
The firm recently posted quarterly profits which were almost treble what they were a year ago.
During the interview, Ms Bartz stated an ambition to bolster the firm's mobile offerings, but said it would not follow Google by offering a mobile operating system.
The firm currently has its mobile application on around 2,000 different handsets from various manufacturers. It recently signed a deal with Samsung to extend its reach.
She also said that she wanted the firm to focus on personalised and "hyperlocal information" for users.
"It's about what is going on in your local area," she said.
There has been a lot of speculation in the technology press that Yahoo is about to buy Foursquare, a location-based game that allows people to earn points for visiting locations in the real world.
However, Ms Bartz would not confirm if a deal was imminent.
Related Internet Links
The BBC is not responsible for the content of external sites.