Fraud risk as millions 'write down' Pin numbers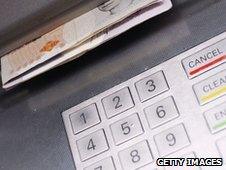 Millions of people are putting their accounts at risk of fraud because they are writing down their Pin numbers, a survey has said.
Many are keeping a note of the number in their wallet or handbag, the consumers' association Which? said.
Others are sharing the Pin with somebody else, leaving them at risk of card fraud.
Meanwhile, a special police unit recovered thousands of compromised card numbers in 2009, latest figures show.
Which? estimated that four million debit card holders and three million credit and charge card holders in the UK were at risk of disclosing their Pin and having their accounts raided.
Some 9% of those who admitted writing down their number had a note of it kept at work.
The group warned that banks and card providers would not necessarily pay compensation if they could prove a cardholder had not kept details of their Pin secure.
"The results show that too many consumers are putting their finances in jeopardy by not taking simple precautions," said Martyn Saville, of Which?.
"Writing down your Pin is like leaving your door open when you leave the house."
A police unit set up to tackle card fraud said that it had discovered 29,300 compromised card numbers - the long numbers on cards - in 2009.
When found on criminals' laptops, this tends to indicate which accounts can be raided by the fraudsters.
"We want to send out a loud and clear message to the organised criminal gangs who are behind the lion's share of fraud on UK cards that we can, and will, track them down," said Det Chief Insp John Osibote, who leads the Dedicated Cheque and Plastic Crime Unit.
The unit, a team of 20 officers, also discovered 9,700 counterfeit cards in 2009.
Related Internet Links
The BBC is not responsible for the content of external sites.