Bank of England governor 'warned of tough times'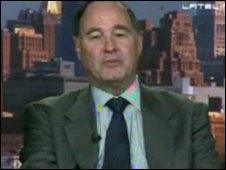 A US economist has claimed that the governor of the Bank of England told him "tough" budgetary measures would be necessary in the UK.
David Hale said Governor Mervyn King had said the measures would keep whoever wins the next election "out of power for a whole generation".
The US economist made the comments in an Australian TV interview.
The Bank of England refused to comment directly but confirmed the two men had a private meeting early last month.
Mr Hale, who said he met the governor in London last week, is a global economist and founder of his own economic consultancy.
During the interview with Australia's ABC television, he said that if the government failed to come up with a credible plan to reduce the budget deficit - one of the highest in Europe - the UK's credit rating would be downgraded.
A downgrade of a country's debt indicates increased uncertainty about the outlook for the economy and its ability to pay back its debt.
BBC chief economics correspondent Hugh Pym pointed out that the Bank had not denied Mr King had made the reported remarks.
He added: "The fact that these comments have emerged during the heat of the election campaign is interesting in the context of whether parties are spelling out enough detail on spending cuts and tax rises.
"The parties have already been criticised by the Institute for Fiscal Studies for not providing enough detail on their plans. Mr King's reported remarks suggest that some senior policymakers think the deficit reduction plans will have a big impact."
The Bank of England indicated that Mr King often met economists and did not comment on private conversations.
In February, Mr King warned that "significant fiscal consolidation" was needed.
"The need for a credible plan to ensure a substantial reduction in the fiscal deficit is now clear to everyone," he said.
Related Internet Links
The BBC is not responsible for the content of external sites.