Head teachers face testing times over Sats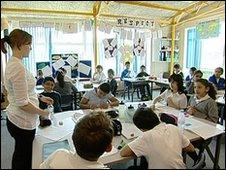 Head teachers are meeting in Liverpool, days before they make a historic challenge to one of the main planks of England's education system.
The National Association of Head Teachers has pitted itself against the government - and any future government - in its opposition to the national tests taken by 10- and 11-year-olds.
The tests - known as Sats - are due to be taken from 10 May, just days after the general election.
The union has joined members of the NUT who are heads or deputies in voting for a boycott of this year's tests.
It says members are facing pressure from local authorities and from some governing bodies over the action.
It is an unusual position for head teachers to find themselves in. These pillars of the community are used to setting rules, not breaking them.
As the NAHT's general secretary Mick Brookes said: "My colleagues are usually moderate. Head teachers are, generally speaking, conservative with a small c.
"We don't think this has been done in 112 years of NAHT history - certainly not in the last 25 years."
What those who choose to join in this action are doing is to try to "frustrate the administration" of the tests.
For one head teacher, who asked not to be named, this has meant hiding the exam papers - which arrived at his school on Thursday.
He does not want the school's governors to get someone else to stage them.
"I opened the box, saw the papers were inside, sealed it up again, marked it 'return to sender' and hid it," he told the BBC News website.
His views have put him in direct conflict with the school's governors, who want the tests to be run. The government has reminded governors that they have a duty to make sure the tests take place.
"My governing body believes children should be tested," he said.
"My chair of governors is also using emotional abuse, asking if I wish this to be my legacy - to be remembered as the head who boycotted Sats."
It looks like the boycott, where it does take place, will take many forms.
At Hounslow Town Primary School in West London, children will face Sats in English and maths - but not this year's; they will take last year's tests.
Head teacher Chris Hill explained why. "We want to celebrate the hard work and achievements of the children but we have difficulty with the way data from the tests is used," he said.
"So we will be doing tests, but not the 2010 tests."
The school will pass details of teachers' assessments of the children to the secondary schools where the children will move to in the autumn.
Mr Hill, like many of the heads opposed to Sats, says raw test results do always give a true picture of what a school is really like.
The results are drawn on heavily by Ofsted inspectors.
"Data and Sats are used to test the school rather than the children," Mr Hill said.
Children at the school have been told what is going on - and have mixed views.
Abdullah, 10, says he would have been disappointed not to take any tests at all.
"I would not be happy, because of all the time we have revised, putting effort in to our work," he said.
Amnah agrees: "Yes, I am pleased we are doing some tests because all the work we have done should be put in to something."
Olivia, 11, said: "We are still going to try our hardest to prepare for the Sats, but it is going to be easier for us because we are not going to be that worried about getting all of them right."
But for Mudhiya, 11, the best news would have been no tests at all: "I like that Sats have gone. I am relieved we are not doing them but I still don't want to do it.
"You get so much pressure on you, even if you get good grades and you have revised.
Many heads involved in the boycott say it is this kind of pressure - felt by children and schools alike - that has pushed them to take action.
"My children in Year 6 are a lost generation," said Steve Iredale, from South Yorkshire.
"I am horrified by what I am doing to them. They are turned off learning."
Surrey head teacher Gail Larkin said she had seen a marked improvement in children's writing after deciding not to prepare them for this year's tests.
"I have not been revising for these tests because I told my parents in September that we would not be doing them.
"The development in the children's writing has been phenomenal over the year, because we could allocate time to reading and writing instead of revising."
Mike Stewart, a secondary school head teacher from Torbay, said that heads don't want key stage two Sats either.
"We want teacher assessments to show that children can read and write properly and not just give a prescriptive answer.
"It's vital that children come with a creative flair and ability to enjoy education. Sats tests can reduce a child sometimes to a whimpering wreck and reduce their ability to engage with their teachers."
It was the abandonment of the Sats taken by 14-year-olds in England that spurred the unions on to this action.
The heads had talks with the government over the past year but failed to find a compromise deal.
Both sides agree more use of teachers' assessments of their pupils should be made.
For the first time, this year, Sats results will be published alongside the assessments made by teachers.
But for heads, it is the publication of school-by-school results that is the crucial sticking point.
The test results are compiled into league tables by media organisations, and heads say these can damage schools and not give a true reflection of what schools are doing.
The government insists the tests and their results drive up standards. It also says they give parents vital information about how their children and their local schools are performing.
If the boycott goes ahead - and everything is now pointing to that - this year's results will be incomplete and will reflect the intensity of feeling on this issue among many head teachers.
Related Internet Links
The BBC is not responsible for the content of external sites.