Japan keeps interest rates on hold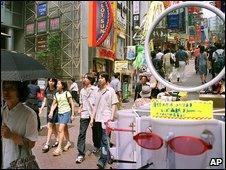 Japan's central bank has kept interest rates on hold as it continues its efforts to boost the country's economic recovery.
As widely expected, the bank's rate-setting committee voted unanimously to keep rates at 0.1%.
It said keeping rates low was essential in the country's fight against falling prices, which are undermining the economy's recovery.
Japan enjoyed economic growth of 0.9% in the last three months of 2009.
Such modest growth means that booming China is now vying with Japan to become the world's second largest economy.
"Japan's economy faces the critical challenge of overcoming deflation and returning to a sustainable growth path with price stability," the bank said.
"It was confirmed at the meeting that, in the conduct of monetary policy, the bank would aim to maintain the extremely accommodative financial environment."
Many see overcoming deflation as key to Japan's efforts to secure strong economic growth.
"The Bank of Japan has been under continuous pressure from the cabinet and the finance minister to combat deflation," said David Cohen at Action Economics in Singapore.
"If the economic data continue to improve, then it will hope that this problem will go away. Its hope is that the economic recovery will remain on track."
Japan has a history of struggling with deflation. The 1990s are often referred to as Japan's "lost decade" because of its 10-year struggle with falling prices.
Deflation is bad for an economy as it tends to make consumers and businesses delay major purchases in the expectation that prices will fall further in the future.
Related Internet Links
The BBC is not responsible for the content of external sites.