Barclays' first quarter profit fails to impress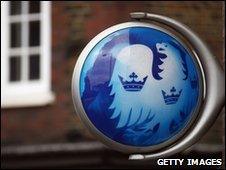 Shares in High Street banking giant Barclays have fallen 6.4% despite a big rise in pre-tax profits for the first three months of 2010.
Barclays' profit for the first quarter was £1.82bn, up 47% on a year earlier, with most of it coming from investment banking arm Barclays Capital.
However, analysts said that the amount of money made by that division was less than expected.
Barclays was the biggest faller on the FTSE 100 index, down 23p to 338.25p.
The bank's strengthened investment banking division reported profit before tax of £1.47bn during the first three months of the year, up 47% on the same period a year ago.
"It is not a bad quarter, it's just not the blow-out numbers shown by some of the other banks," said Colin Morton, fund manager at Rensburg Fund Management.
"It has gone into the numbers with very high expectations, and BarCap has come in a bit light in terms of income," he said.
Another contribution to the profit rise came from retail banking, up 20% to £238m, but this included a gain of £71m on the acquisition of Standard Life Bank.
A number of banks have now reported improving conditions, as declining bad debts reflect improving economies.
"The improvement that we have seen in impairment reflects the signs of economic recovery now evident in many of the markets we operate," said chief executive John Varley.
The news cames as the Barclays board faced the group's shareholders at its annual general meeting.
Shareholders approved the bank's remuneration report, with only 8% voting against or withholding their vote.
Barclays chairman Marcus Agius conceded thatbanks had to "show contrition" and that the industry's reputation was at "dangerously low" levels.
Reflecting public and political concern about the levels of bankers' pay, he said it should be "competitive, but no more".
His comments followed those of the chairman of Royal Bank of Scotland, Sir Philip Hampton, who told the BBC that bankers' pay was "astonishingly high".
Barclays defended the pay of its head of investment banking Bob Diamond, who is reported to have earned more than £60m last year, although Barclays has said this is hugely exaggerated.
The bank's deputy chairman Sir Richard Broadbent, who heads its remuneration committee said that Mr Diamond's package would "pay out nothing unless stretching performance targets are met".
Related Internet Links
The BBC is not responsible for the content of external sites.