Spain unemployment rate hits 20%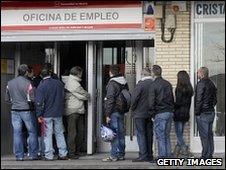 Spain's unemployment rate has hit 20% for the first time in nearly 13 years, official figures have shown.
There were 4,612,700 people unemployed in the country at the end of March, the national statistics agency INE said.
Spain's jobless rate has risen sharply during the economic downturn and is the highest in the eurozone.
Meanwhile, official European Union (EU) figures showed that the eurozone unemployment rate remained unchanged at 10% in March.
This equates to 15.8m people. Among the wider EU, the jobless rate was 9.6%, with 23.1m people unemployed.
Germany was the only country where the jobless rate fell, from 7.4% to 7.3%.
The EU's statistics agency Eurostat calculates its unemployment figures on a slightly different basis to the INE.
The agency also said it expects eurozone inflation to be 1.5% in April, up from from 1.4% in March.
Earlier this week, credit ratings agency Standard & Poor's downgraded Spanish government debt over fears for the country's economic outlook.
Spain's unemployment figure was released by mistake earlier this week, but was not confirmed at the time as official by the INE.
The Spanish economy shrank by 0.1% in the final three months of 2009. For the whole year, it shrank by 3.6%