Demand shoots up for British asparagus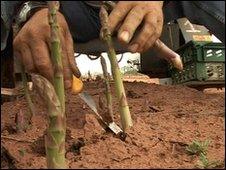 May Day traditionally marks the start of the asparagus season in the UK and pickers are hard at work harvesting the delicate spears to sell in farm shops and supermarkets.
British asparagus used to be a rare treat, only enjoyed in the finest restaurants but this year it is so popular it's likely to be included in a two-for-one deal at the supermarket.
Sales have increased by 15% year-on-year, with the total retail value of the market now at £18.2m ($27.9m; 21m euros).
Last year, consumers got through a bumper 7,500 tonnes and 2010 is expected to be another record year.
It was a very different industry 25 years ago when only a few farms up and down the country were cultivating the crop.
Among them were the Owens, a farming family from Little Witley in Worcestershire. They began with just three acres but now have 80 acres and are desperate for more land.
"We just can't satisfy the growing demand from the supermarkets. The colder winter has slightly delayed our harvest and we just can't pick the crop quick enough,"' said farmer Philip Owen.
'"We are very dependent on the weather. The cold winter has delayed the start of the season slightly but it also affects us day by day. If it's cold overnight the asparagus grows slowly but if it's warm a spear can grow up to 10cm in a day.''
So, Philip needs fast workers to harvest the crop at its best.
For the past 15 years he has been unable to find British workers willing to do the job. As a result, he has turned to an agency which sources workers from Eastern Europe - including countries such as Poland, Romania and Latvia.
The team of 16 stay on the farm during the two-month picking season and earn the minimum wage of £5.80 an hour.
"I think the British are ashamed to work on the fields," says farm worker Christina Dumbrava.
"It is hard work on the farm, especially when it's wet, but I think it's good money and I think it's important for young people to know how to earn money."
Keeping labour costs relatively low means asparagus can be sold at an attractive retail price. 7,500 tonnes were shifted in the UK last year and this season is expected to be another record-breaker for sales.
"Demand is increasing year on year, particularly for the first crop of the season," said Wendy Coles, manager of Broomfields farm shop near Droitwich.
"I think the celebrity chefs on television have inspired consumers, particularly men who are using it in all sorts of recipes with things like parmesan, goats' cheese and parma ham."
Promotions run at retailers like Waitrose and Marks and Spencer also help to boost sales.
"We have seen an increased demand over the last few years for local regional produce," said George Hebditch, a buyer from M&S.
"Each year demand exceeds our expectations. For the 2010 season we have been working all year with our growers to ensure that we have the quality and supply in place to make it the best season ever."
To fill the shelves. growers have increased their crops, growing 84% more in the last five years.
"It's grown from a cottage industry into a multi-million pound business," said Andy Allen, chairman of the Asparagus Growers' Association (AGA) who farms at Portwood Farm in Norfolk
''When the AGA formed in 1979, it had only six members. Today, there are 114 members and rising and they're responsible for 90% of the total UK asparagus market.''
Related Internet Links
The BBC is not responsible for the content of external sites.