Are mergers good for airlines?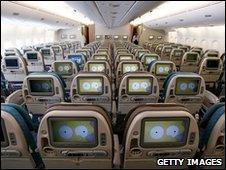 Consolidation is the name of the game for many of the world's biggest carriers at the the moment, following a dire couple of years for the airline industry.
So great were the losses suffered by some airlines last year, that it now seems mergers are the only way to ride out the financial storm.
In the US, United Airlines are merging with Continental to form the world's biggest carrier.
While in Europe, British Airways has taken the plunge, joining up with the Spanish flag-carrier Iberia.
And that is not the end of it for BA-Iberia, which is also seeking regulatory approval for a looser tie-up with American Airlines.
So why are mergers now such an attractive option?
The simple answer is that airlines urgently need to cut their costs, and mergers are seen as the easiest way to do it, without the airlines losing out to the competition.
For example, United Airlines lost a massive $1.1bn (£720m) last year thanks to the impact of the global recession and high oil prices, while Continental lost $282m.
But the companies estimate that working together will save them at least $1bn a year.
Airlines are largely operating very similar businesses. As well as flying the planes, they run significant back-office functions including administration, support services for planes, and so on.
By merging these together, they can effectively halve their costs.
"Within the air transport industry in particular, there are significant economies of scale," explains Laurie Price, director of aviation strategy at the consultants Mott Macdonald.
But savings can also be made through cutting capacity by reducing the number of flights, Mr Price points out.
For example, where Continental and United routes overlap or compete with each other, the merged group could cut some of these flights, reducing competition for its remaining services, and save itself many thousands of pounds a day in the process.
Additionally, the company could seek to increase its revenues by using the landing and take off slots freed up by the cuts to fly to new destinations.
The same principles hold true for British Airways and Iberia. BA's chief executive Willie Walsh is looking for more modest savings of around £360m a year, having reported an annual loss in 2009 of more than £400m.
But despite the obvious benefits, it has taken the worst crisis in the history of the airline industry to underline the urgent need for consolidation.
The major airlines have also been forced to act by plans to free up the airline industry on both sides of the Atlantic - a move that opens up established operators to new competition.
Airlines may view consolidation as the best way to defend themselves against this threat.
There is a case for saying they can be more trouble than they're worth, however.
First, there may be significant cultural differences - even between two similar airlines - that can be difficult to overcome.
There are also anti-trust issues, with governments increasingly concerned over the impact that large-scale consolidation could have on competition.
Labour disputes with staff and trade unions - in BA's case in particular - could also make reducing costs through staff cuts more difficult than some airlines would like.
But if the airlines themselves view mergers as good for business overall, there are fears that fewer companies offering a smaller number of flights could be bad for consumers.
United and Continental deny that passengers will suffer rising fares and lower standards because of a lack of competition.
Mott McDonald's Laurie Price admits that although a loss of competition is a risk of consolidation, the alternative is to see the airline industry stay as it is and slowly collapse.
"If we don't get consolidation and rationalisation, the world's travelling public will have no choice at all," he said.
"Airlines simply can't continue without it."