Is Greek crisis at turning point?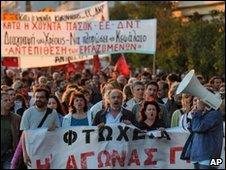 At the end of each month, BBC World News business presenter Jamie Robertson looks at the world's major stock markets. This month he considers the crisis in Greece.
Conveniently, the word crisis is Greek in origin. One might take comfort from the fact that it was coined as a medical term to describe the turning point of a disease before recovery set in... hmmm.
The present Greek crisis may have reached a turning point now that finally, the EU and IMF have agreed their bail-out.
The effect of the crisis on the rest of the world has been to twist the equity and bond markets with disproportionate ferocity.
Once in a while they managed to shake themselves free and lurch upwards (the Dow rose almost 3% in April), only to be dragged back by another crisis over whether Greece could survive without restructuring, default, and, whispered some, eviction from the euro.
This - plus the prospect of collapsing bond markets in Portugal, Spain and even Italy - flashed through investors' minds on Wednesday morning when the cost of insuring against default on five- year debt through Credit Default Swaps (CDSs) raced up from 600 basis points to 911.
One trader confessed afterwards he had had a "Lehman's moment", while pointing out that Lehman's collapsed - Greece did not.
This was when the tide turned and eurozone ministers and IMF were galvanised into promising real action: the reality of a Greek collapse was too awful to contemplate.
So reports emerged of a bail-out as high as $160bn and the markets calmed down.
Now some are claiming that those much vilified CDSs actually saved the day.
Anthony Sanders, a finance professor at George Mason University, told a US House of Representatives committee that CDSs had "alerted everyone around the globe that Greece was in a credit death spiral".
Possibly: but the credit ratings agency Standard and Poor's had done much of the job already, downgrading the country's debt to junk the day before, causing the spike in CDSs.
Junk status for its debt effectively cut Greece off from the financial markets.
Europe and the IMF were really the only places that it could go if it wanted to avoid default.
In the back of Chancellor Merkel and Nicolas Sarkozy's mind was the fact that French and German banks hold some 45% of Greek debt.
It's been pointed out that it would probably be cheaper for France and Germany to merely shore up their banks in the face of a Greek default than to bung billions into Athenian coffers.
But a Greek default would have other consequences: if the markets saw the eurozone and the IMF were incapable of helping Greece they would rapidly sell Portuguese and Spanish debt too, and the "death spiral" would start spinning once more.
The equity markets, once they can convince themselves that the Greek problem is under control have enough good news to keep them happy for now.
Companies in the Standard & Poor's 500 index have reported 76% higher operating earnings than a year ago: Intel, JPMorgan, United Parcel Service, Bank of America and General Electric are just a few of those that have beaten expectations.
Even Caterpillar, whose fortunes are closely tied to the housing market, surprised investors by bouncing back from losses last year.
Huge amount of deleveraging
But while Greece's turbulent streets are an extreme example of how painful some austerity measures are going to be in the coming years, they are also a reminder that many western economies have still got to get to grips with reducing their deficits.
Somehow they have to do this without affecting growth. In Greece, Portugal, Spain and other heavily indebted countries that is going to be impossible.
The degree to which it will affect other economies was well summed up by Unilever's chief executive Paul Polman in a teleconference this week.
The soap-to-margarine multi-national is a classic defensive stock, well suited to fare well in recessions.
Mr Polman said: "In the developed markets there is a huge amount of deleveraging that needs to go on... the effects on public spending, the increases in taxes, the continuously high, and, in many places increasing, unemployment and low consumer confidence will have a prolonged effect on the growth, or lack of growth."
In conclusion we're not out of the woods - not by a long chalk.