Microsoft's Internet Explorer losing browser share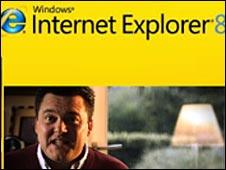 Microsoft's Internet Explorer (IE) web browser, now accounts for less than 60% of the market, down from 95% at its peak in 2003, according to new figures.
Latest statistics, from measurement firm NetApplications, show that IE has 59.9% of the market, with Firefox gaining on it, with 24.5%.
While third-place Google Chrome's 6.7% share of the market looks tiny by comparison it is rising sharply, up from just 1.7% this time last year.
A new version of IE is in development.
Microsoft has gradually been losing market share, largely due to concerns over security, experts said.
Measurement firms tend to agree that IE is losing market share although the percentage share of rival browsers is more hotly contested.
In the UK, research firm Nielsen suggests that IE still commands 70% of the market, with Mozilla's Firefox on 18%. It does not include figures for Apple's Safari.
It still shows a downwards trend for IE, losing 6% of market share since last year.
This could be due to more awareness of rivals, thinks Gartner analyst Jeffrey Mann.
"There are more viable alternatives now. Google has been advertising and there are more people using Macs and Apple's Safari. There is just a great awareness that there are alternatives," he said.
Recently people using version 6 of the browser were advised to find an alternative due to large security holes.
It may shift loyalty away from Microsoft, thinks Gartner analyst Jeffrey Mann.
"There were a lot of people using IE6 and some will have said that if they are going to change, they may as well look at some alternatives," he said.
Microsoft introduced browser choice to European Windows users in March.
This was the result of a ten-year dispute with the European Union over the fairness of IE being installed as the default browser on billions of computers using the Microsoft Windows operating system.
Now customers get the choice of 12 browsers.
But this is unlikely to have affected current market-share figures thinks Mr Mann.
"That is only just beginning to kick in and is likely to have a minor effect overall. It will see some really small browsers getting a lot of prominence," he said.
For rivals to IE it is going to be a "long, slow rise", thinks Mr Mann, as Microsoft remains dominant.
And with the release of version 9 of Internet Explorer, the battle could really hot up.
IE9 promises to support HTML5, the next-generation standard for coding web pages, which aims to reduce the need for software plug-ins, such as Flash.
Apple remains a key rival for Microsoft in the browser market and it has seen its Safari browser gain market share but the two rivals are united when it comes to supporting the HTML5 web standards.
Apple sees HTML5 - along with other technologies such as the h.264 standard for video - as a replacement for Flash and has been involved in a high-profile spat with Flash owners Adobe.
Apple has banned Flash from many of its products.
Related Internet Links
The BBC is not responsible for the content of external sites.