Turner Prize shortlist announced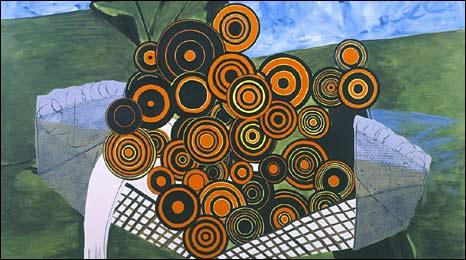 Dexter Dalwood, Angela de la Cruz, Susan Philipsz and The Otolith Group are on the 2010 Turner Prize shortlist.
Dalwood has been included for paintings which draw on art history while De la Cruz is up for paintings and sculptures "that evoke memory and desire".
Philipsz creates sound installations using her singing voice while The Otolith Group "investigate overlooked histories" using archival material.
The winner will be announced on 6 December after an exhibition of works.
Pieces by the shortlisted artists will be shown at Tate Britain from 4 October.
London-based painter Dalwood, 49, has used the death of government weapons expert Dr David Kelly and the Charles Manson murders as subject matter.
In 1998's Sharon Tate's House, he tried to echo the way the bodies of the Manson family's victims were not discovered immediately by police entering the house.
De la Cruz, also based in London, tears and folds her paintings before displaying them in doorways, corners or on the gallery floor.
Tate said she considered the stretchers of her canvases as "an extension of the body" and, as a student, had broken them, "freeing [the] painting from the boundaries of its support".
The Otolith Group - Anjalika Sagar, 42, and Kodwo Eshun, 44, who both live and work in London - have worked on projects including a film which depicts sweatshop workers in Mumbai (Bombay) producing goods in extreme conditions.
Glaswegian Susan Philipsz, 44, meanwhile, is best known for replaying recordings of herself, singing well-known songs, over the public address systems of venues including a supermarket and underneath bridges.
In 1998's Filter, she played recordings of her versions of songs by artists including Nirvana, Radiohead and the Velvet Underground on the speakers of a busy bus station.
Related Internet Links
The BBC is not responsible for the content of external sites.