Songs for whoever - Paul Heaton on his hits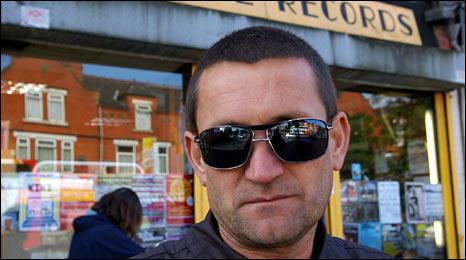 Paul Heaton - the composer of two minute 20 second pop song Happy Hour - says there's only one track on his forthcoming solo album that is shorter than four minutes long.
"I've found that I'm writing more lyrics as I get older not less. I think most people start writing less don't they? I seem to be getting more wordy," the former Housemartins and Beautiful South singer/songwriter says.
But 47-year-old Heaton is not expecting to emulate the chart success of his previous projects with his yet untitled new collection, due out in September.
"I've had my fun," says Heaton, who on Wednesday will begin a 900-mile, 20-day cycling tour of England, performing at a different pub most nights.
"I'm not going to try and sell it as anything else other than a typical Paul Heaton album."
Despite having had eight top five albums with his two bands, Heaton says his last solo album, 2008's The Cross-Eyed Rambler, was his best to date.
The lyrics for The Cross-Eyed Rambler and most of The Beautiful South albums were written in Alkmaar. Heaton wrote the lyrics for his forthcoming release in Maastricht - also in the Netherlands - the winter before last.
"I just went out on the bicycle during the day and the bars were busy and when they were a bit quieter in the evening, I came back in and did the writing early evening."
He adds: "In the summer I like to go away and write the music somewhere nice and warm." For his new album, he went with co-writers last summer to Tenerife.
Heaton says he writes his lyrics to "either a vocal melody or a metre, a rhythm".
"I usually write it to a melody and, if it's worth keeping the melody and I like the melody, that's the complete song really.
"If it's not, I'll write a tune separately at a later date."
When he wrote most of his biggest hits he knew he was on to a winner, he says.
"Obviously not any more because I don't have any big hits. But you can tell when something sounds really good.
"Nowadays, when I start writing a melody in my head I can usually tell.
"There's a couple of times when you think of a really right idea for a lyric when you can sort of tell, as long as you don't make it a really flat melody, that this could be a really catchy idea."
Here, Heaton describes how two of his catchiest number ones came about:
CARAVAN OF LOVE - THE HOUSEMARTINS (1986)
Obviously, I didn't write that. It's a cover version of the Isley-Jasper-Isley version from 1985.
Me and Norman [Cook, fellow Housemartin who went on to have hits as Fatboy Slim] were both R&B fans.
I think Norman arranged it. He was always better at arranging harmonies.
I just sung the lead vocal really and I also wrote a little bit at the end, the "we're waiting" bit.
Norman was pretty musical. He was properly keeping a lot under his hat because we were trying to keep it simple.
Just a capella and flashy pop songs, really, that's what we were about.
A LITTLE TIME - BEAUTIFUL SOUTH (1990)
There are certain songs where I write the melody first and that was one of them.
I can remember writing the lyrics quite clearly. Again, it was in a little scrapbook.
But I think the "funny how quick the milk turns sour" was an extra bit from Woman In The Wall [from previous album Welcome To The Beautiful South] - I pinched it.
You can probably tell that it's little bits of songs that I had in my head.
It was ideas I stitched together and it's not very often I do that. They sort of just about work when you do them.
Paul Heaton's Pedals & Beer Pumps tour begins at The Flying Horse Hotel in Rochdale on Wednesday 5 May, closing at The Southern in Chorlton, Greater Manchester, on Sunday 23 May.
Related Internet Links
The BBC is not responsible for the content of external sites.