London 2012: Sainsbury's signs as Paralympics' sponsor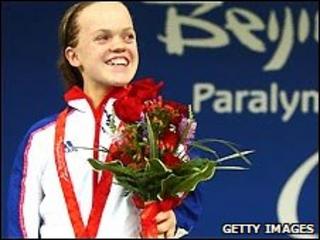 London 2012 organisers have signed up supermarket Sainsbury's as the first Paralympics-only sponsor.
London 2012 organisers say the undisclosed sum is the largest ever sponsorship of a Paralympic Games.
And International Paralympic Committee (IPC) president Sir Philip Craven described the deal as "historic".
The top-tier sponsorship deal means Sainsbury's will be one of two sponsors to take advantage of the limited branding allowed during the games.
'Importance'
Sir Philip said: "I think what we have got here is a highly competitive and enthusiastic organising committee [London 2012] which has taken the product we have discussed with them and got interest.
"They [Sainsbury's] will go out to the whole of the UK through its 850 stores and its colleagues and get out to Britain the importance of the Paralympic Games in 2012."
Sainsbury's will sell merchandise for the Paralympic Games and for the British Paralympic team across its UK stores.
It will also feature on space on athletes' bibs, on swimming blocks and and in other key spots during the Paralympics.
"We felt that would be unique and different and much better suited to what Sainsbury's could add to the equation," said Sainsbury's chief executive Justin King.
"I am pleased that the Paralympic movement felt the same as well."