BBC website wins two Webby awards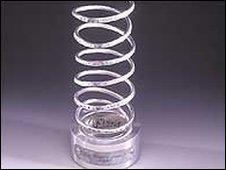 The BBC News website has won two People's Voice gongs for its news website and mobile site in the ever-popular Webby Awards, designed to reward excellence on the net.
It is the sixth year running that the BBC has won the People's award for its news site, which is awarded by web users around the world.
It lost out to the New York Times in the official award for best news site.
The BBC said it was "delighted" to receive the accolades.
Steve Herrmann, editor of the BBC News website, said the win was "a great achievement".
"It is an endorsement from our audience of what we do, and something for everyone working on the site to be proud of," he said.
Other winners included Twitter for best practices, Mashable for the best business blog, and Truthdig for the best political blog.
Old favourites Flickr and The Onion scooped the community and humour awards respectively.
Vint Cerf, the man credited with much of the underlying architecture of the internet, was honoured with a Lifetime Achievement award.
"It's exciting to honour breakouts alongside the man who helped invent the internet," said David-Michel Davies, executive director of the The Webby Awards.
"That's what makes the Webby Awards and the internet so special."
Another BBC website, BBC Blast, which is aimed at developing young people's creativity, won the People's Voice award for net art.
The Webbys were set up in 1996 and are predominantly voted on by a 750-member body of web experts.
The 14th Webby Awards received nearly 10,000 entries from over 60 countries.
Winners will accept their awards with five-word speeches at a ceremony in New York in June.
Related Internet Links
The BBC is not responsible for the content of external sites.