Avatar boost for News Corporation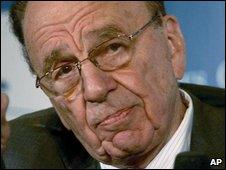 Rupert Murdoch's News Corporation saw net profit drop by 69% in the third quarter to $839m (£554m) but the figure was better than had been expected.
It said improved advertising revenue, strong cable network performance, and success of its Avatar movie all helped.
News Corp includes Fox broadcast and cable networks, 20th Century Fox film studios, and newspapers such as the Wall Street Journal and the Times.
It said third-quarter revenue was up by 19% on a year before to $8.8bn.
The fall in net profit was affected by the fact that a year earlier News Corp enjoyed $2.4 bn in gains and tax benefits on its partial sale of technology company NDS Group.
"Today's earnings confirm that no content company is stronger than News Corporation at building both fiscal and operational momentum," said Rupert Murdoch, News Corp's chairman and chief executive.
"Our global portfolio of sought-after content is ideally situated to benefit from the increase in consumer spending, advertising and access to new platforms we are seeing across our regions."
Operating income at News Corp's filmed entertainment unit jumped 76% to $497m.
In January, Avatar - directed by James Cameron - became the highest-grossing movie of all time, overtaking the $1.843bn taken by Cameron's 1997 movie Titanic.
Related Internet Links
The BBC is not responsible for the content of external sites.